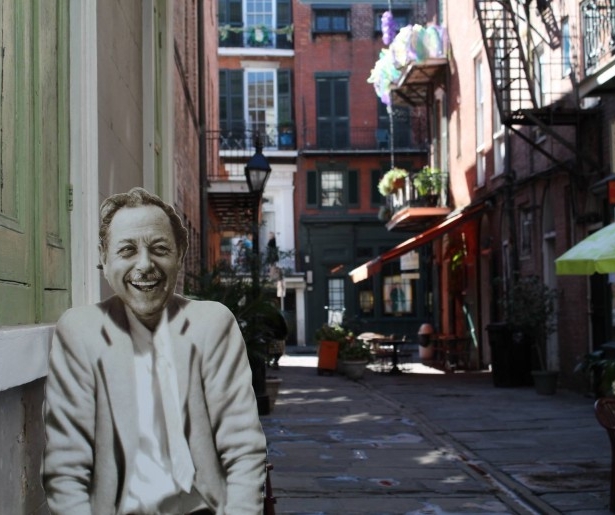 SHARE
"STELLA!!!!!!"
Whether it comes in like a lion or a lamb, here in New Orleans, March always goes out with a roar. That's when the Tennessee Williams/New Orleans Literary Festival sets up camp and proves that all the world's a stage in Williams' old stomping grounds.
Celebrating its 30th anniversary in 2016, this year's festival begins today and runs until April 3, with multiple events leading up to the five-day extravaganza at the heart of the action.
A movable feast of drama, poetry, workshops, music, food and walking tours, TWFest takes over theatres and venues throughout the city and spills into the streets of the playwright's old French Quarter neighborhood.
There, in Jackson Square, it culminates in a now-legendary battle: the Stanley & Stella Shouting Contest, where contestants vie to bellow the most gut-wrenching version of Marlon Brando's primal scream for "Stella!" in Streetcar Named Desire (Sunday, April 3, 4:15pm).
"I have seen grandmothers with lung power that would fry your hair," says film critic Rex Reed, a TWFest featured speaker who's judged the contest many times. "But my favorites are the people who really study the scene until they get Marlon Brando's gestures and frustration and pain and passion down pat. It's a definite 'must not miss'' for both regular festival goers and newcomers."
This year, there's even more to shout about. TWFest board president Janet Daley Duval, who's inspired wannabe Stanleys since the festival's inception portraying Stella on the Calbido balcony, is bequeathing her trademark slip to Stella 2.0: Cecile Monteyne, director of The NOLA project, which stages several TWFest events.
This historic occasion will be marked with proper ceremony by the "Passing of the Slip," an only-in-New Orleans benchmark steeped in Tennessee Williams lore, which Monteyne does not take lightly.
"It's a big deal," says Monteyne, who was sworn to secrecy when she was first told she'd be donning Stella's slip. "It feels like being queen of something, especially if you're a theatre nerd like me."
A bountiful feast awaits fellow theatre nerds, who can attend a wealth of master classes and panels with Williams scholars and literary luminaries. This year's headliners include Dorothy Allison, Rick Bragg, Dick Cavett, Beth Henley, John Lahr and Rex Reed, along with Oscar nominee Mary Badham, who played Scout in To Kill a Mockingbird and will read from the late Harper Lee's "lost" novel Go Set A Watchman at the Badham & Bragg opening event (March 30, 6:30pm, Le Petit Theatre).
"Every festival year produces new memories," says Reed, who's especially looking forward to a TWFest reunion with his old friend Dick Cavett. "It will be a reprise, in a way, because we did it once before, equipped with mint juleps, Southern colonel white suits and sunglasses."
"We both love New Orleans, we both knew Tennessee Williams and we did numerous television shows together during the salad days of The Dick Cavett Show. So it's bound to trigger some ace entertainment."
Take a peak at the festival schedule and plot out your TWFest. That said, "the plays are the reason it's happening," notes Monteyne, who has succinct advice for overwhelmed newbies wondering where to start:
"Go see the plays."
Southern Rep kicks things off with Orpheus Descending, a dark and dangerous Southern Gothic fable that ranks among Wiliams' most mythopoetic works (March 12-April 3, UNO-Robert E. Nims Theatre, 2000 Lakeshore Dr., more information here).
Le Petit Theatre du Vieux Carre presents The Glass Menagerie, the iconic four-character memory play that first catapulted Williams to Broadway fame (March 18-April 3, 616 St. Peter St., tickets available here).
And, for the growing number of fans of Williams' more surreal later plays, the Tennessee Williams Theatre Company of New Orleans unearths Weird Tales, a trio of fantastical one-acts that includes world premiere productions of The Strange Play and Ivan's Widow (April 1-17, Metropolitan Community Church, 6200 St. Charles Ave., more information here).
And that's just for openers. Improv enthusiasts can put a left-field spin on Glass Menagerie by jumping into By Any Scenes Necessary, a NOLA Project mashup of rehearsed scenes and audience-participation improv led by Cecile "Stella" Monteyne and hosted by none other than Tennessee Williams himself (April 1, 10:30pm, Cafe Istanbul).
An entire evening is devoted to A Tribute to Williams the Poet, while one-off readings and performances can pop up just about anywhere. And though plays, poetry and panels may be the main course, they also serve as also a springboard to life in New Orleans as Tennessee Williams lived it during the various periods he called the French Quarter home.
Visit TW's old haunts and the eight different homes he hung his hat on the Tennessee Williams Walking Tour (April 1-3, departs twice daily from the Hotel Monteleone).
You can also hit the Palm Court Jazz Cafe and dance to traditional jazz and "Music from Mississippi" by Bruce "Sunpie" Barnes at the ever-popular "Drummer & Smoke" series (Sunday, April 3, beginning at 11:30 am).
Like any New Orleanian, TW had a hearty appetite for the local cuisine, which stars in its own mini-series of culinary events hosted by cookbook authors Poppy Tooker (April 2, 11am, Tujague's); and Caroline Randall Williams (April 3, 11am, Bourbon House). Tickets for both (available here) include the likelihood of running into Rex Reed while you're noshing.
"My favorite thing, in addition to meeting exciting Southern writers and sampling their work, is the 'Cooks and Books' events," says Reed. "You can taste samplings of great Southern dishes while browsing through cookbooks and perusing recipes unique to New Orleans and bayou country. I always return to New York with overweight luggage from buying so many cookbooks."
The 30th Anniversary Tennessee Williams/New Orleans Literary Festival runs from March 30-April 3, with related performances before and after the five-day festival. Visit the TWFest website for complete schedule, including a downloadable program, and to purchase tickets to festival events.
Image (that's Tennessee Williams, by the way) courtesy of the Tennessee Williams/New Orleans Literary Festival via Facebook.