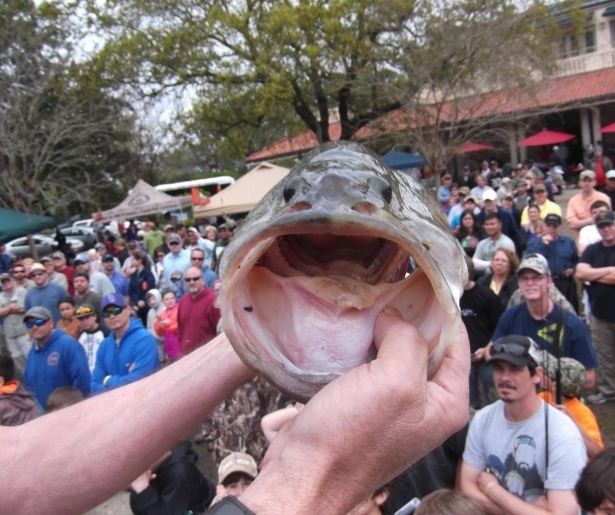 This past mild winter, the Mississippi rose so high that Louisiana was forced to open the Bonnet Carre Spillway. Hundreds of thousands of gallons of opaque, brown river water spilled into Lake Pontchartrain, effectively ruining fishing there for months.
But as ol' Pontch continues to shake off the silt, the lagoons of City Park and Bayou St. John are hitting peak spring stride and teaming with big hungry bass – the perfect time for City Park's 69th annual Big Bass Rodeo and Fishtival, America's oldest freshwater fishing tournament.
The park's lakes have suffered their ups and downs, but have almost always produced fish. In 1976, a 12-year-old caught a 52-pound buffalo fish (still the record). In 2005, a junior at Jesuit High School landed a giant 44-pound Blue Catfish. Then in 2013, the park's largemouth bass record was broken twice in one year, with two monsters each over nine pounds. Joseph Royes III won last year's City Park Big Bass Rodeo with a fairly massive 5.34-pound largemouth.
City Park's lakes have probably never been prettier or more healthy than they are today, after much post-Katrina cleanup and care. The same can be said of Bayou St. John which, as of 2014, falls under the jurisdiction of City Park.
Over the last decade, City Park, along with organizations like LSU, UNO and the Louisiana Department of Wildlife and Fisheries (LDWF) have worked hard to restore life to the park's regularly stocked lagoons and bayous. A special dredging project created increased water and fish flow to and from Lake Pontchartrain.
As a result, in 2014, the Big Bass Rodeo added Boats on the Bayou, allowing kayaks, canoes and other non-motorized vessels to fish in Bayou St. John for bass, redfish, speckled trout and a special "trashbag" category for carp and whatever else one might pull from the waters.
The rodeo's traditional categories are all back this year: of course the Adult Bass category, plus the Junior Anglers category where kids 12 years and under compete for single heaviest bream, perch, cichlid or bass; Any age can compete in the Fly Fishing category, using a fly rod/reel to catch heaviest bass or cichlid; Teams of one to five members of any age can join the Cichlid and Bream Team (formerly The Rio Grande Roundup) to catch bream, cichlids or perch.
Past winners of the bass competition duke it out in the Champions Challenge; and one prize each will be awarded for heaviest gar or catfish. (Note: You must be registered in a particular category in order to win it).
The talk of this year's Big Bass Rodeo, however, has been the LDWF's brand new Battle for the Bass category, which lets teams of up to five high school students compete for a trophy. Danica Williams, fisheries extension program manager for the LDWF, has joined up with Berkley tackle company's High School Fishing Club program to try and create fishing teams across the city.
The teams' rods, reels and tackle are supplied partly by Berkley, and the first 50 students to sign up for City Park's Battle of the Bass receive a Berkley tackle bag. The best combined weight of two bass from each team determines the winner. Register for Battle for the Bass in particular here (closes at noon on April 1).
While the fishermen are out casting from the bank and from boats, the rest of us will enjoy the rodeo's annual Fishtival, with music at 9am, plus local artists, ecology and wildlife experts, conservation and boating organizations, animals from the Audubon Zoo, a touch tank trailer with even more animals, plus raffles to win charter fishing trips, casting contests for children under 15, and free cast net throwing lessons. The rodeo's annual "Fishing Fleamarket" sale of cheap new and used fishing gear is not to be missed.
Prior to the official weigh-in (and before all fish are re-released back into the waters) the winning bass are all kept alive in swimming pools for the crowd's delight — you won't believe what's been swimming around in City Park!
On site registration begins from 6 to 8am on April 2. Fishing hours are between 6:30am and 11am, except for the Boats on the Bayou, which commences from 7 to 10:30am with a weigh-in of 10:30am. The Fishtival begins at 9am and extends until noon. For more information, head here. Happy fishing!
Image via Facebook.