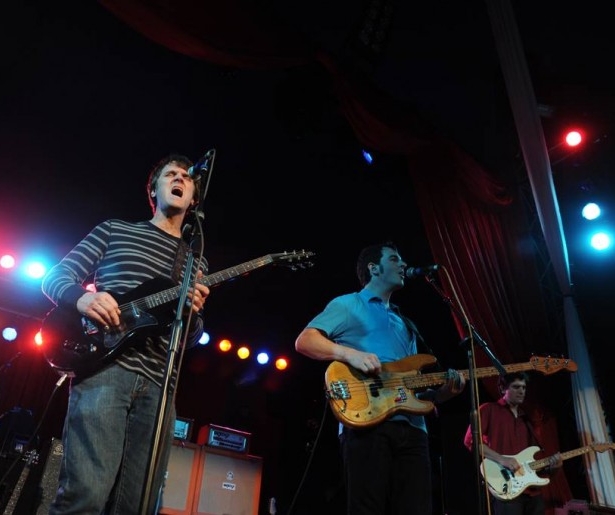 SHARE
New Orleans music is as deep and wide as the mighty Mississippi. And, just like old man river, it's constantly changing course as it flows to the sea.
With 1,700 artists playing on 23 stages throughout the Quarter, French Quarter Fest (April 7-10) celebrates the extraordinary depth and breadth of the city's music. But even that bounteous feast doesn't tell the whole story.
Adventurous Fest-goers can explore the latest musical inlets and byways at the first annual My Spilt Milk Awards for New Orleans music, which honor the freshest sounds and visions of 2015 from newcomers and veterans alike.
Kicking FQF weekend off with a bang at The Howlin' Wolf on Thursday, April 7, the awards are first and foremost a party.
Hosted by local comedy star Andrew Polk, the actual bestowing of trophies – glittered, customized My Spilt Milk cartons – will be punctuated by live performances throughout the night by nominees and other hot local artists.
AF the Naysayer's funky psychedelic grooves set the stage for mini-sets from pop-rockers The Breton Sound, high-energy soulsters Tank and the Bangas (up for Mover of the Year), and the brass-meets-hip-hop beats of The Soul Rebels (up for Veteran of the Year).
Indie-rock futurists Rotary Downs (pictured above, via Facebook), who've been a step ahead of the curve since 2002, will also perform, and are receiving My Spilt Milk's inaugural Carton of Honor for continuing to raise the bar.
"It's a really cool representation of what's going on right now," says My Spilt Milk founder Alex Rawls, who launched his own digital musical platform in 2012 after a long stint as the editor of Offbeat. "The music is as broad as it's ever been, from guys working mini-controllers and turntables to established acts doing new and surprising things."
Case in point: The world-renowned jazz trumpeter Terence Blanchard, who's up for Vision of the Year. His latest release Breathless, named for Eric Garner's infamous "I can't breathe" cry, is an impassioned response to the racial unrest that gave birth to the #BlackLivesMatters movement.
"Terence Blanchard doesn't have to go political," says Rawls about the jazz icon, who's won multiple Grammys during his decades-long career. "So for him to make Black Lives part of his work is pretty noteworthy. I'm all in."
The ever-evolutionary Quintron, whose 2015 benchmark was using his Weather Warlock synthesizer to make music out of the elements at WeatherForTheBlind.org, is also up for the Vision crown, while rapper Dee-1 gets a nod for wearing his Christian faith on his sleeve "with really good hip-hop skills and a strong beat."
Veteran of the Year pits recent Grammy winner Jon Cleary against The Soul Rebels and jazz trumpeter Christian Scott, who also had strong years in 2015. But rising stars and emerging artists dominate most of the other categories, which put a fresh spin on the usual awards practice of grouping musicians by genre.
"Dealing with awards at Offbeat was always a headache, trying to decide who fits where," recalls Rawls. "So I knew I didn't want to do genre-based awards. Focusing on 2015 made it easier: Who had a really good year? Certain people were omnipresent. But others merit notice as well."
The hyper-talented Alexis Marceaux and Sam Craft achieved critical mass in 2015, and could walk away with two milk cartons. Sweet Crude, their drum-driven, bilingual Cajun French ensemble, is up for Mover of the Year, while their folk-pop duo Alexis and the Samurai is nominated for Rising Star.
Lesser-known artists like fuzz-rockers Woozy, up for Best Debut Album for Blistered, could also snag a coveted carton. And newcomer Boyfriend made a serious bid for "Attention" as Mover of the Year when she paced through her video in lingerie while rapping through a megaphone.
All in all, it's an impressive field of candidates. Still, with just three nominees in eight categories, there are bound to be some oversights, even for a veteran music scenester with ears as sharp as Rawls.
"People always gripe about the choices," says Rawls, who left blank spaces for write-in votes on the ballot, which includes a separate People's Choice Award. "If you don't like mine, give me yours! I've already received a lot of write-in votes, which could actually make a winner in one or two categories. I'd love to see a write-in candidate win!"
Find out who won at the My Spilt Milk Awards at 7 pm on Thursday, April 7, at The Howlin' Wolf, 907 S. Peters St. Tickets, available from EventBrite, are $25 advance and $30 at the door.