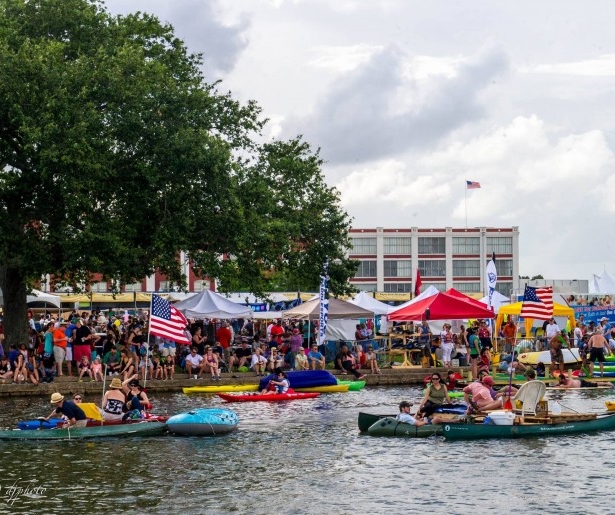 SHARE
Springtime is known as festival season in New Orleans, and this is why: we're barely into starting in on French Quarter Fest when the folks at Mid-City Bayou Boogaloo go ahead and announce their lineup.
To be fair, I don't think the timing of the announcement has anything to do with French Quarter Fest, other than the indirect fact that at this time of year, festivals are coming so fast and furious the news of one is almost guaranteed to overlap with the celebration of another. In any case, you can check out the lineup here.
It's a list to make any lover of local music sigh in pleasure. The incomparable Irma Thomas is headlining, along with George Porter Jr and the Running Pardners. Buckwheat Zydeco brings an authoritative dose of dance music from Acadiana, while Rory Danger (AKA Aurora Nealand) will kick it with her unique brand of raucous rockabilly. It's not all musicians from around the way, though – The Wailers are one of the event's main headliners.
All of this occurs on the banks of Bayou St John, in an area I've long considered one of the loveliest stretches of the city. Mid-City Bayou Boogaloo, which many call Bayou Boogaloo, goes off on May 20-22, at a time of year when the city is transitioning from the sweet spot of spring sunshine to the warm soup of early summer. It's a languid, romantic time to be in the city – your clothes are definitely starting to stick to you, but the heat is nowhere near the convection oven levels you start experiencing later in the year.
Take note if you have kids: of the three big festivals of spring (along with French Quarter Fest and Jazz Fest), Bayou Boogaloo feels the most family friendly. There's grass for kids to run on, and while the event draws in folks from near and far, the crowd is mainly local. Dogs splash in the water, paddle boats swish past the trees and kayakers circle the stage – it's hard to imagine a better evening.
Want to learn more? Check out some photos and articles on the Boogaloo here.

Above image by David Fary