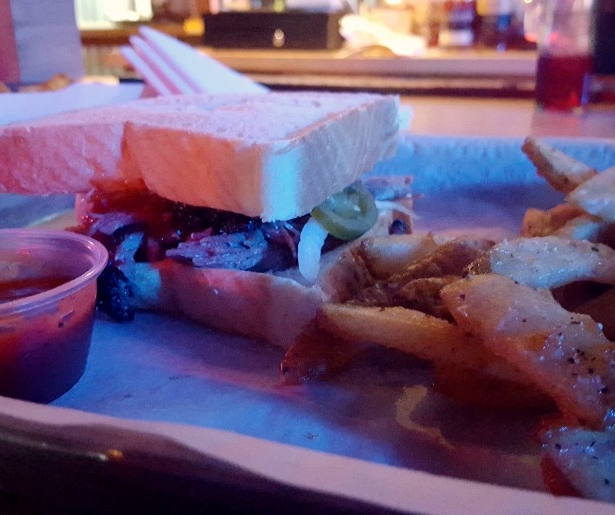 SHARE
There's a trope about New Orleans music venues that holds the best ones must be off the beaten path. This cliche isn't entirely true – no one can really argue Frenchmen St is a hidden destination anymore, but even then, it's still an excellent spot for live music. Even Bourbon St has a few gems (We're looking at you, Fritzel's).
Still, if the trope isn't entirely true, it's not entirely off either; there certainly are some spots for a gig that aren't exactly in the path of tourist foot traffic. These days, you can add the Black Label Icehouse to that roster.
Located at the corner of Dryades and Seventh, the Icehouse is barely distinguishable from the homes that surround it. Well, visually; if you're coming in the evening, you'll likely know you've arrived because of the music, and even if you can't hear the music, you can likely smell the barbecue.
That's the Icehouse's schtick: regional beer, live music and a Texas roadhouse style atmosphere (an actual Texas roadhouse, not the casual dining chain). Owner, native Texan and pitmaster Damian Brugger is the man behind that vision, and he's created a space replete with corrugated metal, cinder walls and the waft of fresh beer and smoky meat. As murky as the word 'authentic' can be, the Icehouse feels like it would fit in as easily on a corner of Gruene, TX, as it does in Central City, New Orleans.
If we're sticking to the Texas geographic analogies, the crowd when we visited was decidedly more Austin than Beaumont. There were a smattering of neighborhood folks, but by and large the audience for the rock show was Tulane-y, to coin a term. The actual music space was simple – a stage, a room – and decidedly loud, to the point I had to shout my beer order to the bartender, but hey, if you're having a barbecue and beer evening, you shouldn't expect a night of easy listening. A back pool room was full of twenty-somethings flirting, or trying to impress each other with music knowledge, or some hybrid of the two.
My partner and I were already fairly ravenous when we arrived, and she's a Texas native herself, so we were firmly in a eating mood. The food didn't disappoint. The Cowboy From Hell (pictured above) is a rich mishmash of beef brisket, raw onions, jalapenos and Texas Toast, while the burger is juicy and rich, a testament to a Texan love of good beef. When it comes to barbecue, I'm a brisket man, and while the Icehouse serves up pork shoulder via the Old Dixie, I appreciate their dedication to the beefy bedrock of traditional Texas 'cue (that said, there's a soft shell crab dish on the menu I didn't sample that I'm dying to try; one of our NewOrleans&Me staff members swears by it).
I'll say this: while the food is reasonably priced (most mains are around $10), it didn't quite fill me up either. I'm a big guy, so there's that, but when I visit a spot that wears Texas on its sleeve, I'm in the mood for portions that leave me groaning. To be fair, I missed out on the Flintstones' sized beef ribs, which go for $16 and look like they could probably keep a small town fed.
During our visit there were 14 beers on tap, plus four varieties of craft brew in cans and a good slate of domestics, including the ever reliable two buck High Life (the best of budget beers, in this reviewer's humble opinion). In other words, you're not lacking for something to wash your brisket down with. All of the craft breweries were located in either Louisiana, Mississippi or Texas; Lazy Magnolia, St Arnold's, Shiner and Parish were all well represented.
(This isn't the most important element of this review, but I also need to give a shout to the guy working the door the night I swung by. It's the rare bouncer who can do his job with a smile, but this gentleman managed to be both charming and firm, which is a rare combination when it comes to door security. Well done, bouncer guy whose name I didn't get).
The short and the sweet: if you like beer, barbeque, and music – I'm guessing that's a fair chunk of this reading audience – you're going to like the Icehouse. If small spaces with loud volume aren't your thing, try to visit when there isn't a band playing.
The Black Label Icehouse is located at 3000 Dryades St. Hours are 4pm-2am Mon-Fri, 11am-2am Sat & Sun. They have a website, but for now, their Facebook page is the best spot for an updated music calendar.