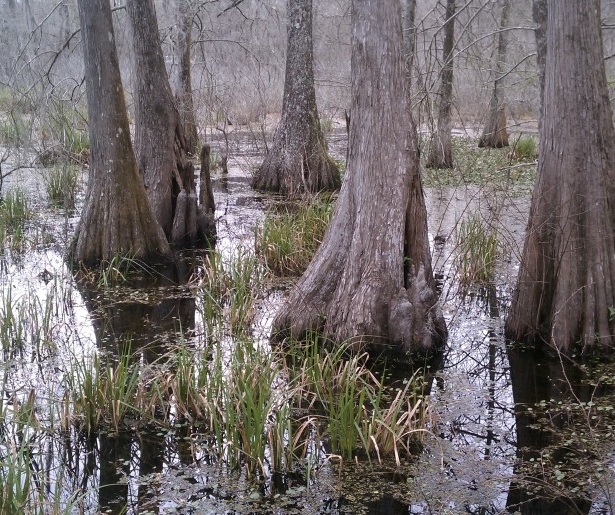 SHARE
The past week and a half has been an eventful one for the Gulf Coast – both the region and the actual shoreline of the Southeastern United States.
First: science! We all know storms, erosion and dredging are accelerating the land loss of the Louisiana coast, but occasionally that lost land apparently reveals new ecosystems – like, say, a 50,000-year old underwater cypress forest discovered off the coast of Alabama. From the story:
The Bald Cypress forest was buried under ocean sediments, protected in an oxygen-free environment for more than 50,000 years, but was likely uncovered by Hurricane Katrina in 2005, said Ben Raines, one of the first divers to explore the underwater forest and the executive director of the nonprofit Weeks Bay Foundation, which researches estuaries.
The forest contains trees so well-preserved that when they are cut, they still smell like fresh Cypress sap, Raines said.
The stumps of the Cypress trees span an area of at least 0.5 square miles (0.8 kilometers), several miles from the coast of Mobile, Ala., and sit about 60 feet (18 meters) below the surface of the Gulf of Mexico.
This isn't just fodder for a Believe It or Not! column. There's a lot of information contained within the carbon of this forest primeval (and aquatic), and scientists are hoping to analyze the new found vegetation to learn about the climate from thousands of years ago.
In the meantime, two states away in Louisiana, on our own Gulf Coast, BP is protesting the state's policy of closing the fisheries around Grand Terre. That decision came after the discovery of a 40,000-pound tar mat near the uninhabited island.
In addition, the state is complaining the Coast Guard is dragging its heels when it comes to getting BP to clean up remnants of the 2010 spill. All of this environmental angst comes even as BP continues to run ads that seem to suggest the coast has been entirely scrubbed clean. From nola.com:
Jefferson Parish President John Young, a member of the authority, [said] "They continue to run these commercials and they're just insulting," Young said. "They haven't made it right yet. We continue to have oil coming onto the beach at Grand Isle. We intend to turn up the heat significantly with the Coast Guard and BP because we're now over three years past this event and there's still an extensive amount of oil coming up."
Photo by Adam Karlin