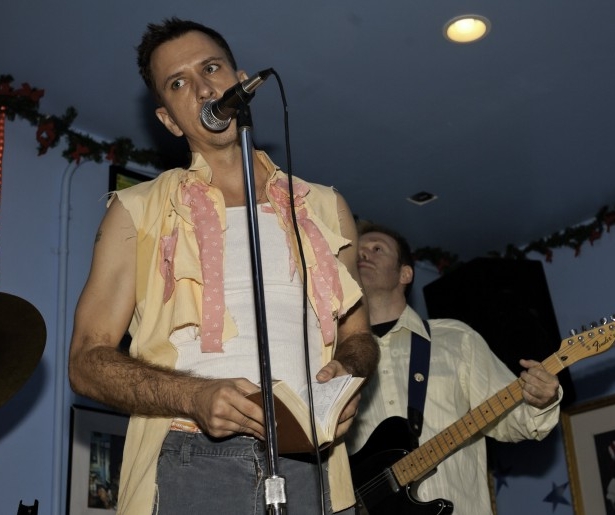 SHARE
"We have a festival for everything else in this town. Why not poetry?"
Good question. And as soon as Megan Burns raised it, late last summer after one of her weekly Blood Jet readings at BJs, fellow poet Bill Lavender hit on the obvious answer: "Let's do one!"
Thus was born the First Annual New Orleans Poetry Festival (April 15-17), which quickly metastasized into "this monster we're trying to wrestle to the ground," Lavender adds, only half-jokingly.
Co-produced by Lavender Ink and Burns' Trembling Pillow Press, the wordfest brings dozens of world class poets to town from as far away as Nigeria, and features a jampacked schedule with everything from workshops and readings to bookmaking demonstrations and a Small Press Fair (see complete schedule here).
But the hottest P-Fest ticket by far is Poets With Bands, the festival's kickoff event, which rocks Siberia from 6 to 9pm on Friday, April 15.
Or, as poet and Skin Verb frontman Brett Evans likes to call it: Poets Kill Rock.
"It's not just poetry sidebarred by music," says Evans, whose fierce seven-piece unit is inspired more by the Velvet Underground than by finger-snapping, bongo-playing beatniks. "When people try to do that whole beatnik thing, like Maynard G. Krebs in Dobie Gillis, it usually turns out badly. Nobody ever came up to us after a show and said nice poetry and music, man. They think of us as an actual band."
The Call Girls, Bill Lavender's blistering power trio, have a long, proud history as one of the city's hardest-driving punk bands, while Moose Jackson's post-punk Shock Patina sends spoken-word into overdrive. And anything could happen when legendary New York poet Bruce Andrews takes the stage with local avant garde guitarists Rob Cambre and Donald Miller.
"That's poetry plus music in the best sense," says Evans. "Which equals noisy magic."
As a founding father of the language school of poetry, Andrews has spent his entire career freeing words from their narrative cages; he jots down words and phrases as they occur to him and stores them for future use. So he feels right at home on a bill with "short, pithy phrases" like Skin Verb, Call Girls and Shock Patina.
"It's often material I don't even remember writing," says Andrews, who began mixing his verbal cut ups with live performance when he became musical director for New York choreographer Sally Silvers, his longtime creative collaborator.
"I started by assembling tape collages with piles of cassettes and a player and a mixer," recalls Andrews. "Then Sally started using downtown free improv musicians as her soundscape, and I began adding text. I didn't want to bring in finished pieces. So I thought, why not bring the raw material I work with at home – short bites or words on a card, composed away from the typewriter – and use those in live performance?"
It worked like a charm, enabling Andrews to use his words like another instrument, playing off the improvised movements of Silvers' dancers.
Silvers will be on hand at Siberia to add the element of movement to Andrews' set, where his words will be parried by the dueling guitars of Rob Cambre and Donald Miller.
Though Miller honed his chops in the same downtown improv scene that nurtured Andrews and Silvers, and they orbited around each other for years, they never worked together in New York. But they made up for lost time two years ago, in Miller's adopted hometown of New Orleans, where Andrews, Miller and Cambre proved to be a highly combustible mix.
Andrews comes fully armed for their Siberia rematch. "I'll be bringing a variety of short texts to discombobulate with Rob and Donald," says Andrews. "And I'll probably end with a piece from my white dialect project, which is written in Appalachian dialect. That works great with music, because it's very rhythmically charged."
Skin Verb is also bringing the fire, including a cover of M.O.T.O's "The Chicks Can Tell." But the song Evans is most looking forward to performing is "Beer," a new Skin Verb original destined to become a crowd singalong.
"That's the only word to the song: Beer," says Evans. "So I can't forget the lyrics, even if I drink 40 beers."
Lavender, for his part, looks forward to "seeing the whole motley crew come together to create some energy and momentum." And whatever form that takes, it's pretty guaranteed you won't be bored, even if you're not a big poetry fan.
"A lot of people who don't like poetry have only been exposed to the crappy stuff," notes Evans. "Like people who think they don't like apple juice have only been exposed to sugar water like Mott's. Then you hand them a glass of real apple cider, and they're like now I get it."
The cider at Siberia is the hard stuff, so come prepared to rock.
"Will the casual listener hear the undercurrent of poetry?" Evans asks rhetorically. "Or is it just rock and roll? Either way, it's good."
The New Orleans Poetry Festival kicks off on Friday, April 15, with an opening reception at 5pm, followed by Poets With Bands from 6pm-9pm, at Siberia, 2227 St. Claude Avenue. Concert is free to festival passholders, and costs $10 at the door. Festival events continue all day Saturday at the Arts Estuary (1024 Elysian Fields) and Mag's 940 (940 Elysian Fields), and wraps up on Sunday with open mic readings at the Maple Leaf Bar (8316 Oak St). Check here for a complete schedule. All-festival passes ($125), which include literary walking tours of New Orleans, are available from EventBrite, where you can also purchase tickets to individual events.
Image by Jonathan Traviesa.