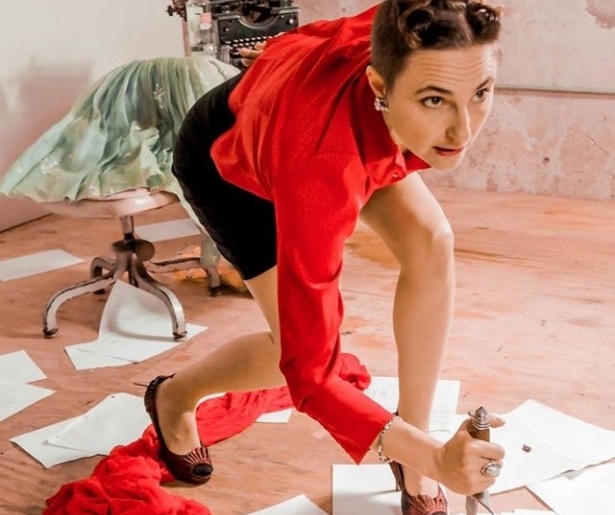 SHARE
"One can't build little white picket fences to keep the nightmares out."
That infamous quote from Anne Sexton is at the twisted heart of a new play by Diana E.H. Shortes, who brings the suicidal poet back to life for InFringe Fest, which storms the bastions of conventionality from Thursday, April 14 through Sunday, April 17. But the line could also serve as the tagline for the entire festival.
Staged in and around the St. Claude corridor at both established venues and emerging alternative spaces, InFringe features dozens of shows in which local and visiting artists gleefully smash little white fences and arm themselves with the broken pickets.
But there's a method to the madness. From the phantasmagorical creatures of the Mudlark Giant Puppet Festival to the horror-rock operatics of Sheena: An American Tragedy to the Kentucky Derby burlesque of Getting Off with the Races, every show has a singular vision and looks at the world through its own unique prism.
"As a woman, I struggle daily with the right to be alive," says Shortes, who discovered Anne Sexton's poetry as a 7th grader and developed the show White Sauce & Diaper Babies for her senior thesis at Antioch. "The struggle of a woman being an artist permeates Sexton's work, which really speaks to me. When I first performed it in college, a friend's father said 'I want to see you play this at 40,' which seemed incredibly old to me then. Now I'm hoping I make it to 40!"
Shortes is in good company at The Hatchery's Garret Theater (4210 St. Claude Avenue), where the InFringe lineup includes three other one-women shows.
Claudia Baumgarten reanimates the venom-tongued queen of the Algonquin Round Table in Wit and Wrath: The Life and Times of Dorothy Parker, while Jennifer Pagan's Shoebox Lounge revisits her own past as a child of New Orleans' addiction culture. And Amy Woodruff's multimedia Moon Cove casts its spell with ghostly tales from the Cajun prairie inspired by her Acadian ancestors. (Various times, see schedule here).
Reese Johansen's debut production at her brand-new Art Klub space (1941 Arts Street) is ostensibly a one-woman show as well. But everyone in the audience is invited to Ruby's Big Party, where Johansen, playing hostess, serves up cake, uncorks champagne and leads her guests in party games to help keep a raging midlife crisis at bay (9pm Friday and Sunday, 11pm Saturday).
"How people act and react while trying to fake it is a fascinating study of human behavior," says Johansen, who draws on her physical comedy skills as a dancer and clown to navigate Ruby's balancing act through the minefield of her 50th birthday. "She's falling apart inside because her partner just left her and she has to host the party herself. But she made it to half a century by constantly reinventing herself, and that helps her pull it together in the end."
The audience also joins in the hijinks at the EROTIC/Va.ri.e.ty/CABARET, where Shortes returns as her alter ego DJ Baroness to host the shenanigans (12 midnight Friday, Allways Lounge, 2240 St. Claude).
"Sometimes you have to put on another face," says Shortes, whose "half-naked" EROTIC partners in crime include DJ Fayard, Anais St. John and Betty Cropper's Dromicidal Maniacs, among many others. "It's like having a big party where artists come together and express ourselves, and the audience is very much invited to jump in."
Other notable InFringe productions feature casts of thousands (well, dozens).
New York's world-famous Bread & Puppet Theater takes the stage for The Public Access Center for the Obvious Presents: The Situation, a musical extravaganza featuring a ship of fools, a troupe of proletariat broom dancers and a herd of cardboard horses (7pm Sunday, Cafe Istanbul, 2372 St. Claude).
And real flesh-and-blood goats add to the fun of A Moosterious Eggscapade, a high-flying kids show powered by aerialists and acrobats (1pm and 3pm matinees, Saturday and Sunday, Happyland Theatre, 3126 Burgundy).
That's just the tip of the iceberg of a jampacked roster with multiple performances every night at a dozen different venues. (See complete schedule here). So downtown theatre lovers who want to gorge themselves at the all-you-can-eat buffet should probably spring for the $40 weekend pass (available at the door), instead of paying $7 per show.
There are also two festivals-within-the-festival that are kindred spirits aligned with InFringe that have their own separate ticketing.
FORGE MicroFestival, produced by Goat in the Road and Skin Horse Theatre, offers four explosive nights of boundary-busting theatre from April 13-16 at The Theatre at St. Claude (2240 St. Claude Avenue, see schedule here).
Towering over it all? Pandora Gastelum's 5th annual Mudlark Giant Puppet Festival, which grows more gargantuan every year. In 2016, the massive marionettes and awe-inducing shadow puppets move beyond their home base at the Mudlark Public Theatre (1200 Port St.) for several performances in the reclaimed bleach factory known as PORT (2120 Port St., see schedule here).
InFringe Fest runs April 14-17 at various venues in downtown New Orleans. $40 weekend passes available at the door, where you can also pay $7 for individual performances. Check here for a complete schedule.
Above image: Diana Shortes.