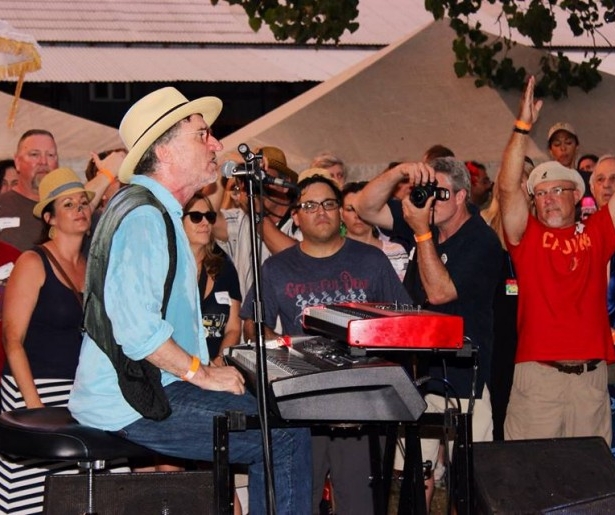 SHARE
It's Patry time!
Yeah, you read that right.
The annual Threadhead throwdown affectionately known as the "Patry" began with a typo.
"Patry" first appeared as a header on the Jazz Fest message boards inviting fans of New Orleans music to keep the party going between the two weekends of Jazz Fest in 2005, right before the last Fest held pre-Katrina. It's since grown into a don't-miss "8th day of Jazz Fest" that features premiere Louisiana artists in a more intimate setting than the Fairgrounds.
"It's hard to believe now, but back then, there wasn't much to do between the two weekends," recalls Threadhead "Big Toe" Ken Cryer. "So this loose-knit group of fun-loving music freaks decided to fill the void. We are notorious misspellers, and since the old Jazz Fest message boards wouldn't let you correct thread subject lines once created, it's been the Patry ever since."
The very first Patry, a casual affair held in the backyard of a Frenchmen Street B&B, featured Shamarr Allen with Rebirth Brass Band, along with Kermit Ruffins (who almost burned the place down when his gear sparked a short on the ad hoc stage). For the past few years, it's rocked The Old Ironworks (612 Piety St) in Bywater, where everyone from Dr. John to Irma Thomas to Jon Cleary have performed. And the hits just keep on coming.
The Iron Funk Allstars, a supergroup featuring both Ivan and Ian Neville, headline the 2016 Threadhead Patry, scheduled for 11am-9pm on Tuesday, April 26 at Old Ironworks. Meschiya Lake & The Little Big Horns, Johnny Sansone, Cha Wa with the Cha Wa Horns and Cajun country's Roddie Romero & The Hub City Allstars also perform, and old school fans are all a-buzz about a rare appearance by Alex McMurray's storied Royal Fingerbowl.
This being New Orleans, food and drink, and plenty of it, also play a starring role,
For the $85 price of admission, fans can feast on bottomless boils of crawfish, Zatarain's dirty jambalaya, shrimp pasta and gumbo, and wash it all down with wine, rum, moonshine and beer. Those who get there early can also scarf a hearty New Orleans brunch served up by local restaurants, and get the party (or patry, as it were) started with moonshine-spiked bloody marys.
These days, Patry-goers usually drink the joint dry. But Cryer had a half-keg of leftover Dixie rattling around in the back of his Ford pickup after the inaugural Patry – or at least he did until three months later, when Katrina unleashed the federal floods.
"Everything changed when Katrina hit, " says Cryer. "Threadheads became more than just a family, and began to raise money for the musicians we love. Many musicians were still struggling to come back, and those who were living here were worried, exhausted and short of funds."
During the first Fest after Katrina in 2006, Threadheads raised about $8,000 for the Musicians Clinic with Patry ticket sales and donations. Then came Threadhead Records, spawned at the 2007 Patry.
"After a moving set by Paul Sanchez and John Boutte, a Threadhead named Chris Joseph asked if they were going to make a record together," recalls Cryer. "Paul said he couldn't even pay the rent, let alone make a record. So after a pass of the hat, we helped them make Stew Called New Orleans, which includes a song called 'Be a Threadhead.'"
Threadhead Records went on to bankroll almost 70 local CDs with no-interest loans for "almost any New Orleans musician who asked," says Cryer. "Once a loan was repaid, we rolled it over to the next project. It was fan-funding with a twist and pretty much preceded fan-funding as we know it today."
Threadhead Records eventually morphed into Mystery Street Records, a fan-supported for-profit company run by Chris Joseph. Meanwhile, the giving-back arm of the operation expanded its mission with the Threadhead Cultural Foundation (THCF), founded in 2009.
Using money raised from Patry ticket sales, an annual online raffle and supporter donations, THCF provided seed money for the acclaimed musical Nine Lives, co-created by Paul Sanchez, and Bayou Maharajah, Lily Keeber's award-winning James Booker documentary. In 2011, the Foundation also stepped in as sponsor for Fest4Kidz, an outreach group founded by Jennifer Rooney that gives kids a musical alternative to street life by sending them to events like Jazz Fest and collecting new and used instruments for them to play. Each fall, THCF awards grants to a wide range of individual artists and community programs.
In 2015, THCF distributed more than $33,000 to 11 recipients, including (among others) singer-songwriter Alexandra Scott; The Happy Talk Band's Luke Allen; Dancing Grounds; Dinerral Shavers Music and Cultural Education Program; and the Danny Barker Festival.
The good works don't stop there. Threadheads hoist heavy boxes and sling beer to help Ms. Lena, who manages the Zulu Diamond Cutters beer booth during Jazz Fest. They create the annual Jazz Fest Grids, a handy at-a-glance guide to every show and event happening outside of the Jazz Fest grounds for the entire two-week season.
Perhaps most importantly for music fans, they also host the annual Threadhead Thursday, a free concert in City Park's Botanical Gardens, which happens the night before Jazz Fest.
This year's event runs 6-10pm on Thursday, April 21, and features George Porter, Jr. and his Runnin' Pardners, Soul Brass Band and Lynn Drury. Food and drink are available for purchase, and a $10 suggested donation benefits the Botanical Gardens.
But the main shebang is the one that started it all: The annual Threadhead Patry. What began as a lark for a few friends has turned into one of the hottest tickets of festival season.
"We may be amateurs," says Cryer, quoting Threadhead's unofficial motto. "But we get [stuff] done."
The 2016 Threadhead Patry, which benefits Threadhead Cultural Foundation, runs from 11am-9pm on April 26, at The Old Ironworks, 612 Piety Street. Advance tickets ($85), which include all you can eat and drink, are sold out. But weather permitting, a limited amount of walkup tickets will be available at the door. Our advice: get there early.
Above: Jon Cleary playing at the 2014 Threadhead Patry. Image provided by Ken Cryer.
Editor's note In a previous version of this article, we wrote that the Threadhead Cultural Foundation (THCF) launched Fest4Kidz. Fest4Kidz was founded in 2007, two years before the creation of THCF. In 2011, Fest4Kidz joined THCF.