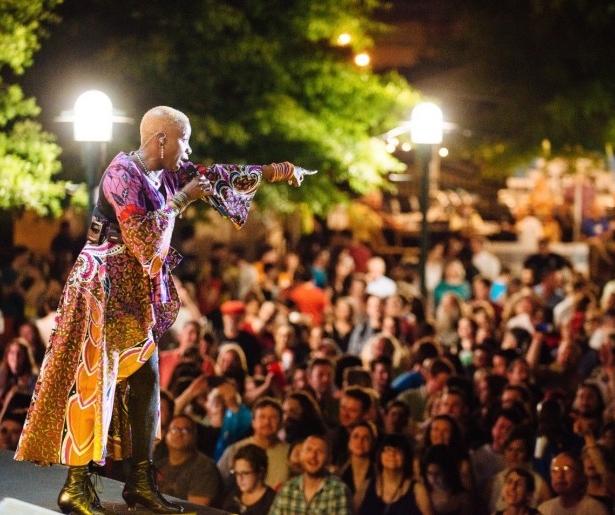 SHARE
The city of New Orleans is bracing itself for Jazz Fest, which hits this last full weekend of April. The greater metro area is about to experience a two week (and then some, really) party of music, food and general acknowledgement of Louisiana culture, all blended with a line-up of big name headliners culled from around the world.
With that said, if you want to get a little more global and local all at once – and deal with smaller crowds – don't dismiss the possibility of heading west to Lafayette for Festival International de Louisiane. Now celebrating its 30th birthday, 'Festival' is a simply gorgeous free music experience that manages to showcase both the city of Lafayette and an impressive slate of international music all in one fell sonic swoop. If you haven't been, Lafayette is awesome – as idiosyncratic and imbued with local character as New Orleans, but smaller, more accessible, and of course, different – this is the capital of Cajun country, and both the oldest strains of Cajun culture and the new frontiers of that identity are highly visible in this town.
Also: the food is amazing. Seriously, it's hard to eat anything bad here. Hit up the French Press, Artmosphere, Johnson's Boucaniere, Randol's…and of course, top it all off with music at the Blue Moon Saloon.
Yet for all that I love Lafayette, I don't want to ignore the greatness of her premier music event. Festival International is, quite simply, an A-list festival that manages to fly under a lot of radars. In addition, it taps into what I would argue is the true spirit of a music festival: showcasing great acts in an outdoor atmosphere, in a setting that feels like a musical buffet. The best part is, this buffet is made up of delicious food from around the world you just haven't tried yet.
That point can't be stressed enough: the range of talent is staggering, yet often, you've never heard of the genre of music being showcased, let alone the bands playing it. Example: this year's acts include a trio of Israeli sisters singing Yemeni folk music, dance music from Martinique that blends indigenous beats with the African diaspora, and Afro-Electro mashed up with rumba straight out of the Congo. I looked up all of the above on the the Festival website, and I'm hooked.
Don't get me wrong: I love Jazz Fest. But every year, I try and make a little time for Festival as well. It's simply too beautiful to pass by. For an in-depth take by Lafayette native Molly Reid, check out this excellent take on Festival International from our archives, and whatever you do this weekend, enjoy the hell out of it.
Image courtesy of Festival International de Louisiane.