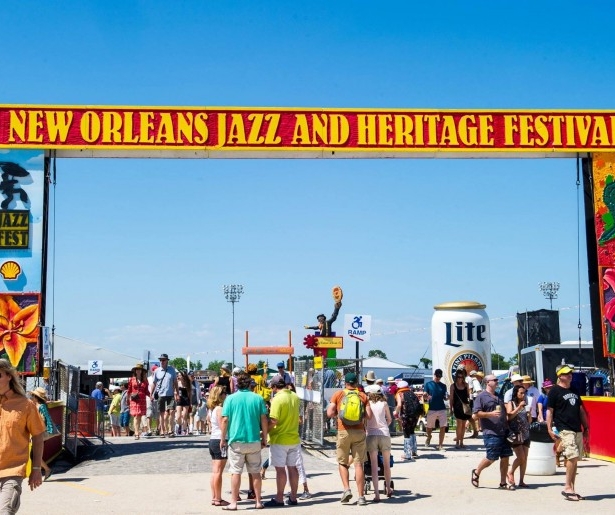 SHARE
Much has changed since I made my very first pilgrimage to Jazz Fest in 1988.
Tickets were $20/day, as I recall, which seemed outrageously high back then. Crowds were much lighter (though everybody still complained they were too big). And though the number of stages was roughly the same as it is today, they were much cruder.
The Blues Tent, for instance, was an actual tent staked out on the turf in the infield. It turned into a mud pit when it rained, as it did my first year, when I gatored in the muck to lowdown blues and earned the right to wear a "Born to Ooze" t-shirt.
I still have that t-shirt. And I still go to Jazz Fest, though I now have the luxury of going as a local; I moved to New Orleans in 2001.
In the years since my first visit, Jazz Fest has ballooned into a hydra-headed monster of a festival. Still, somewhat surprisingly, what was true in 1988 remains true today.
The New Orleans Jazz & Heritage Festival is still, hands down, the greatest live music festival on earth, provided you know how to get the most bang for your ever-bigger buck.
Here are a few tips to help you hit the Jazz Fest sweet spot, day after day after day.
1. BE PREPARED
Like any outdoor festival, Jazz Fest is at the mercy of the elements. But because it's on the Gulf Coast, the weather is even dicier. Unless you're fortunate enough to have a VIP pass that allows you to come and go, Jazz Fest is no re-entry, so you have to come prepared. Not infrequently, that means prepping for sun, wind and rain on the same day.
SUN: New Orleans sun is intense, even during relatively mild temps in the low 80s, so ditch those trendy Coachella floral wreaths. A hat (or parasol) is essential for all but those lucky souls who can sunbathe with impunity. Ditto frequent applications of sunscreen and a lightweight shirt, scarf or shawl for additional protection. I tie mine around my waist.
WIND: Gusty winds can spring up with almost no warning on even balmy days. Strings to hold sunhats in place are highly recommended; I poke two shoelaces through the straw brim, and secure them below the chin with a wooden bead. Hats with strings can also hang on your back at indoor stages like the Jazz Tent, so you don't annoy folks behind you by blocking their view.
RAIN: It's a rare Fest that doesn't get at least a few sprinkles, and torrential downpours can turn the fairgrounds into one big muddy mess. Well-prepared Fest-goers soldier on in the rain, and even revel in "Born to Ooze" moments. If stormclouds loom on the horizon, pack along one of those cheap drugstore ponchos that weigh almost nothing to help you stay dry. And if a deluge hits, rubber boots help you wade through the sludge, which can linger for days after a storm.
2. PLOT YOUR COURSE (AND DEVIATE)
The sheer number of musical options can be overwhelming, especially for Fest newbies, so it pays to do your homework before you enter the Fairgrounds.
Pick up a copy of Offbeat, aka the Jazz Fest Bible, which has A-Z listings of every act. Grab Gambit and Lagniappe as well, for local music critics' take on this year's highlights, and check NewOrleans.me's own don't-miss guide.
Once you've crunched all that data, and confabbed with your friends about stuff you might have overlooked, study each day's grid closely and plot your course.
There's an app for that, of course, and the official Jazz Fest website has a "create your own schedule" feature. I do not recommend it, because it's cumbersome to use. And once you create it, you're locked in, abrogating one of my favorite parts of Jazz Fest: improvising on the fly.
I do it the old-fashioned way. I stop by Liuzza's by the Track for a bloody mary and grab one of the handy paper schedules distributed for free out front. I highlight my own picks on each day's grid with a magic marker, adding stars (or double stars) by absolute must-sees.
Trusty schedule in hand, I hit the Fairgrounds. But though I consult it religiously, I'm always prepared to deviate if a pre-picked choice doesn't deliver, as determined by a hard and fast rule:
If it's not rocking your world, move on!!!!
3. MAKE TRACKS AROUND THE FAIRGROUNDS
The more efficiently you move around the Fairgrounds, the more acts you'll be able to catch. And efficient doesn't just mean faster.
Stake out pit stops near the stages you want to hit.
While at the Lagniappe stage in the grandstand, for instance, you can refill your water bottle at the drinking fountain, use a for-real bathroom and escape the heat in AC. And if you time it right, you can even watch the Lagniappe act you want to see whilst waiting in line for oysters. Sweet!
After you've danced your butt off at the Fais Do Do, you can cool off with a mango freeze under the trees at Louisiana Folk Life Village. And at nearby Congo Square, you can browse a colorful array of African art and crafts while catching whoever's performing on stage.
When you're on a mission, of course, time is of the essence. For max speed, use the track to power around the perimeter of the fairgrounds.
And who knows? You might even hit a grand slam, and catch four must-see acts with overlapping time slots. I pulled it off just once.
In 2007, I watched Bobby Lounge make his storied "iron lung" entrance; hit the Acura just in time to watch Jerry Lee Lewis rev into "Chantilly Lace"; segued directly to Gillian Welch doing "Time (The Revelator)" at the Fais Do Do; then looped back to the Lagniappe, where Lil Queenie got us all dancing in the aisles to "My Darlin' New Orleans."
That's why I love Jazz Fest. May the Fest be with you!
Image by David Fary.