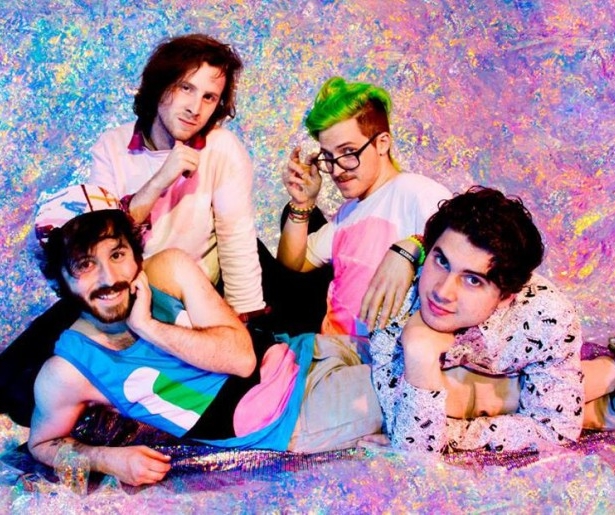 SHARE
If you, like us, get nostalgic and weepy for old 8-bit video games, you may want to check out Anamanaguchi at the Hi Ho tonight. The chiptune band (we are going to totally reveal our occasional cultural clueless-ness by revealing we hadn't the foggiest notion of what chiptune was before today, besides perhaps the method of determining the perfect crunch noise when you bite into a Zapp's) produces music that sounds like the soundtrack to all those old Japanese-developed games of your youth. The result is an airy yet satisfyingly rough around the edges sound that creates an electronica-induced saudade -ish longing for long afternoons on the Nintendo. What, you don't remember playing Nintendo, Tulane student? That's fine; you're also young enough to know what chiptune is. Cross-generational appeal, people. Kitty Pryde is opening. Show starts at 9pm, $10 in advance, $12 at the door.
Over the weekend, five local actresses will take to the stage of Le Petit Theatre: to perform Love, Loss & What I Wore, by Nora and Delia Ephron. We can attest: this is a funny (and touching and powerful in places) show, consisting of 28 vignettes, most of them comedic (Nora Ephron penned Sleepless in Seattle, among many others). Go support some local theater. Shows start at 8pm Fri & Sat, with a 3pm Sunday matinee, and continues through July 28; tickets vary by seat.
Speaking of local theater, the Anthony Bean Theater in Carrollton, along with over 75 local kids, is putting on Old Skool/Nu Skool over the weekend. The show consist of classic R&B tunes, and is put on in collaboration with the New Orleans Recreation Development Commission (NORDC) Summer Youth Program collaboration. Shows at 8pm fri & Sat, with a 3pm Sunday matinee; tickets $15.
Also, Mid-City Theatre is performing staged readings of guilty pleasure movies (Reservoir Dogs this weekend!), which is always hilarious. At 8pm Fri & Sat ($20), and 6pm Sun ($15).
On Sunday, Make It Right is holding an open house in the Lower 9th Ward. Register at the above website, or call 504-620-3234. Pre-Katrina Lower 9th Ward residents, their relatives and current law enforcement, fire fighters, EMTs and teachers are eligible. From 1-4pm at 5011 N. Roman Street.
Also on Sunday, Sunpie Barnes will perform zydeco at the Rock 'n' Bowl forRock, Ride & Rescue, a silent (well, not too silent, what with the music) auction that benefits the Greater New Orleans Therapeutic Riding Center, Molly the Pony Foundation, Happy Trails Therapeutic Horsemanship Center and the LA SPCA. From 6-9pm, tickets $10
Photos courtesy of Make it Right and Anamanaguchi