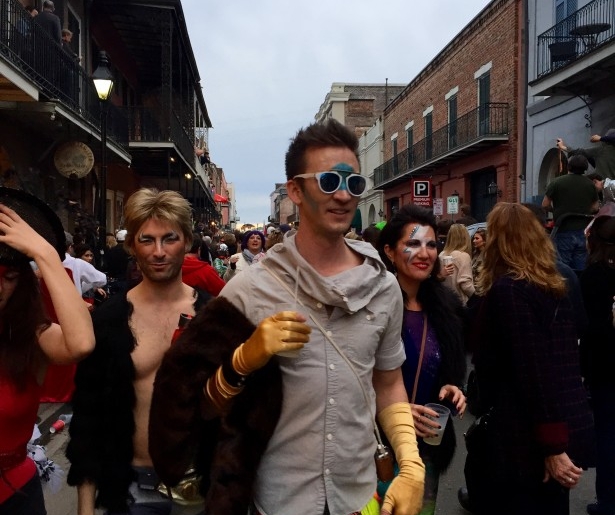 SHARE
Editor's note When we started covering this story, we had no idea it would be published in the wake of the loss of another slinky, gender and genre bending pop star and sex symbol. Sigh. Here's hoping Bowie and Prince are making music together somewhere in space. Expect second lines for Prince throughout the weekend.
It started with a much-shared post on Carlo Nuccio's Facebook page. Written in the wake of David Bowie's death, when millions of fans were reeling from shock, Nuccio gave voice to our collective grief by describing how profoundly Bowie changed his life and the entire world.
The before?
"Black suits, white starched shirts. … Even Christmas wrapping paper seemed black and white."
All that changed in an instant when Bowie burst on the scene.
The now?
"Color! More color! So much color!!! Christ! Even the wind seemed to be in color."
On the mighty wings of that rainbow wind, Nuccio soared into action and began calling in the troops from the vast ranks of New Orleans musicians he's played with over the decades.
"We were all affected by Bowie," says Nuccio, a founding member of Continental Drifters and celebrated session drummer who currently plays with seven local bands. "After he passed there was like an underwater flash and all these people you wouldn't even think of started posting threads. Mister Dixieland? You gotta be kidding me!"
Spurred by Nuccio, the ever-growing Facebook battalion quickly coalesced around a Bowie tribute concert that celebrates the pop music iconoclast.
Painting a New Now – A Tribute to the Art and Music of David Bowie, scheduled for 7pm Monday, April 25, at the Civic Theatre, is sure to be a highlight of the jam-packed festival season, with enough star power to send Major Tom back in orbit.
Mad Men star Bryan Batt got on board right away, as did Tony award-winning actor and singer-songwriter Michael Cerveris, currently starring on Broadway in Fun Home.
"Michael's flying in on his one Broadway down day to be part of this," says Nuccio, who has a West Coast contingent flying in as well, including the Go-Gos' Abby Travis and Masters of Reality founder Chris Goss.
Nuccio's fellow Drifter Susan Cowsill, who covered Bowie's Ziggy Stardust for her Covered in Vinyl series, was also among the early recruits. Ditto Papa Mali, singer-songwriter Alex McMurray, Soul Aslyum's Dave Pirner, chanteuses Debbie Davis and Dayna Kurtz, and tuba maestro Matt Perrine, who's also serving as the event's arranger.
"We'll mostly be doing studio arrangements," says Nuccio, who recruited a who's who roster of New Orleans musicians to back up the vocalists, rotating in and out of the lineup throughout the night. "But I'm not opposed to somebody bringing themselves to a song, and we may even dabble in different arrangements. My job is to make sure we have a good program."
With so many lead vocalists vying for the mic, was it tough to decide who does what?
"It was actually fairly easy," says Nuccio. "Most people had already decided what songs they wanted to sing, and there was surprisingly little overlap. And when two like-minded artists did pick the same song, the other one said OK, then I'll do this and this and this."
Picking a charity for the tribute to benefit, which Nuccio knew from the get-go he wanted to do, was little trickier at first.
"I looked at all the orgs that Bowie gave to, which were all over the map," says Nuccio. "Oddly, there was no cancer research at all."
So Nuccio turned to a cause much closer to home: Team Gleason. Founded by former Saints defensive back Steve Gleason, the nonprofit supports ALS research, which helps people navigate the neuromuscular disease Gleason suffers from.
"Everyone can get behind that," says Nuccio, who's sure Bowie himself would approve.
And everyone can let their freak flag fly when they come to the tribute concert. Rev. Spooky LeStrange & her Billion Dollar Baby Dolls set the tone for the night when "Diamond Dogs" howl at the moon and we can all be "Heroes," just for one day.
"We definitely encourage people to costume," says Nuccio. "No matter what else this is, it's a celebration of David Bowie, and we're all doing it out of our love for him. So however you want to show your love is great."
"Painting a New Now" starts at 7pm on Monday, April 25, at the Civic Theatre, 510 OKeefe Avenue. Tickets, on sale now, are $55 advance and $200 for the VIP package, which includes premium seats, signed poster, exclusive Bowie t-shirt and other perks.
Above image: a photo taken at the David Bowie second line, by Elise Ingber.