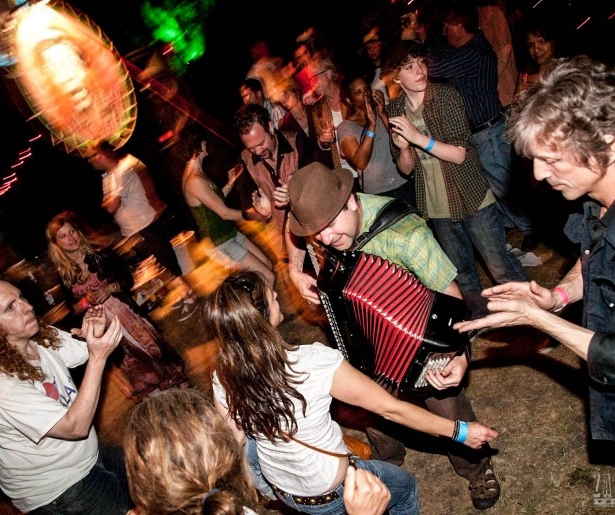 SHARE
The Valparaiso Men's chorus at sunset, hoisting their beers aloft and swaying from side to side while belting out lusty sea shanties on the main Chaz Fest stage.
Cellist Helen Gillet and her ever-evolving band of Other Instruments making strange and wonderful sounds on the little Hard Liquor Stage under the trees.
The party-in-your-mouth that explodes when you take your first bite of Eve and Schatzy's spicy crawfish bread, and wash it down with vodka-spiked watermelon fresca.
Ducking into Zack Smith's al fresco photo studio, set up behind a tree, and posing for this year's keepsake portrait while proudly sporting last year's Chaz Fest t-shirt.
Soaring into space with Rory Danger and the Danger Dangers as the entire crowd sings along with an inspired remake of Bowie's "Space Oddity": 'Ground Control to Washboard Chaz!'
These and so many other indelible moments montage through my mind as I look back on a decade of attending my favorite event of the entire Jazz Fest season: Chaz Fest, the scrappy DIY 9th Ward gathering that marks its 10th and final year on Wednesday, April 27 at the Truck Farm (noon-10pm, 3020 St. Claude Avenue).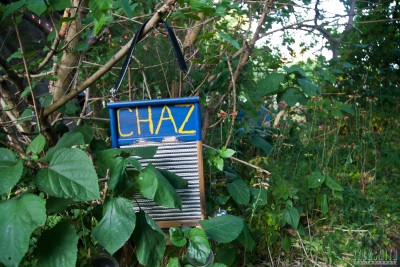 Well, almost a decade of attending. I wimped out the very first year when it rained all over town, save for one patch of blue over the Chaz Fest grounds.
"There are weather maps to prove it," says Chaz Fest founder Alex McMurray, whose ragtag team labored all night cobbling together a sound system and pressing iron-ons onto the very first Chaz Fest t-shirts – designed, as always, by McMurray's wife, Kourtney Keller.
The seat-of-their-pants operation that gave birth to Chaz Fest sprang up out of necessity in 2006, when the town was still reeling from Katrina and the first post-K Jazz Fest rolled around.
One of the hardest-working musicians in town, McMurray was living with Keller in one of the houses on the Truck Farm property when Jazz Fest released its schedule. He wasn't on it, nor were most of his musician friends.
"Everything was weird after the storm, Jazz Fest didn't do Thursday, so there were less slots," recalls McMurray, who plays with Washboard Chaz in the Tin Men and numerous other bands. "And, as it happened, none of the bands I play with, or that Chaz played with, got in."
So they decided to host their own Fest.

The name Chaz Fest was a no-brainer, since it was something they'd joked about for years. But the obvious place to hold it was not immediately apparent.
"First we were like, let's go set up across from the Fairgrounds, or one of those clubs near the Fairgrounds, and play," says McMurray. "And then we were like, wait, why don't we do it right here in the backyard, because it's way more nice."
Indeed. Named the Truck Farm because it actually was one years ago, the expansive property is delightfully pastoral and shaded by trees, and includes several rustic outbuildings and sheds. That makes it perfect for the ma-and-pa taco stands and other grassroots enterprises that spring up for one day only during Chaz Fest, like Oliver's now-legendary backyard Speakeasy.
"The real star of the show is the space," agrees McMurray. "It's such a magical place that it's hard to imagine Chaz Fest happening anywhere else."
So the writing was on the wall when McMurray announced early this year that the Truck Farm was being sold and Chaz Fest was no more. Longtime fans were crushed and bemoaned the loss loudly in tweets, Facebook posts and funky 9th Ward bars.
And lo and behold, the gods heard our cry! The new buyers relented and Chaz Fest came back for one last hurrah – a happy ending that McMurray greeted with his usual ambivalence.
"This time of year is like the promised land for musicians, and I would love to have my energy going toward music, instead of worrying about toilets," says McMurray. "You want to be at the top of your game, and running this festival in the middle of [festival season] is like having lead weights on your ankles when you're trying to do synchronized swimming."
Still, he persisted, year after year – well, every year except 2014, when he and Keller took a break from Chaz Fest after their son, Max, was born. (Max attended last year and will be back for the final blowout, giving his babysitter a run for her money now that he's "more ambulatory," as McMurray puts it). For while it may be exhausting, both McMurray and Keller enjoy rocking out when their hard work's finally done.

"Kourtney and I don't really get to relax until the headliner comes on," says McMurray "By that time the beer's pretty much gone, and everyone's abandoned their posts. The ship is sinking, so we might as well enjoy it. Probably the most fun we ever had was when Supagroup played, and they're the closer this year, so we're happy to have them back."
He's also psyched to welcome back the gypsy-punk-klezmer rockers of Debauche, who incited one of the great moments in Chaz Fest history.
"Debauche was playing, and I was dealing with something in the yard," he recalls. "And when I looked up, there were paramedics putting a guy on a stretcher. Apparently, the guy had thrown out his back or something because he'd been rocking too hard to Debauche! The next year, Debauche headlined. They definitely earned that spot."
This year, Supagroup, Debauche and a dozen other Chaz Fest faves mark the end of an epic era. (See complete lineup here). But McMurray, at least, won't be crying in his beer.
"I'm for letting things die a natural death," he says. "There's something beautiful about something living for a finite period of time, and then just going away."
Chaz Fest runs from 12-10pm on Wednesday, April 27 at the Truck Farm, 3020 St. Claude Avenue. Buy advance tickets ($30) here, or purchase them at the door ($35).
Photos by Zack Smith.