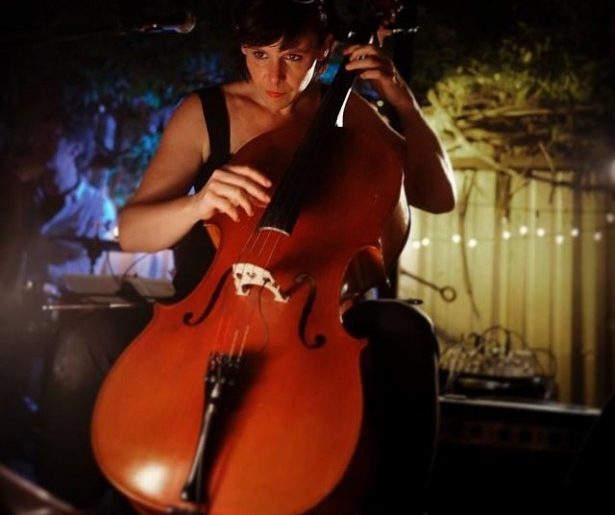 From thousands of visitors jamming out till the wee hours to famous bands at major local venues, to all the relatively small groups of locals hosting unknown outfits in their backyards, there is always plenty going on during Jazz Fest outside the Fairgrounds.
And adventurous cellist/singer/force-of-nature, Helen Gillet, seems to be participating in most of it. "I have a million gigs during the week between the two Jazz Fest weekends," admits Gillet, who performs solo at the fest on Thursday, before going on to host and star in the music series, What Is A MOTICO? at AllWays Lounge (2240 St Claude) this coming Saturday and Sunday nights.
"The series was inspired by the neo-dadist collage artist, Ray Johnson, who was well known in the 50s and 60s," explains Gillet. "He was very into correspondence, and he would sometimes make a collage and then send it to a museum curator or gallery owner, and say 'Alter this and pass it on."
As such, Gillet's What is A MOTICO? will feature a host of interesting musicians improvising together, "With the idea of correspondence as art," she says, "making a musical idea and passing it along, while also trying to keep some thread going."
Friday night will see Gillet improvising with percussion monster Mike Dillon, Mark Southernland (who plays radical music on his own horn-like sculptures), famous drummer Michael Zerang from Chicago, plus Psychedelic Furs saxophonist (!!!) Mars Williams.
On Sunday, Gillet's musical krewe will again include Southerland and Zerang, plus drummer Doug Garrisson and one-man-band Quintron, operating his Weather Warlock: a synthesizer that reads the sun, light, rain and wind, and spits it back out as "music."
"It is really important for people to get to that one at sunset," Gillet adds.
Dr. Ira Padnos and company's Ponderosa Stomp Foundation hosts a series of events at New Orleans's Ace Hotel (600 Carondelet). Ace Hotel has chosen 2016's Jazz Fest to step up with a roster of music that has already included a rare performance by famed musician/producer Daniel Lanois.
On Sunday at 7pm at the Ace, P-Stomp presents blues pianist and singer Henry Gray, who, among many other accomplishments, was handpicked to perform at Mick Jagger's 55th birthday party in Paris.
Before that, on Friday at 10pm, as part of the hotel's "Six of Saturns" Jazz Fest music series, Jack White's Nashville-based Third Man Records will host a free concert by Viva L'American Death Ray Music, three other local punk/garage acts, plus DJs Anita Bump and Lil Blasta.
Then on Saturday at 10pm, the hotel hosts New Orleans-via-New York folk singer/songwriter Alynda Lee Segarra's band Hurray for the Riff Raff, doing a benefit for the invaluable New Orleans Musicians Clinic.
One Eyed Jack's (615 Toulouse) always brings something unique to the Jazz Fest celebration, and this year at 8pm, on both Friday and Saturday nights, the club presents a double dose of saxophonist and bandleader Kamasi Washington.
Kamasi, who claims to have been able to play the saxophone from the moment he first picked up the instrument, has gone from Hamilton High School's prestigious music academy, to touring with rapper Snoop Dogg and other famous musicians. At his One Eyed Jacks shows, Kamasi will build on his 172-minute solo album The Epic, with ten-piece band The Next Step, featuring a full string orchestra and full choir.
If being out at the Fairgrounds leaves you feeling land-locked, on Fri, April 29, the Creole Queen Riverboat will haul music-lovers down the Mississippi River while hosting a unique Jazz Fest after-hours blowout called the FiyaWrapper River Jam, starring The Headhunters, James Brown's famous trumpet player Maceo Parker (who just lost his most recent boss, Prince), plus Eddie Roberts and more.
And of course anyone who has come to New Orleans to check out our musicians must make time on Friday at 8:30 to see and hear the new, wild jazz supergroup NOLA Tet at the gorgeous Marigny Opera House (725 St Ferdinand).
Legendary drummer Johnny Vidacovich and his musical life-partner James Singleton team up with aforementioned brilliant vibes player Mike Dillon, and otherworldly pianist Brian Hass to "decompose" their own interesting, beefy modern jazz compositions, as well as conjure new music on the spot.
Jazz Fest time has always been lousy with tribute bands, and that was before Prince died. This year's most interesting tribute (Thursday night at 10:30pm at the Dragon's Den, 435 Esplanade) will celebrate hyper-influential Detroit rap producer J-Dilla (RIP), in a show led by barber and Louisiana hip-hop stalwart Nesby Phips. A peripheral member of NOLA rapper Curren$y's crew, the lyrically intelligent Phips is known most recently for his mixtape series, "Phipstapes."
His new live band, GRID, features A.J. Hall on drums, plus bassist Max Moran, guitarist John Maestas, and keyboardist Jason Butler, all former members of popular local funk groups. For this special show, Phips and GRID will recreate J Dilla's simultaneously hard and airy, jazz-influenced beats with the help of out-there saxophonist, Khris Royal.
But now that The Purple One has passed, you will be offered Prince tributes at every turn this Jazz Fest. We suggest progressive jazz saxophonist and vocalist Karl Denson's take on the classic album, Dirty Mind, recorded in 1980 when Prince was just 22. On April 28 at 10pm at the Howlin' Wolf (907 S Peters St), Denson will recreate this funk masterpiece with the aid of his usual Tiny Universe band, plus Ziek McCarter of Con Brio. The night will also feature an Elliot Smith tribute led by percussionist Mike Dillon, and a Beatles tribute by The Heavy Pets.
And last but certainly not least, check out Snoop Dogg, aka Snoop Lion, under his third alias, DJSnoopadelic, at Carver Theater (2101 Orleans), on April 30, 10pm. Other listings do not specify what exactly Snoop will be up to at the Carver, but the Oakland rapper's 2014 Las Vegas DJ residency was framed as a roaring 1920s cabaret with full costumes and a special cocktail menu. Legendary New Orleans Cash Money DJ and producer Mannie Fresh will open the show.
Image: Helen Gillet, via Facebook.