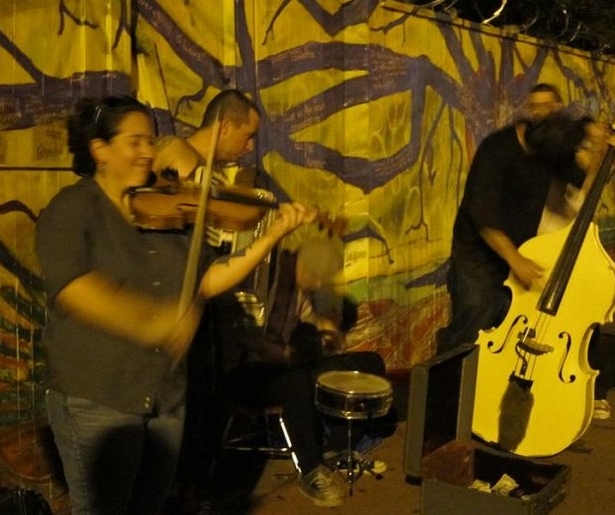 SHARE
One of the greatest things about hosting visitors is rediscovering your home with fresh eyes. When someone regards your native space as 'new,' the contours of your home – the people you pass on the street every day, the tree you linger under for a spot of shade, the front porches that are part of your daily landscape – become a place of discovery, and I think there are few thrills as exciting as discovery.
That thrill is magnified when you can mix discovery with experience – because while you can feel like you're seeing home with fresh eyes, the fact is, it's still home. You know it well.
That's how I've been feeling these past few days during Jazz Fest. Of course, anyone who visits New Orleans probably wants to be here, but repeat Jazz Festers tend to be truly fanatic in their devotion to this city. Yes, their vision of the Crescent City may sometimes be a little romanticized – look, living here isn't all impromptu street music and great food and charming eccentrics – but then again, all of those things are elements of life in New Orleans, and sometimes, I have to be reminded how cool it is to live in a town where second lines are a fact of life.
That realization hit home a little last evening on Frenchmen St. The buskers were playing electronic violins next to two guys in a pickup truck grilling chicken over an open fire. Up the block, an old ragtime band played while couples danced a fast waltz near the open air art markets. A man in his 30s looked around, go-cup drink in hand, and rocked back on his heels before letting out a loud, happy exhalation of breath – the sort of sigh you make after a particularly good meal.
The lady next to him smiled and said "Welcome to New Orleans." He smiled back, then almost had his beard singed off when the guys working the grill hit it with another squirt of lighter fluid. But no one got annoyed; it was all part of the experience, this collusion of great food, al fresco performance and a general claiming of the street as public space.
There are hundreds of big ticket musical festivals all over the world. Many are basically un-moored from their surroundings, which is to say you could be watching the show in a field in Kansas or a field in California; at the end of the day, you're there for the music and maybe fellow fest-goers, but not the physical destination itself.
This is definitively not the case in New Orleans. People come to the Jazz & Heritage Festival at least partly for the sense of place implied by the name of the event itself. Yes, we can debate how well local music integrates amidst the big name Acura Stage acts, but past that conversation, there is no doubt Jazz Festers are here at least as much for New Orleans as they are for whoever is playing in the Fairgrounds.
There are few music festivals that so seamlessly integrate and become inextricably wrapped up in their host destination, and if you aren't convinced (and if you're reading this, you probably are), head to Liuzza's by the Track this evening and see how the visiting crowds mingle with the street scene, to the point that they shift from observers to participants. And enjoy some of the videos below before you head out! On a practical note, don't forget our guide to the best after-Fest shows kicking off through the weekend.
Pearl Jam rocks in the free world.

A scene from the second line in honor of Prince

The Chili Peppers give it away

Janelle Monae closes out her tribute to Prince with 'Let's Go Crazy'

Frenchmen Street by night