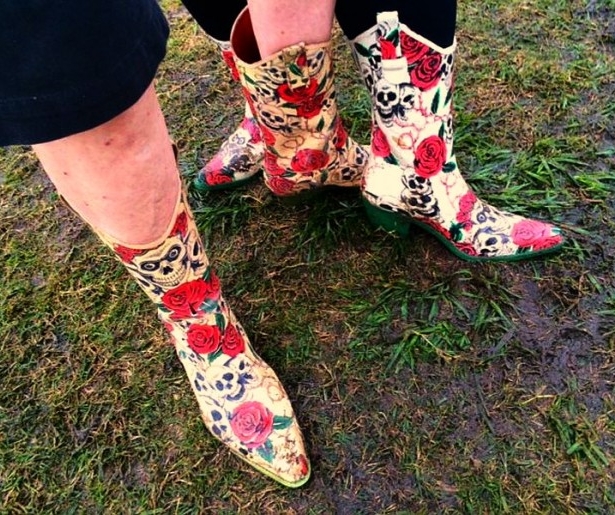 SHARE
Jazz Fest may come and go (and get soaked in the process), but one element that is stable, yet shifting year by year, is Fest style. It's not just tie-dyes and Crocs, silly hats, and that one trendy accessory that refuses to die: weather-inappropriate flower crowns.
The Fest's "Do whatcha wanna" creed inspires Fairgrounds fashionistas to rise to the occasion with panache, and the ones who stand out make style statements as distinctive as their personalities. Perhaps not surprisingly, the vast majority in this gallery are locals, who've been perfecting their look over many years.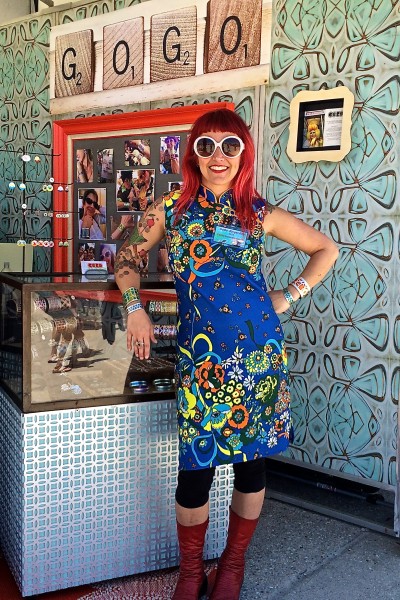 Gogo Borgerding
Hometown: New Orleans
Known for her iconic aluminum cuffs, Gogo always has a crowd around her jewelry booth in Contemporary Crafts, where she's been a featured vendor for 11 years running. Her striking use of color also defines Gogo's personal style, which combines two key elements: "a little sass, a little rock and roll."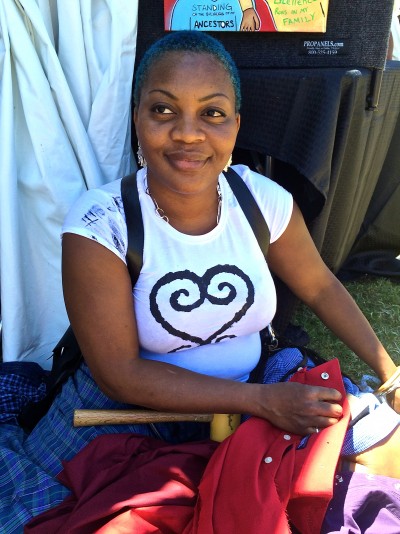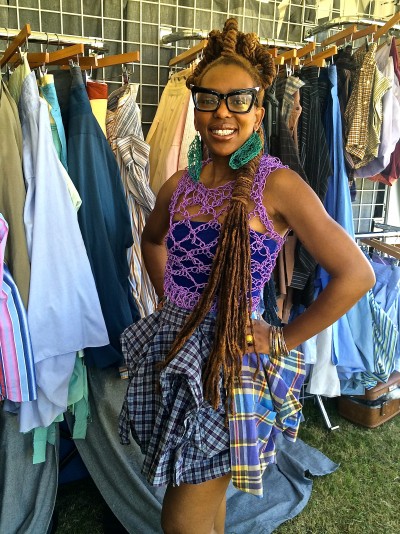 Aakofii + Dionne Fraser-Carter
Hometown: Atlanta, GA
I was magnetized by Aakofii's booth in Congo Square as soon as I spotted her wildly stylish skirts, handcrafted from recycled men's shirts. Brilliant! Aakofii was hard at work on new pieces while Dionne sported her handiwork and greeted customers. Aakofi's bold style speaks for itself, while Dionne's "edgy, wearable art" includes her own crocheted leather earrings.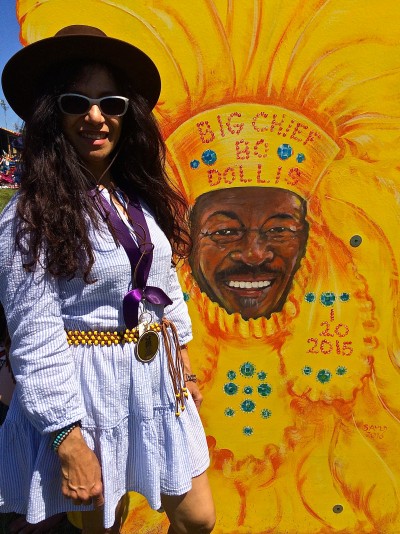 Xiomara del Carmen
Hometown: New Orleans
Award-winning designer Xiomara hit the Fairgrounds in one of her own designs, which puts a flirty contemporary spin on a Southern staple: the seersucker dress. The purple ribbon around her neck pays tribute to Prince, who'd look right at home in her floppy hat. 'Xio' also seemed pretty into a striped shirt-skirt she bought from Aakofii, whose work she discovered after this photo was shot.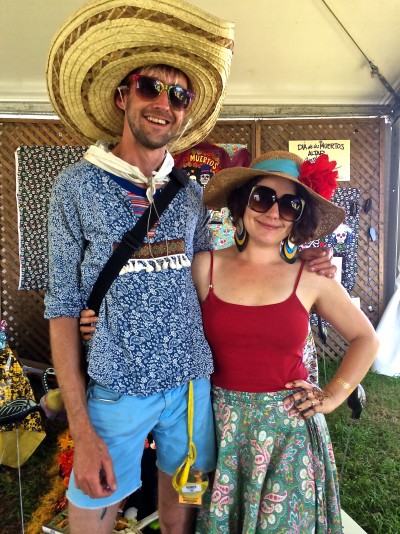 Jacob Arnouville & Katie Gelfand
Hometown: New Orleans
Fest buddies for years, Jacob works construction for Jazz Fest, while Katie was helping Cynthia Ramirez tend her Dia de los Muertos altar in Folklife Village. Katie favors "Southern gypsy chic" for her Fairgrounds look, while Jacob has one simple rule of thumb: "always with a hankie and a hat."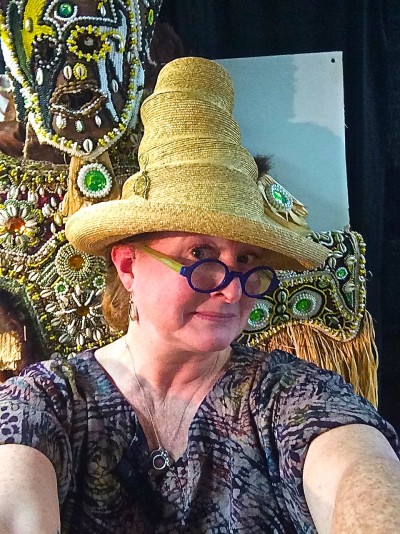 Lisa Williford
Hometown: New Orleans
A connoisseur of the master craftspeople of Congo Square, Lisa wore a favorite hat by Ignatius to the Fairgrounds this year, and promptly bought another one. It works well with a hand-batiked African tunic purchased last year from Namdi, who returns to Congo Square this coming weekend. Lisa cheekily (and aptly) describes her look as "anti-Coachella festival fashion."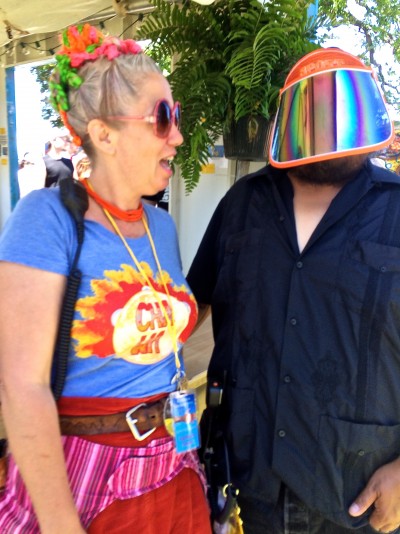 Kathleen Krauss & Bunny Martin
Hometown: New Orleans
As longtime Jazz Fest employees, Kathleen and Bunny have spent years in the trenches together. Kathleen works in Louisiana Folklife Village, where her "fancy for Fest" 'do was created by cultural hairstylist Zina Harris. As you might surmise from his welder's mask, Bunny works in construction, and invariably wears "all black, despite the heat."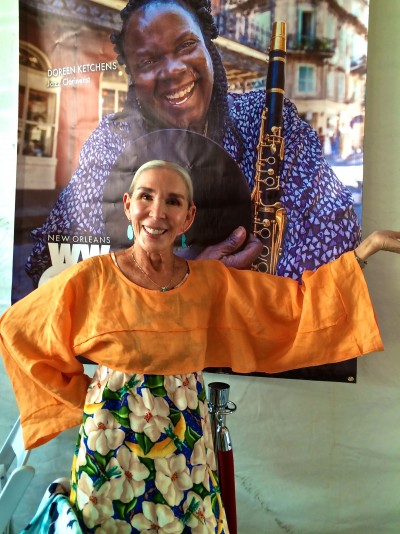 Adey Lavigne
Hometown: New Orleans
This elegant creature was surrounded by admirers when I spotted her across the room in the WWOZ hospitality tent. Adey has been coming to Jazz Fest since she first moved here from San Francisco 35 years ago, and creates her own "sophisticated bayou look" by dressing up pieces from the official Jazz Fest collection with her own embellishments.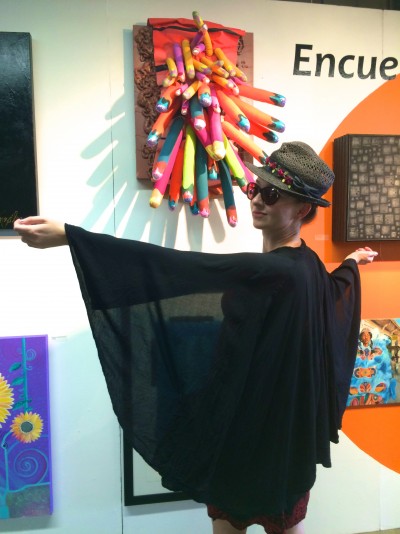 Mel Cook
Hometown: London, England
Mel's dramatic cape caught my eye when she breezed past me inside the Grandstand. Turns out she comes by her theatrical flair naturally. The London-based director became a temporary New Orleans resident when she was hired by Tulane to direct the recent production of Julius Caesar, and she's on deck to direct No Exit this fall. This is only her second Jazz Fest, but it fits right in with the magical events that have unfolded ever since she landed in "this Kismet kind of town."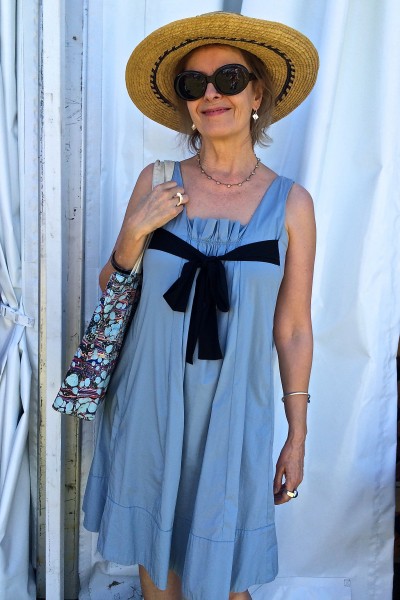 Ali Duffey
Hometown: New Orleans
Ali moved to New Orleans from New Zealand in 2001, the same year I arrived, and we've been running into each other at the Fairgrounds every year since then. Her "cool, comfortable" look is defined by an understated elegance that instantly sets her apart the more-is-more masses.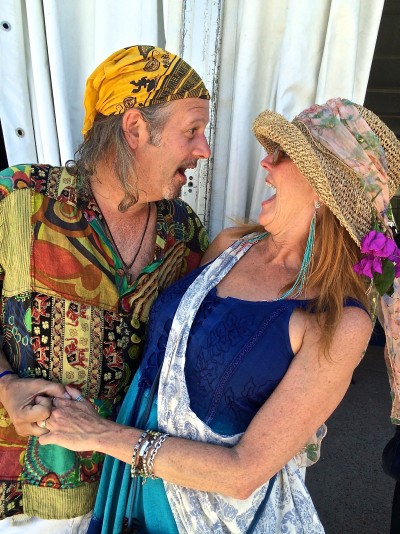 Chris Seker & Cecile Tebo
Hometown: New Orleans
These charming lovebirds met at BBQ Fest in Lafayette Square, and hit it off so well that their first date "lasted for 68 days." Chris picked the purple flowers on Cecile's hat to honor Prince, which perfectly expresses her "Marigny girl" style. Chris's Fairgrounds fashion motto? "Be myself."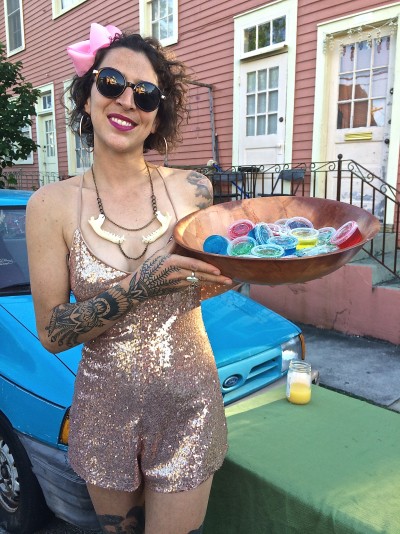 Noelle
Hometown: New Orleans
Like many enterprising locals, Noelle and her pal Arianna take advantage of the droves of tourists exiting the Fairgrounds on Sauvage Street to hawk everything from tap dancing to hot tamales to that perennial fave: jello shots. They were doing a brisk business when I snapped Noelle putting her Fest foot forward in this sparkly ensemble.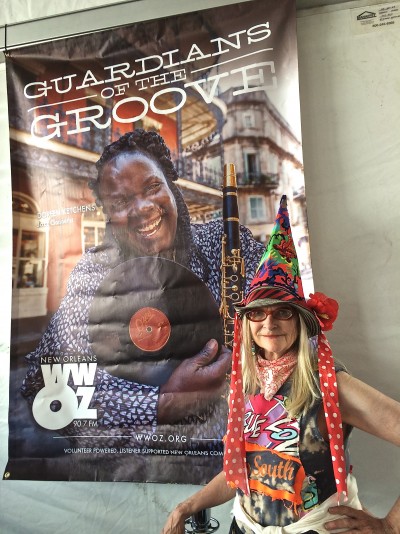 Cree McCree
Hometown: New Orleans
My best Fest fashions are born of improvisation, and this fanciful hat is no exception. I arrived at the Fairgrounds sporting a simple striped fedora adorned with a red hibiscus. But when I stepped into the Celebrations tent at Folklife Village, I simply had to have this conical Cajun Mardi Gras hat, handcrafted by Georgia Manuel of Eunice. "Just stick it on top of your hat, honey," she told me. Good suggestion, Georgia!