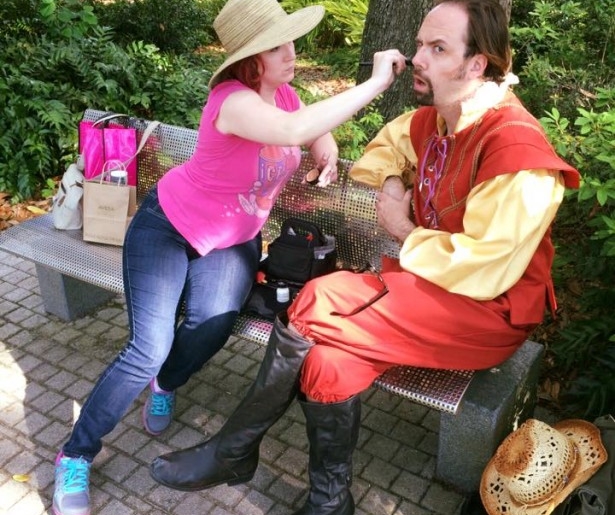 New Orleans drama aficionados can once again enjoy theater under the stars with the NOLA Project's production of Don Quixote, running from May 4-22 in the New Orleans Museum of Art's Besthoff Sculpture Garden.
Directed by Jessica Podewell and written by Pete McElliott, this year's production is an adaptation of Miguel Cervantes' 1605 novel about a nobleman who reads one too many books about knights, romance, and chivalry. He loses touch with reality and sets out on a quest to revive antiquated notions of romantic knighthood.
Many people are familiar with the story because it was adapted into a Broadway musical titled Man of La Mancha.
McElliott says his adaptation is much closer to the book than the musical. He said it was a challenge to condense a book that's roughly 1000 pages and shape it into a coherent 90-minute play. But he feels the end result will have something to appeal to audiences of all ages.
"I tried to adapt it in a way that it hasn't been adapted before, but is still true to the story," McElliott said. "There's going to be a strong sense of humor and a great deal of heart."
Podewell cited the script's mixture of emotional complexity and giddy silliness (see trailer, above) as a major selling point for her. "Pete's writing is so funny, so well-woven, and so full of heart that it is hard not to fall in love," Podewell said.
Quixote wishes the world he lives in would be different from the way it actually is. McElliott thinks the story's themes of nostalgia for days gone by and creating an idealized version of the world will resonate with modern audiences. He said things like Facebook and Instagram are tools that people use to present idealized versions of themselves to others.
"People most of the time would like to have the dream version of their lives," McElliott said.
Local actor Ian Hoch (pictured in costume above, via the NOLA Project), who plays Quixote in the production, said he feels the story of Don Quixote is more accessible to modern audiences than many Shakespeare plays, given that the average audience member won't be able to relate to avenging the death of a parent like Hamlet or murdering a rival like Macbeth.
"The message is more universal," Hoch said. "It's all about faith and following your dreams."
For Hoch, the role of Don Quixote has sentimental significance. As a high school student, he watched his drama teacher play Quixote in a professional production. After seeing it, he was hooked on acting.
"That was the first time I've ever looked up at a man in a leading role and said 'Oh, my God, I really want to do that,'" Hoch said.
Even though the garden atmosphere is lovely, performing in the outdoor setting provides some challenges for the actors. While the evening weather in May is warm but still pleasant for attendees wearing spring/summer attire, it's quite hot for the actors in full costume, makeup, and beards. On top of that, their adrenaline is flowing.
Since the play won't be performed in a theater constructed with optimal acoustics in mind, the actors also have to work harder than usual to project their voices in a way that still sounds natural. Local actor Mike Spara, who plays Quixote's servant/squire Sancho Panza, said he thinks of outdoor performance in a musical way.
"You strive to make your performance more like music," Spara said. "People will respond to your rhythm and pitch even if they can't see your eyes narrow."
If productions are called off due to bad weather, ticket holders will be notified via email no later than 5pm, with instructions on selecting another date or obtaining a refund. Attendees must bring their own chairs or blankets. Those with blankets will be placed in front of chairs. Food trucks and a bar will be available for refreshments. No outside food or drink is allowed. Doors will open at 6pm for a 7pm show.
For more information and tickets, visit the NOLA Project website.