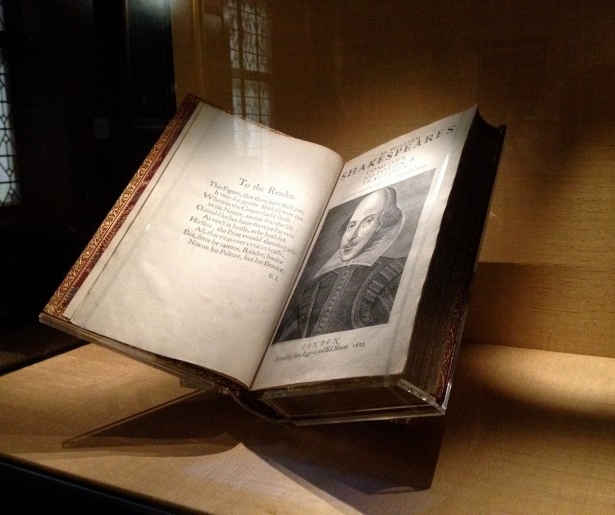 The First Folio! The Book That Gave Us Shakespeare national tour is coming to Tulane University's Newcomb Art Museum from May 9-31.
The tour started in January and will eventually hit all 50 states. Published in 1623 by actors John Heminge and Henry Condell, just seven years after William Shakespeare's death, the First Folio is the first complete collected edition of the bard's plays. Without it, the world would not have been exposed to classics like Macbeth, Julius Caesar, Twelfth Night, and As You Like It, among others.
Monica Ramirez-Montagut, director of the Newcomb Art Museum of Tulane University, said plays at the time were meant to be performed, not written down, so literature and drama buffs are lucky the First Folio exists at all.
Only 233 known copies are in circulation, including 82 in the Folger Shakespeare Library in Washington DC, which boasts the world's largest Shakespeare collection. In 2006, a copy sold for $5.2 million; another sold in 2011 for $6.2 million.
2016 is the 400th anniversary of Shakespeare's death. Michael Kuczynski, chairman of Tulane University's English Department, said New Orleans was a natural location for the First Folio's Louisiana stop.
"New Orleans could do something no other city in America could do," Kuczynski said. "Give him (Shakespeare) a proper jazz funeral."
The bard's jazz funeral will be held on the opening day of the exhibition, May 9th, at 6:30pm. Michael White and the Liberty Brass Band will provide the music. The procession, like the exhibition itself, will be free and open to the public. On April 23rd, Tulane sent the Wendell Brunious Band across the pond to Stratford-upon-Avon to participate in the anniversary parade held in Shakespeare's home town.
The First Folio will be opened to the "To Be or Not to Be" soliloquy from Hamlet. Kuczynski felt this passage had particular relevance for the Crescent City post-Katrina.
"Hamlet confronts whether he wants to embrace or avoid his destiny," Kuczsynski said. "(After Katrina), New Orleans decided to embrace its destiny and move forward."
There will be a facsimile of the folio outside of the display case that visitors can flip through (no, a facsimile is not the same as an official copy, so if you try to run away with it, you will not be able to sell it for $5-6 million).
Ramirez-Montagut said the plays have spanned generations because they can appeal to both scholars and lay people. The works have themes that speak to the human condition in any century.
"If you want to learn something about yourself, read any of Shakespeare's plays," said Ramirez-Montagut.
For those interested in learning more, there will be lectures and workshops. High school teachers can participate in a May 15th seminar (by application only – english@tulane.edu). The other events will be free and open to the public (for a full list, head here).
Tulane will also be showcasing other displays in conjunction with the First Folio tour. The Vorhoff Archives will house an exhibit on Shakespeare and Gender and the Amistad Center will have one on race and Shakespeare, including playbills and other artifacts from Paul Robeson's historic performance of Othello.
Alongside the First Folio, visitors can see designs from local Mardi Gras krewes for Shakespeare-related floats. There will also be a bronze bust of the bard on display.
In the current digital era, Ramirez-Montagut believes it will be edifying for visitors to actually see the object itself. Today, people read on Kindles, iPads, and other e-readers. To see one of the oldest physical pieces of literature in existence is a rare privilege.
"You'll get to experience firsthand one of the most important cultural artifacts of human history," said Ramirez-Montagut.
Kuczynski said it's important to acknowledge that the effort is not solely Tulane's, but a collaborative one. The Folger Shakespeare Library, the National Endowment for the Humanities, the New Orleans Public Library, Loyola University of New Orleans, Xavier University of Louisiana, and The Historic New Orleans Collection all contributed to the exhibit.
Image via Facebook.