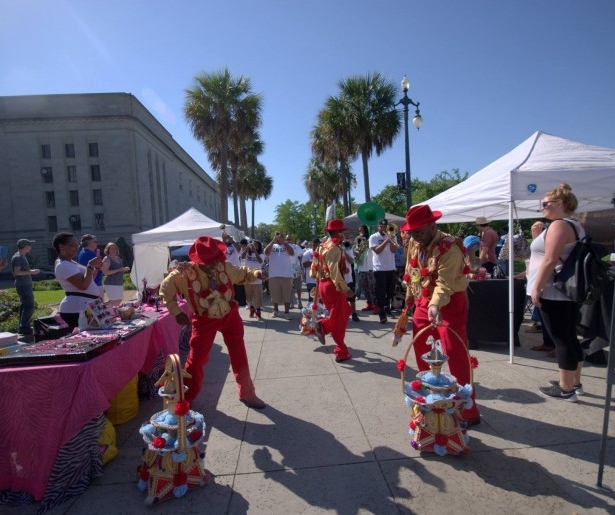 SHARE
We haven't had a good festival in New Orleans in…what, three days? So clearly, it's time for another party that celebrates the city's food, culture and musical heritage.
Enter Jazz in the Park's Treme Art & Music Festival. No, really, enter the festival, which marks the 5th birthday of the excellent Jazz in the Park series. To celebrate, the party goes from May 5 until May 8, and it's packed with a stellar New Orleans roster of artists.
Besides the normal Jazz in the Park concert on Thursday, the three-day celebration of the event's birthday also goes from 5-8pm on Friday, 11am-7:30pm on Saturday, and 12:45-6:35pm on Sunday. Per normal, Jazz in the Park and its extended weekend lineup are free. Given that this weekend the temps are supposed to be in the low '80s and the sun is predicted to shine, you've really got no excuse.
Some of the musicians on tap include Raw Oyster Cult, Walter Wolfman Washington, Little Freddie King, Davell Crawford, Stephanie Jordan,Tank & the Bangas, Corey Henry & the Treme Funktet and the Treme Brass Band. Beyond the music, expect second lines, dance troupes and a general series of perfect late spring days.
If you've never had the pleasure of attending Jazz in the Park in New Orleans, here are some tips. First, you'll want to head to Armstrong Park in the Treme. Street parking isn't that bad, although you can expect decent crowds this weekend. The event is totally family friendly, so bring the little ones, but leave your drinks at home – you have to purchase concessions on site, which given the free admission isn't much to ask.
There are plenty of places to park yourself to enjoy the show, but I love the little hills on the river side of the park, near Rampart St. You get a nice view of the proceedings but often feel as if you've discovered your own little kingdom of music. Don't forget to buy some arts and crafts – a gift purchased here will be a unique souvenir, and you're paying money directly to local artisans.
Need more information? Check out People United for Armstrong Park, who provided the above image via Facebook.