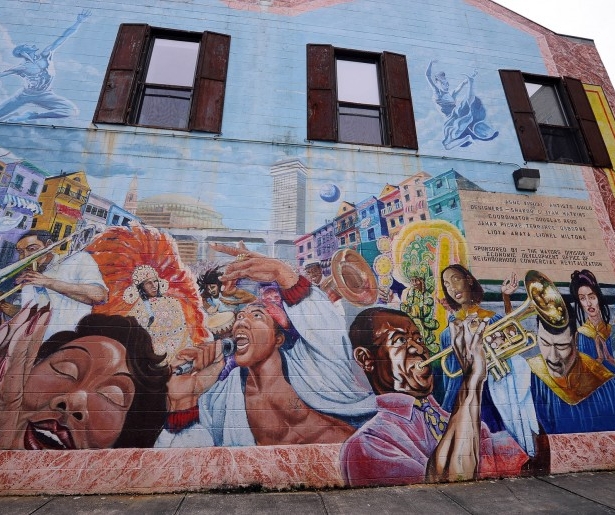 Central City joins the bustling events calendar of free activities in New Orleans this week with First Fridays on the Boulevard. The coming out party kicks off on May 6, with continuing dates scheduled on the first Friday of the month through the end of 2016.
Hosted by The Oretha Castle Haley Merchants & Business Association (OCHMBA), First Fridays will be centered around Central City's main street, O.C. Haley Blvd, and feature music, art, and film along with food and drink specials at flagship restaurants.
Since 2006, when the street obtained official status as a Main Street Community, and followed by its 2009 designation as a Louisiana Cultural Products District, the OCHMBA organization and local businesses have united to re-establish Central City's main artery as a mecca for culture and commerce.
The purpose of the event, says Linda Pompa, of OCHMBA, "is to be able to showcase all of the assets we have on the Boulevard by promoting them as a group."
By linking newer establishments with some of the participating vendors that are already strongholds in the community, the Association hopes everyone will benefit from increased foot traffic in the neighborhood.
Pompa said that events like Luna Fete "showed how great it is when people come out and go place to place, as opposed to coming to the Boulevard only to attend a specific event or eat at a specific restaurant."
O.C. Haley already hosts the New Orleans Jazz Market, which features live music, pop up shopping, private events, and food and drinks, as well as the Ashe Cultural Arts Center, the Southern Food and Beverage Museum, Creative Alliance of New Orleans, and the Zeitgeist Multi-disciplinary Art Center. The First Friday 'route,' as it were, extends to Martin Luther King Blvd.
Moving forward, organizers of the event hope neighborhood organizations and businesses will "align their special events, exhibit openings, and promotions with the first Friday of the month," says Pompa.
The inaugural First Friday on the Boulevard features the following activities:
Happy Hours and Live Music
New Orleans Jazz Market
1436 O. C. Haley Blvd
Kermit Ruffins Happy Hour (no cover) from 5-8pm with $5 red, white, or sparkling wine, a Bud Light & Benchmark Whiskey special, and $1 off all beers.
Johnny Vidacovich (no cover) performs from 8-11pm.
Primitivo
1800 O.C. Haley Blvd
$5 drinks and wine 11:30am-10pm
Brady's Wine Warehouse
1029 O. C. Haley Blvd Friday Night Flights: wine flights starting at $5 from 5-8pm.
Casa Borrega
1719 O.C. Haley Blvd
Alexey Marti Trio performs at 7pm.
Purloo
1504 O.C. Haley Blvd (in the Southern Food & Beverage Museum)
Drink specials from 5-10pm.
Dryades Public Market
1307 O.C. Haley Blvd
Drink specials until 10pm.
Roux Carre
2000 O.C. Haley Blvd
Music and Happy hour drinks until 8pm.
Art & Film
M Francis Gallery
1228 O. C. Haley Blvd
Exhibits "Unleash your Creativity" opens at 5:30pm.
"Passion 2 Paint" paint and wine sipping class begins at 7pm, cost is $35/person.
Blue House
1700 S. Rampart St
Photographer Jose Cotto is at the studio presenting his exhibit, "Colorful Humanity" that features photos of Vietnam. Show runs through 8pm.
Pelican Bomb Gallery X
1612 O. C. Haley Blvd
"False Flags" exhibit runs through 9pm.
Creative Alliance of New Orleans
1307 O. C. Haley Blvd
The exhibit of self-taught Central City artist Willie White is on the 3rd floor gallery above the Dryades Market through 8pm.
ShiNOLA Art Gallery & Boutique
1813 MLK Blvd
A new gallery joining the area, the exhibit "Fools for the Love of Art" is showcased along with shopping in their boutique, wine, live music, and open mic through 9pm.
New Orleans Tattoo Museum & Studio
1915 MLK Blvd
Hosts an open house with the artists through 9pm.
Zeitgeist Multi-disciplinary Art Center
1618 O. C. Haley Blvd
Film screenings:
7:30pm: "There Will Be Bombs"
9:30pm: "The Fang Family"
Ashe Cultural Arts Center
1712 O. C. Haley Blvd
6pm: Indie Lens Free Movie Pop-Up "Peace Officer"
Shopping & Activities
Southern Food & Beverage Museum
1504 Oretha Castle Haley Blvd
Make your own pasta from scratch in the Rouse's Culinary Kitchen between 5-8pm.
Charlie Boy
2043 O. C. Haley Blvd
Sidewalk sale until 7pm with a 15 percent discount on sunglasses and accessories.
Other organizations along the Boulevard include Café Reconcile, Gulf Coast Housing Partnership, Bike Easy, Youth Empowerment Project and others.
For more information and upcoming schedules, head here.
Image courtesy of Cheryl Gerber.