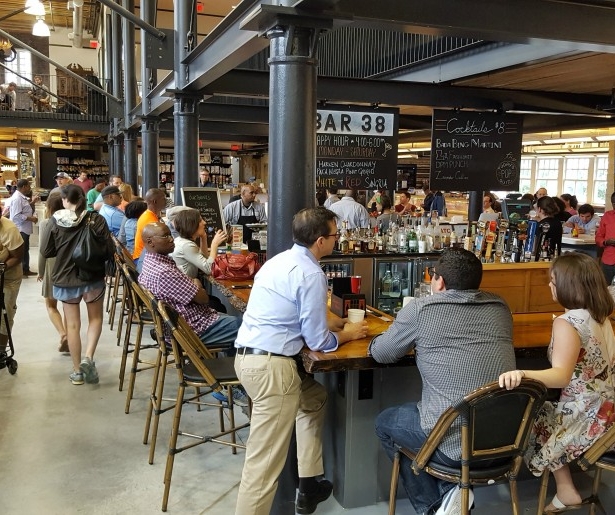 When John Burns' long-scheduled Jack and Jake's market in Central City languished and never actually opened, many wrote the project off. But chef Dan Esses — formerly of Three Muses, among many other quality eating establishments — has helped resurrect the project as Dryades Market, which is now open to the public.
"We had a ribbon cutting — a ribbon made from rigatoni pasta," says Esses, the market's CEO and also in-house pasta maker.
The mayor and members of the city council showed up for that opening, which might seem like a lot of hubbub over yet another New Orleans eatery. But the service Dryades Market provides has the potential be seriously meaningful for Central City.
"We are a full service grocery store serving the community of Central City and New Orleans," states Esses. "We do as much as we can in house, and there is something for everyone at every price range. We just want to make sure everyone can afford something special at this place."
Much was written in the weeks leading up to Dryades Market's grand opening, most of it documenting Esse's ever-shifting plans. Now open, we know a few things for sure.
"Keenan McDonald, who has worked at Hollygrove Market and St. Roch Market, oversees the local produce," says Esses. "She's been working downtown a lot, been into farming for a while and working with local produce companies."
Dryades' Market's butcher stall sells fresh sausages and local and regional seafood. Hot coffee, pastries, sandwiches, plus salads and soups are also available, "Plus stuff like head cheese, and boudin made in house," says Esses. "We have New York style corned beef and pastrami on the menu. And a hot bar with prepared dishes, like jambalaya, chicken étouffée, and hamburger steak, all for $6.99 per pound."
Dryades differs from St. Roch Market in that only two vendors operate independently inside the Central City building: the Curious Oyster Company, and Esse's own pasta and catering company, Esse's Foods.
"We sell homemade pasta to Whole Foods and Hollygrove Market and maybe 12 of the more popular restaurants in the city," says Esses, who sells his fresh pastas by the pound with special sauces. "
"We just started doing pasta bowls, where you make your own, pick your own noodles, your own sauce. It's $6 for small $8 for large, plus extra for meatballs, chicken, artichoke hearts and all that."
Dryades Market doesn't yet sell take-out liquor, but does host a bar with wine, regional craft beers, and a cocktail menu by Three Muses bartender Kimberly-Patton Bragg.
"We call it Bar 38, to pay homage to the McDonough 38 school building we are in," explains Esses. "Our drink specials are called, like, the Pop Quiz, the Homework. Our drink menus are in loose leaf." Bar 38's happy hour runs from 4 to 6pm Monday through Saturday, plus Sunday from noon to 3pm.
Especially after sunset, the market sporadically hosts live music and New Orleans style socializing. "Eventually we will have live music once a month, then hopefully go to once a week, and figure out how it works on a more consistent basis," Esses promises.
Esse's Instagram feed has been full of comments about how Dryades Market is doing it right. "We sell paper goods, dried goods, baby food, medicine, pet food. When you go in it's pretty obvious that it's not a food hall. You can make your groceries here.
The Dryades Public Market is at 1307 Oretha Castle Haley Blvd. It is open Monday to Thursday from 8am to 8pm, and Friday and Saturday from 8am to 10pm. Both the bar and the oyster bar open at 11:30 a.m. Esses Foods is open Monday through Saturday from 10am to 6pm.