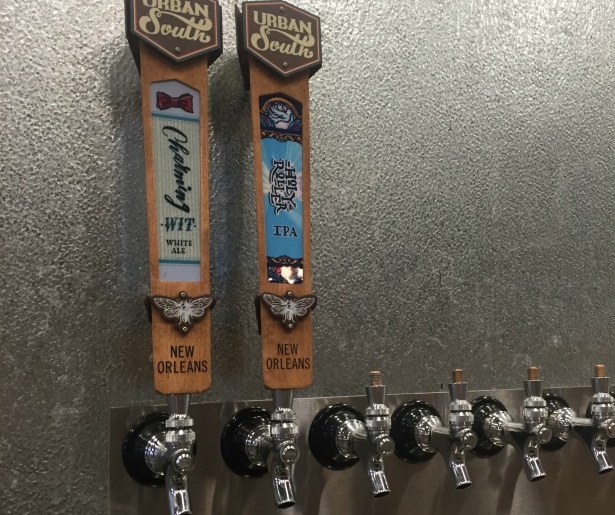 Roll down Tchoupitoulas St., not too far from the Ernest J. Morial Convention Center, to find an old yet stately warehouse with a huge blue sign. This unassuming building, not out of place amongst the other warehouses of the area, is the home of Louisiana's newest brewery – Urban South.
Kyle Huling, co-owner and Vice President, says that the purpose behind this new brewery is embracing the "duality" of Southern culture, which he describes thusly: "There is an old world feel to everything, right alongside the new. People will go out on Bourbon Street on Saturday night and have a good time, but they'll be sitting in the pew in St. Louis Cathedral on Sunday morning."
Of Two Minds
This "duality" permeates every part of the brewery. Bright and shiny against the aging brick of the warehouse is the brewery's state-of-the-art 30-barrel brewing system, with three 60-barrel fermentation tanks.
Inside the tanks are the brewery's two flagship beers – Holy Roller IPA and Charming Wit.
The name "Holy Roller" is a sly reference to the old school Catholic faith so predominant in the area, but the pungent hop-flavor of this beer is quite modern. That flavor is thanks to the brewery's specially-sourced hops and reverse-osmosis-purified water.
Charming Wit is the brewery's lighter offering, a white ale. Brewmaster Wes Osier might be a Mississippi boy, but his influences for this beer probably originate far from home – he studied to be a brewmaster in Munich under stringent German purity laws and likely brought some of that country's notions preferences to this ale.
Across the warehouse in the brewery's brewpub is a sprinkling of picnic tables. Traditional straight-sided pint glasses stand next to trendier mason jars, all emblazoned with the brewery's logo.
Even the logo itself – half bold, square font, half classic loopy script, speaks to the marriage of new and old.
The Old and the Newer
But there is something decidedly new about this brewery and its owners in their approach to business. Founder and President Jacob Landry says that from the get go, he wanted Urban South to "come right out of the gate."
The normal roll-out plan for a fledgling brewery is brewing and fermentation for a few months, then a local roll-out of select draft beers for a few months, even years. Once a substantial local following has been built up, or enough people have buzzed about it, then the brewery will start canning or bottling their product and pushing it into stores.
This is not the case with Urban South. The brewery has been officially open and brewing for just a few months. The tasting room only started pouring beer for the public and giving tours of the brewery this spring. Beer is already available on draft at several local bars, including Cooter Brown's, Fat Harry's, Avenue Pub, and The Bulldog.
And running parallel to this draft roll-out is the release of Urban South's two flagship beers in cans. These beers are available through local distributor Southern Eagle Distributing at grocery stores and shops across New Orleans.
Looking to the future, Huling says that they already have two seasonals planned: a hopped Vienna-style lager called Delta Momma and a funky farmhouse Saison named Coop'd Up. They're also in talks with local rum distillery Old New Orleans to make barrel-aged and virgin oak-aged selections.
"I've seen a lot of other breweries doing things with virgin oak," said Landry. "It's really exciting. You'd think that you'd lose the flavors, but some of them become more pronounced."
In the meantime, Urban South is working to become a part of the local community. Landry, a retiree from the local school system, is doing his best to share his love of beer with other businesses and non-profits. In its short time, Urban South has already hosted a Louisiana Society for the Prevention of Cruelty to Animals event, and held a joint fundraiser with Hogs for the Cause.
And those are good causes we can all drink to.
Urban South will be open Thursdays and Fridays from 4-8pm, Saturdays from noon-8pm and Sundays from 2-8pm. Expect to see some food trucks parked outside the brewery's location (1645 Tchoupitoulas ) during these hours.
For more information and a map of places in the area that carry Urban South beers, check out their website. Visit their Facebook page for updates on beers on tap and food trucks at the tasting room.