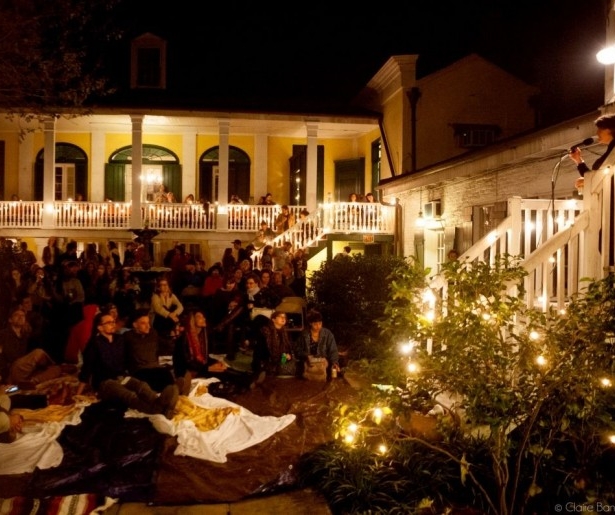 For four years and change, WWNO radio journalist and storyteller Laine Kaplan-Levenson has invited the New Orleans community to Bring Your Own. In this case, BYO can mean bringing stories to share with the crowd, or just carrying a flask to Kaplan-Levenson's free community storytelling series, AKA Bring Your Own.
"But this Friday, the party is called Don't Bring Your Own," Kaplan-Levenson says. "Bring Your Own has been free for four years and we've never had a real fundraiser. So this one time we are selling drinks to raise money. Friday is not really a storytelling event; basically we are returning to a place where we held a storytelling event to throw a house party."
Bring Your Own is usually, Kaplan-Levenson explains, "A storytelling series where eight people that are not traditional performers, not polished professionals, all kind of get up and tell true stories based on a given theme of that evening."
Kaplan-Levenson works hard to secure interesting, dynamic Louisiana sites to host Bring Your Own. This Friday's Don't Bring Your Own will throw down at the Beauregard-Keyes House Chartres Street in the French Quarter.
"The storytelling series is always in different locations, and we try to choose organic places that people wouldn't expect, or maybe they hadn't been there too much before," says Kaplan-Levenson. "We designed it that way so that, although it's an ongoing series, each event will feel different from the next. Even though I am always the same host, the other variables keep moving, primarily the theme and the place. That's one big reason people like to go to it, because it has built-in elements to keep it [fresh]. And it's free."
Kaplan-Levenson says Bring Your Own draws a specific crowd that is there to enjoy a unique listening experience. "For years we didn't use microphones, and everyone was so respectful," she brags. "People didn't have their cellphones out, nobody is talking. As it has gotten bigger and more popular, even though the crowd is the same, we've finally had to compromise and start using a microphone."
Microphones are also on hand to record the Bring Your Own series — hence the need for a fundraiser. "Everyone's stories are recorded by a team of producers, and also edited so they can be distributed on the BYO website, as well as being aired every other week on WWNO, then as WWNO podcasts." Kaplan-Levenson says.
Don't Bring Your Own, however, will feature DJs, live music, drinks, a special punch, and an interesting raffle: "You can win two tickets to any concert at the Civic, or a bike tune up at Dashing Bicycles," Kaplan-Levenson says. "Lots of other things, including lunch at The Joint with City Councilperson Jason Williams."
The only real storytelling at Don't Bring Your Own will be done, very briefly, by well-known WWNO radio personality Jack Hopke. "Jack is the one who first agreed to play our stories on his show," Kaplan-Levenson explains. "He's the link between BYO and WWNO, since he took the series under his own show's wing."
Hopke says he was drawn to the BYO project, "Because it's a creative enterprise, and it also provides variety, and something of lighter note to my program. It provides what we in journalism call a 'kicker,'" Hopke says of the BYO segments he runs on Thursdays at 1:30pm and also 6:35pm. "I like that the live events give the audience a chance to meet some local individuals and know a little bit about their background. But mostly I just trusted Laine's radio judgment and her production skills."
Kaplan-Levenson ads, "One other thing I really love about the series and wanted to get behind is that it's a multi platform series: live, then radio, then podcast – which is why I started referring to Bring Your Own as a 'series' rather than just an 'event,'" she says. "People can access and engage with BYO in different mediums, even though it's first and foremost a live community event where people gather to listen to people talk."
And this Friday, it will also be a much-needed party. Just DON'T Bring Your Own this time…
Image by Claire Bangser.