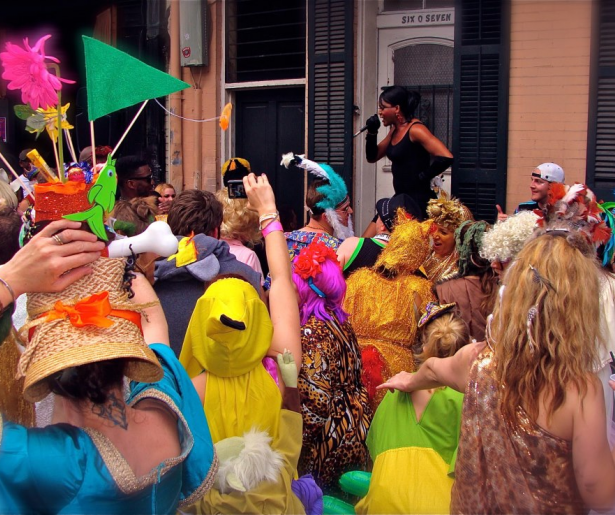 Bounce rap has been a staple of neighborhood block parties since the '80s, but if you've lived in New Orleans post-Katrina, you've been lucky enough to witness the ascent of the genre from local treat to (inter)national sensation. Some New Orleanians may see a downside to sharing a local rap treasure with the world. But bringing happiness to more people is, at the end of the day, a net plus for the bounce community.
That community is mixing local talent with some nationally recognized name brands this weekend, when bounce icon Katey Red continues her public birthday celebration tradition on May 15th at Siberia with a Birthday Bash on St Claude.
New Orleans' (and possibly the world's) first openly gay M.C., Katey ruled several crucial block parties back in the late 90s-era Melpomene housing projects. When local bounce label Take Fo' Records (helmed by 'The King of Bounce', DJ Jubilee) signed Katey, a level of local mainstream acceptance was achieved, which ushered in other gay New Orleans bounce rappers like Sissy Nobby, Vockah Redu, and of course, Big Freedia, among others.
"It's like monkey see, monkey do," Katey told Esquire magazine in 2010. "I did it first, but other people took it and ran with it."
Two of the bands that will open Katey's party this year, Sea Battle and SS Boombox, seem to initially have nothing in common with bounce. Yet both outfits claim to have been influenced by Katey.
"A lot of the influences came from local rap," says Annie Gaia, one half of electro-noise rap duo, Sea Battle. "We do have the noise element but we do have a few songs that use our bounce beats, and trip-hop beats."
Playing Katey's party last year, says Gaia, had a profound effect on Sea Battle's creative development. "We had such a blast playing her party last year" Gaia adds. "My partner Naughty Pie, who makes all the songs, wrote a bounce song specifically for Katey Red – we wrote it to cater our set to her party last year, and now that's one of our favorite songs to play."
Sea Battle later went on to join Katey during the last South By Southwest festival in Austin.
Miss Katey also influenced Sea Battle to add dancers, which the duo have named the Nocturnal Mermettes. "We can sometimes have up to five dancers total, that we use for the big, big shows we do, like the annual Bunarchy Ball," says Gaia.
"The dance element is something I brought into Sea Battle – I want to be dancing on stage but I can't because I am singing – so the dancers add a lot to our production. People in the audience watch the dancers, but they're supposed to be there to get people to dance with us!" laughs Gaia. "And that was inspired by Katey Red's awesome dancers."
SS Boombox have been forging organic rock in New Orleans for five years, creating a sound that speaks deeply to fans of bands like Black Flag, Sonic Youth and the Stooges.
"Katey put a message on Facebook saying she was planning her birthday party and that she was interested in having non rap groups to round out the bill, so I messaged her," says SS Boombox guitarist (and Katey Red fan) Justin Windham.
"Our rock n' roll has a bit of a hip-hop electro influence," adds Windham. "But I sent Katey Red a bounce track that SS Boombox did that name checks local bounce artists -I took the triggerman beat [the distinctive back beat of many bounce songs] and ran it through two delays and manipulated it live and then recorded everything on top of that. It's like psych punk bounce. She liked it and from there we sort of struck up an online friendship."
Bookending the evening's punk elements will be bounce artists Magnolia Rhome (who has accompanied Katey at many of her Voodoo Fest appearances), Cameron Kelly, dance group Da Danger Boys, plus DJ Kenjii and the Queen Diva herself, Big Freedia.
Katey Red's Birthday Bash is on May 15 at Siberia, 2227 St Claude Ave. Doors at 9pm, show at 10pm.
Image via Facebook.