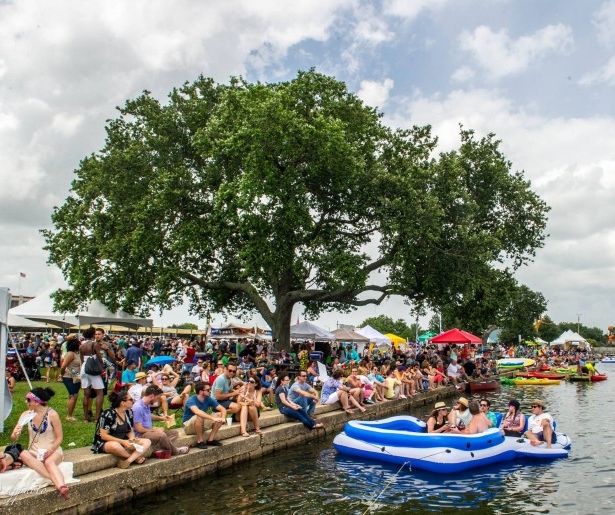 SHARE
In 2006, when Bayou Boogaloo first set up camp on Bayou St. John, it was a scrappy little neighborhood festival. Held on the brink of the first post-Katrina hurricane season, and just a stone's throw away from the chaotic rooftop rescues that took place at American Can, it represented a fresh start in a city that desperately needed one.
Here's what I wrote at the time, in my post-K diary for the online storytelling website Smith:
On the Bayou St. John, hard-hit Mid-City was celebrating its own Boogie on the Bayou [as it was then called]. The heavens opened when I arrived, pouring much-needed rain on the grounds and putting the main stage band on hold.
I sallied forth with my big umbrella, in search of some musical action, and it didn't take long to find. Mardi Gras Indians were keeping the beat under one canopy crowded with festers, while brass band horns held sway in the tent across the way.
Then the sun came out and everybody kept on keeping on, greeting friends in the beer line, scarfing pizza and dancing barefoot on the wet grass.
On the eve of hurricane season, that's got to be a good omen, right?
Turns out it was.
Eleven years later, Mid-City Bayou Boogaloo (May 20-22) draws upwards of 35,000 people and has become as much a fixture on the festival calendar as its Mid-City neighbor, Jazz Fest, and the city's street-party season opener, French Quarter Fest.
Like French Quarter Fest, Bayou Boogaloo is free. But its bucolic setting as a floating party, with its flotillas of inflatables, paddle boats and kayaks, gives the three-day festival its own unique character, while its stellar lineup of local and visiting musical artists rivals those offered by its much-bigger older siblings. So does its ever-growing menu of fest-worthy food and drink.
Three main stages that stretch along the banks of the Bayou between Lafitte Parkway and Dumaine keep the party going from 5-9pm on Friday, and 11am-9pm on Saturday and Sunday. An innovatively programmed Kid's Tent also offers some surprises, while 65 regional artists showcase an array of handcrafted wares when you're ready to take a break.
You can't go wrong wherever you happen to land. But here's what I plan to hit:
Best bets for music
Friday, May 20
Lynn Drury tore up the Lagniappe Stage at Jazz Fest, where her gritty mix of alt country blues and soulful New Orleans groove had 'em dancing in the aisles. And when she breaks out a bittersweet ballad, a hush comes over the crowd. 6:45-8:15, Dumaine Stage
Dwayne Dopsie & the Zydeco Hellraisers proudly carry the torch passed by Dwayne's dad, Rockin' Dopsie, one of zydeco's founding fathers. Propulsive and funky as hell, once they grab you they won't let go. 6:15-7:15, Orleans Stage
The spirit of the great Bob Marley lives on in the current incarnation of The Wailers, which is anchored by Marley's trusted lieutenant and bassist, Aston "Family Man" Barrett. Expect to hear all the old-school classics your buddy played on the Legend album back in college. 7:45-9:15, Orleans Stage
Saturday, May 21
The city's premiere "Y'at Rock" party band, Creole String Beans are a living jukebox of New Orleans R&B and swamp pop from the likes of Ernie K-Doe and Bobby Charles. Their own originals draw from the same deep well. 12:15-1:30, Orleans Stage
Rain didn't dampen Lost Bayou Ramblers' spirited set at Jazz Fest, where the crowd happily splashed in the mud to one of Acadiana's finest modern Cajun bands. Imagine how hard they'll rock the Bayou on a sunny day! 2:45-4, Orleans Stage
The reigning queen of New Orleans music, Irma Thomas, always hits a sweet spot. Today, she gives a double billing via the legendary old-school act: Lowrider Band. Fronted by four multi-platinum singer-songwriters, whose hits include "Slippin Into Darkness," the seven-member posse draws on Hispanic, African American and Asian roots. Irma Thomas (solo) 5:15-6:30, Orleans Stage; with the Lowrider Band 7:45-9:15, Orleans Stage
Sunday, May 22
Every Jazz Fest without fail I discover a new young local band on the Lagniappe Stage. This year, it was Motel Radio, whose windswept harmonies and sepia-toned lyrics have the ring of authenticity. 3:30-4:30, Lafitte Stage
Aurora Nealand is a force of nature, whether she's playing trad jazz with Panorama or her own Royal Roses, or waxing surreal on the accordion in a gas mask. But my favorite incarnation is her rockabilly alter-ego and kickass band, Rory Danger and the Danger Dangers. I'll be up front dancing, hard. 4:15-5:30, Dumaine Stage
As a founding member of the Meters, bassmeister George Porter, Jr. basically invented New Orleans funk, and his mission to "funkify your life" with his Runnin Pardners runs as deep as the Mississippi. Go get you some. 4:15-5:50, Orleans Stage
Best Bets: Food
Almost as soon as I hit the Bayou, I make a beeline for Boswell's Jamaican Grill, where I face an existential crisis: jerk chicken or jerk pork? Both are perfectly, piquantly spiced, and a generous shake of their secret hot sauce electrifies your taste buds. Cool 'em down with a creamy-sweet side of plantains.
Mid-City Pizza became a neighborhood fixture almost as soon as it opened, and it's easy to understand why. Thin, crisp crusts larded with super-fresh ingredients, ranging from traditional (Terranova's Italian Sausage) to gourmet (herb-roasted shrimp). Plenty of options for herbivores, too, including vegan cheese.
No trip to the Boogaloo is complete without stopping by for a couple of Woody's Fish Tacos, still the best in town for my money. Blackened fish, crisply grilled on the outside and tasty-tender on the inside, wrapped in a corn tortilla with spicy red cabbage slaw. Yum!
The 11th Annual Bayou Boogaloo runs May 20-22 on the Bayou St. John in Mid-City, from Lafitte Avenue to Dumaine Street. Hours are 5-9pm Friday, and 11am-9pm on Saturday and Sunday. Free. Check here for complete schedule.
Image by David Fary.