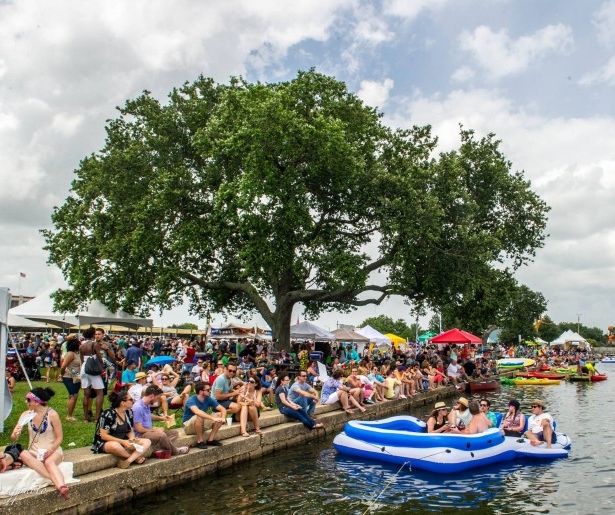 In the seemingly never-ending string of festivals New Orleans hosts all year round Bayou Boogaloo (Friday, May 17 – Sunday, May 19) is one of the standouts. Since its inception in 2006, the fest grew from the post-Katrina scrappy little neighborhood festival to a four-stage, weekend-long extravaganza. It now draws upwards of 35,000 people and has become as much a fixture on the festival calendar as its Mid-City neighbor, JazzFest, and the city's street-party season opener, French Quarter Fest.
A couple of things make Bayou Boogaloo special and a favorite of both the locals and the in-the-know visitors. First, this festival takes place not in the French Quarter but on the sprawling, picturesque banks of Bayou St. John, between Dumaine Streets and Lafitte Avenue in the in Mid-City neighborhood. Its bucolic setting near the water also allows for the ever-present floating party of inflatables, paddleboats, kayaks and colorful makeshift rafts.
Best bets for music
Traditionally the Boogaloo has been focusing on mostly local music, including the best of the brass bands, zydeco, Mardi Gras Indians, and other incredible New Orleans and Louisiana acts. In the past, the Boogaloo has hosted everyone from Irma Thomas to Lost Bayou Ramblers and Beausoleil.
Every year, you can't go wrong wherever you happen to land. This year, there are 22 acts in the stellar lineup, including Anders Osborne, Amanda Shaw, Cowboy Mouth, Little Freddie King, Debauche, Tab Benoit, plus the out-of-town the Suffers and RAM Haiti.
Our picks for each day of the fest are:
Friday
The Fuzz (A Tribute to The Police ft. Tab Benoit)
Anders Osborne
Debauche
Saturday
Jamaican Me Breakfast Club (they play reggae versions of '80s hits)
Soul Brass Band
Cowboy Mouth
Morning 40 Federation
Little Freddie King
Sunday
Lulu & The Broadsides
Steve Riley and Mamou Playboys
Amanda Shaw
Tab Benoit
Your best bets for food and drink
The food vendor list reads like the who-is-who of some the best and most beloved restaurants in the city, including the returning mainstays like Boswell's Jamaican Grill, Ajun Cajun, Gulf Tacos, plus snowball and lemonade booths, and plenty of booths with adult beverages from Pal's, Pearl Wine Company, local breweries, and others. The ever-growing food menu now includes more gluten-free and vegan options from the local restaurants and caterers. Take note: Urban South Brewery, which is sponsoring a stage at the far end at Lafitte Avenue, will be serving its recent creation, Boogaloo Blonde.
A new vendor Creole Caveman will be serving four dishes that are free of gluten, dairy, soy, and egg (check out its chicken 'n' veggies). The fest has partnered with Ochsner's Eat Fit NOLA to bring some healthier options to the fest, as well as the offerings that can accommodate various diets, like sugar-free snoballs. You can find the full food vendor list and their menus, including the Eat Fit's approved menu, here. You can also download the free Eat Fit app for full nutrition facts of all Eat Fit-approved dishes at the fest.
And, do not worry, there will still be a medley of your Louisiana favorites like po-boys and boiled crawfish. Our food picks include:
Any O'Cajun's crawfish beignets (corn and crawfish bisque ingredients mixed into a French bread batter, fried, and served with a house sauce)
A-OK Caterers' Vietnamese tacos: Bao bun with grilled pork pickled carrots, cilantro and house sauce
Blue Oak BBQ's pulled pork nachos topped with pico de gallo, pickled jalapeño, house BBQ sauce, house queso, and served with corn tortilla chips
Boswell's Jamaican Grils jerk chicken or jerk pork, both the festival's fave, served with rice, peas and plantains
Empanola's spinach and artichoke empanadas
Frytastic's "Burnout Fries" made with burnt onions cooked in brown butter, cheddar sauce, secret fry sauce and green onions.
New for 2019: Admission fee and boat safety regulations
For the first time in its 14-year history Bayou Boogaloo will be charging admission fee — $10 per day or $20 for all three days to cover the increased land use fees by the city and also the increased cost of insurance. Children under 12 are free. VIP passes for the Canopy Club, which was introduced last year, are $75-$250. You can get VIP and three-day tickets online, or one-day tickets at one of the several entrances to the fest on the days of the fest, in the form of wristbands.
The state's Wildlife and Fisheries Department will have now presence at the fest to help ensure boat safety. This means that, depending on size of the boat and passengers' ages, people in boats and rafts might have to wear life jackets and follow other boating guidelines.
What else you need to know
The fest remains kid- and pet-friendly. The Family Village will once again offer games and activities to the kids and families and provide the respite from the heat with its misting fans and shade.
The Canopy Club is the fest's VIP lounge located next to the main stage, with access to a climate-controlled restroom, a private bar, and catered food. The lounge features shade, misting fans, seating, and the stage-front view.
Shop local: The curated arts market includes dozens of regional artists, with the booth spread out between the Dumaine Street stage and Orleans Avenue.
Look for a paddle boat race hosted by Kayakitiyat and a pub crawl on bikes hosted by Mid-City Volleyball, both on Saturday morning.
Check out a free yoga class from Swan River Yoga on Sunday morning (near the Lafitte Avenue stage).
As usual, you can buy this year's festival poster online. This year's beautiful creation is by the New Orleans artist Lionel Milton.
Please keep the bayou beautiful: Clean up after yourself. And no outside food and drink, please.
Image by David Fary.