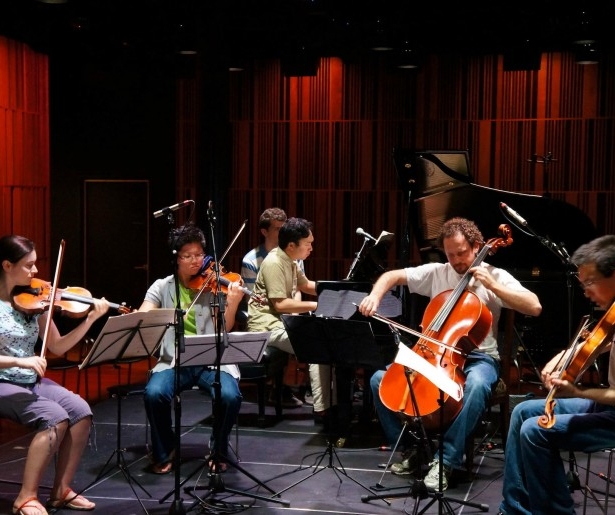 This year marks the fifth anniversary of New Orleans' Birdfoot Festival, celebrating chamber music and bringing performers to the city from around the world.
Birdfoot works to engage listeners unfamiliar with classical works, as well as provide space and opportunity for artists to rehearse and perform together. It's all part of a mission to build a community celebrating classical music in New Orleans.
Festival founder and Artistic Director Jenna Sherry grew up in New Orleans. "I left to study classical music, and it made me a little bit sad, because we have such a vibrant, alive, musical community and I felt like classical music wasn't a part of that," she says.
"Classical music evolved out of the kind of venues we love in New Orleans, small and intimate, but now it's performed in giant concert halls. I wanted to bring it back to where it started," she adds.
Birdfoot takes place at venues around the city, technically beginning May 18 with a five day artist's residency at Madewood Plantation House in Napoleonville, LA. This time gives artists the opportunity to look at pieces with added depth, away from the pace of a normal rehearsal schedule. It's also when performers come together and prepare for the following week's events.
"The artists' residency makes the work of organizing the festival worthwhile. People bring their voices, talents, and different backgrounds and we come together and really delve into the music. It's energizing, and it ultimately benefits the audience, as they get to see performances with a new creative energy," says Sherry.
Public events kick off Monday, May 23 at the George and Joyce Wein Jazz & Heritage Center (1205 N Rampart St) with a community music reading party. Geared towards amateur musicians, the event "provides an opportunity for musicians to get together and interact with a piece of music," says Sherry.
In another stab at community engagement, the festival also hosts Barefoot Backstage on Thursday, May 26, a "chamber music conversation" intended to guide novice listeners through a piece of music the way a classical musician hears it.
WWNO will record and broadcast the event, as musicians and listeners interact and discuss a Mozart quartet. "I've heard people say that Mozart is untouchable; he's just too perfect to be human anymore," says Sherry. "On the other hand, some people think of Mozart as elevator music. The piece felt like a challenge, so I decided to take it on."
Many of the festival's performances deliberately challenge convention, part of an effort to change the way some look at classical music.
"People hear the word classical and they think of something dusty, a museum relic," says Sherry. "And yes, some of the pieces we perform were written 250 years ago, but some were written yesterday, and regardless of age these pieces all remain vital and alive."
Part of the vitality present in chamber music comes from interactions between musicians, creating something new during live performance. Birdfoot also sometimes incorporates other art forms like spoken word and dance to give new life to pieces.
A May 24 event at Cafe Istanbul brings together tango composer Astor Piazzolla, Jorge Luis Borges, and Bach through the concept of labyrinths.
"Borges (an Argentine author) wrote a lot about labyrinths, and I wanted to combine some of his ideas with the mystery of the tango," Sherry says. "Bach seems completely different, but his work The Musical Offering is written as a riddle. I thought combining them together would create a wonderful mix."
Other events include several opportunities to watch the musicians in action through open rehearsal sessions at the Contemporary Arts Center as well as a May 24 night dinner prepared by Chef Michael Stoltzfus. Also at the CAC, on Friday, May 27, is La Mere L'oye, a story based on a mother goose tale.
On May 28th, a final concert gala, Lost to the World, closes the festival with performances highlighting this year's unofficial theme, "mazes, labyrinths, and journeys that change you," according to Sherry.
Birdfoot's young artists program represents another important part of the festival. "When I was growing up here I didn't have many opportunities, or people to play music with, and part of our mission is to change that through the festival," says Sherry.
Students put together their own chamber groups with the help of teachers and audition, eventually performing at Birdfoot after several workshops over the course of the year.
As the festival celebrates its fifth year, momentum continues to build, and more attendees keep coming back. "This year we have an incredible cast of artists, an international soprano, and a Grammy award winner. It's going to a real treat," says Sherry.
For a complete rundown of the Birdfoot 2016 schedule, head here. Above image via Facebook.