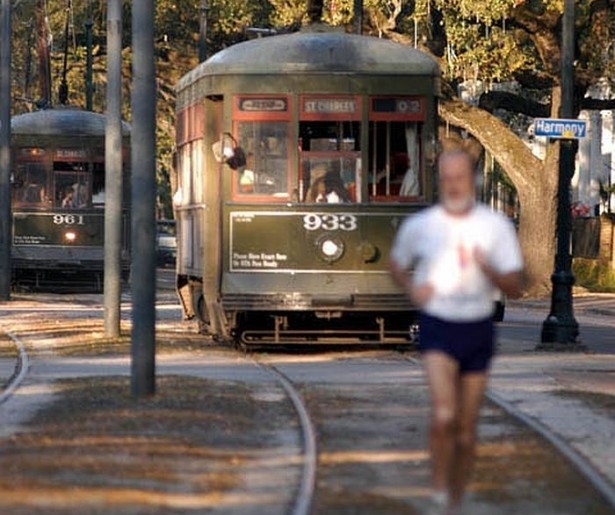 We're getting to the last days of blissful, temperate spring. Soon, the soup of summer will descend upon New Orleans, and we'll all have an excuse for not heading outside. But the fact is, you can and should get some fresh air and exercise even in the midst of summer.
Head out in the mornings or evenings and enjoy that beautiful New Orleans half light. And make sure to take advantage of some the city's great running paths while you're at it. Enjoy paved or dirt pathways, varied terrain, natural and architectural scenery, and plenty of local wildlife on one of these trails.
Aububon Park
6500 Magazine St
Audubon is an urban park, easily accesible from the area right in front of Tulane and Loyola Universities campuses. The park is home to, among other things, the Olmstead Oval Jogging Path, a 1.8-mile course that has a 10-ft wide paved track. It's a fairly flat course, well-lit, and offers a great diversity of scenery.
The Audubon Zoo is in the middle of the park, and in the park's lagoon is Oschner Island, also known as Bird Island, home to egrets, kingfishers, and many other species of local avian fauna.
City Park
1 Palm Dr
City Park is New Orleans largest park, and one of the oldest urban parks in the nation. Inside the park are several jogging trails, including the Zemurray Trail, a 3/4 mile loop along Wisner Blvd and Esplanade Ave; the Festival Grounds Trail, a 1-mile path around the park's parade grounds; and the Big Lake Trail, another 3/4 mile trail that goes around the Big Lake and near the New Orleans Museum of Art's sculpture garden.
These trails are paved, well-lit, and have lots of opportunities for water and bathroom breaks. There are also a few fitness zones, with equipment for stretching and calisthenics, along the routes. In addition to the paths, City Park has a 400-meter Olympic track where you can practice sprints or intervals.
Bayou St. John
Moss St and Esplanade Ave.
Just southeast of City Park is Bayou St. John. Approximately 1.7 miles of paved path follows this lazy bayou underneath aging oak trees and through lush grass. The 10-foot wide path is concrete-paved, with at least three feet of unpaved ground on each side, all well-lit for night running.
The run passes by one of the most beautiful neighborhoods in the city – Faubourg St John – so you'll have an opportunity to see some interesting, historic houses.
The Lakefront
Lakeshore Dr. between Lake Marina Dr. and Leon C. Simon Dr
Stretching from Lake Marina Dr to nearly Lakefront Airport are 5.5 miles of paved pathways that run along the shores of Lake Ponchartrain. The route provides one of the best views in New Orleans, especially if you go early, as the sun rises right over the waters of Lake Ponchartrain.
Any time you go, though, there are plenty of sandpipers and other waterfowl right on the shores of the lake. But be sure to head out before sunset – the lakefront closes as the sun goes down. At one point on this route, you'll pass the University of New Orleans. There are several overpasses just off the path with paved sidewalks, perfect for adding a hill component to your run.
If you want to lengthen your route, take the circle off Paris Ave to run through one of New Orleans' wealthiest neighborhoods – you won't find traditionally historic homes, but there are some fine examples of mid-century modern architecture about.
Lafitte Greenway
Lafitte Ave
Lafitte Greenway opened just last year as part of a huge community renovation project. The 2.6-mile route connects Armstrong and City Park. The Greenway boasts 500 shade trees and plenty of water fountains, so you won't get overheated in Louisiana's summer. In addition to the pathway, the Greenway has several native plant meadows, which attract native birds and small animals.
The Riverfront
All along the Mississippi River is paved pathway for walking, running, or biking. If you wish to keep within New Orleans' city limits, this trail can be as long as 22 miles. With the addition of the portion of the trail through Kenner, it can stretch even further.
If you want a good tour of New Orleans without the need to slow down, run along the riverfront – there is no road traffic, but you can still see the French Quarter, JAX Brewery, the Audubon Aquarium and other iconic local sites.
You can also see something you don't see within the city – the massive freighters that provide much of the transportation for the Mississippi River's commerce. There is, however, little shade, so bring a hat or sunblock if you're running during the day.
St. Charles Avenue
Most visitors to the city immediately notice the street cars that provide transportation to much of downtown New Orleans. Although it is not an official jogging path, the median along St. Charles Ave. has long been popular with walkers and runners.
More commonly known as a "neutral ground" in New Orleans, the grassy area has enough space for a few runners between two streetcar lines. The path passes some of Uptown's most notable mansions. Just be sure to get out of the way when you see a streetcar – they stop for no one.
Now that you know where to go, all that is left to do is start running. Don't forget the sunscreen and water bottle – Louisiana gets hot and humid, especially during the summer. Get out there and set a personal record!