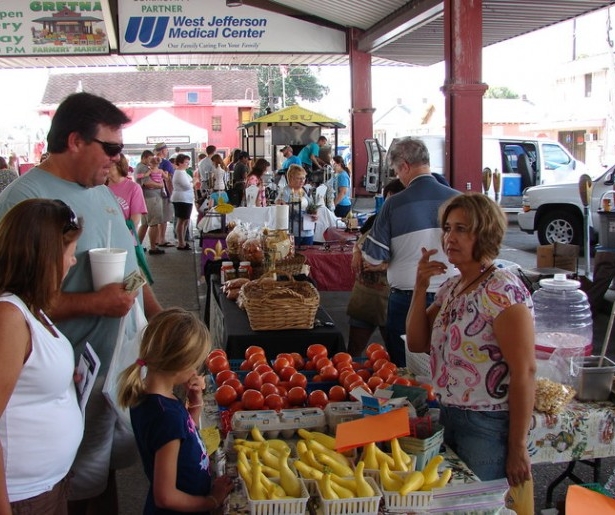 On the east side of the Mississippi, there's a misconception that the architectural beauty of New Orleans ends at the far border of Algiers Point. But the incorporated City of Gretna is another one of the region's historical gems.
At the center of this small town of lacey shotgun houses strung along the levee, a little mustard-colored train depot sat silently for a number of years. Recently, it has helped propagate a small post-Katrina cultural renaissance.
Built in 1906, the small depot, which provides abundant, delicious shade, has been quietly celebrated for its "Dowingesque Ornamental" style, a rarity in Louisiana. At first a passenger train depot, the pavilion at 739 3rd St in Gretna was the last stop heading west before the old train exited in the eastern part of Gretna, known as McDonoghville.
Today a only a single red caboose from that era sits outside the depot, now used mostly as an office for the Gretna Tourism Center.
"The train depot was also at one time a marketplace," says Denise Ponce, Coordinator of Gretna's new-ish Art Walk, as well as the Gretna Farmers' Market, which congregates in the depot's shade each Saturday from 8:30am to 12:30pm, rain or shine.
"A few core friends had this market idea pre-Katrina, while wondering, 'What can we do to make Gretna more walkable, to make it better for children and families to gather? We were going to open a market in April 2006. But then after Katrina there was damage here and parts of Gretna were shut down."
"We didn't get the worst of it," Ponce adds, "but we had only one grocery store way out in Westwego. We thought, if we can get people to come to Gretna with fresh goods from other parts of New Orleans, then we want to start the market right now!"
And so the Gretna Farmer's market was born in October 2005. "We were the first farmers market open after Katrina in the whole New Orleans area," says Ponce. "We were started by volunteers. Our current mayor, Belinda Constance, the first female mayor of Gretna, who was councilwoman for eight years, she really helped it grow into a really great, viable market."
The Market hosts between 29 and 33 vendors per week. "Fleur de Bees makes honey products from home hives in Myrtle Grove and Harvey. Gina Lenier of Fleur De Bees draws a lot of people weekly, ever since the very beginning. People swear by her honey, bee pollen and royal jellies," says Ponce.
"Then Fekete Farms is one of several booths offering fresh local produce," she adds. "Joe Fekete was the first vendor we ever had, and he's been our anchor. He always is there with seasonal produce, super cheap, and always consistent quality."
Ponce also brags on Tailgater's Meat (fresh smoked meats, all served with "Mojo Sauce"), Nancy's Tamales and Produce (fresh produce, strawberries, Brussels sprouts, homemade tamales), Pappa Johnny's Homemade hogshead cheeses (all fresh and vacuum packed), Cajun Corral Farms' fresh goat milk products (lotions, soaps, shampoo, body balms, cheese), Little Flour Bakery's special Amish Bread and Lebanese Butter Cookies, Capt'n Jack Smokehouse meats, plus everything else from homemade boudin and Cajun pork skins to quail eggs, snowballs, fried pies, and even a knife sharpening booth.
"One thing we don't have though is fair or festival food," Ponce clarifies. "The Thai D-Jing Bakery brings fresh and authentic Thai cuisine…but also makes fresh French donuts that lots of people like to come down and have for breakfast. Otherwise there's no food for people to hang out and eat. Which is why people started asking about food trucks, like they have in other cities…"
"It's almost too well received," laughs Attorney Joe Marino III, the 2nd District Gretna city councilperson who initiated the Food Truck Fest, which celebrates its third installment at the Gretna train depot from 5-8pm on May 21st.
"I'd been to food truck fest in other areas, like New Orleans, and another in Metairie, in a Fat City parking lot. I also have a friend who has a food truck called Frencheeze and that got me interested," admits Marino. "Mostly, I just knew that the city of Gretna would appreciate a Food Truck Fest and come out to do it, socialize, meet your neighbors."
Marino assumed correctly, to put it mildly. "June was a terrible time to debut the Food Truck Fest because it was so hot," admits Marino. "Still, we had easily 1600 or 1700 people. Meaning, we didn't have enough trucks or enough space. So when we did it again in September we went from 8 to 12 trucks, and we spaced it out better, closed down the street, and added more tables. We had about 2,000 people show up."
"So the third version [which runs on May 21], we're up to 15 trucks, making it one of the biggest food truck fests I have ever heard of, running all the way to 4th Street, from the red caboose in Gretna, all the way to the old post office," Marino adds.
Everyone involved in both events admits that the Food Truck Fest was spawned by the success of Gretna's Farmer's Market — all of which was inspired by one cute little bus depot. The Gretna depot's trains may have long stopped rolling but, "public transportation comes into downtown Gretna now," points out Denise Ponce.
"So we hope to have the Farmer's Market all day long, and then everyone can hang around for the Food Truck Fest later — make a whole day of it, out in old Gretna!"
Image via Facebook.