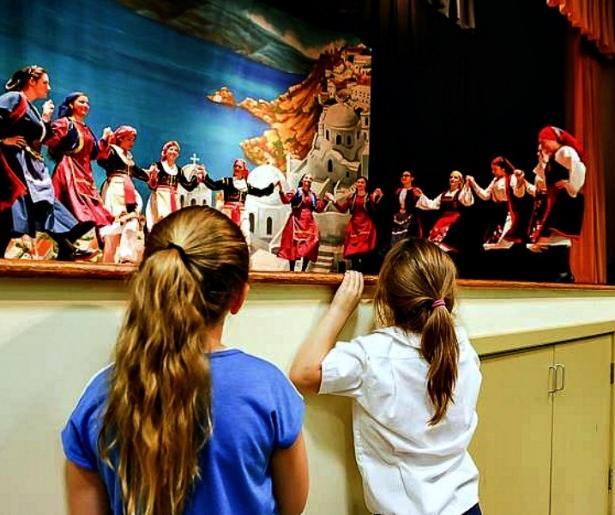 SHARE
A pound of lamb, a bottle of retsina and thou. Opa!
Bayou St. John may be thousands of miles from the Aegean Sea, where I once spent an idyllic few months on the island of Paros. But it's a beautiful, romantic setting for one of the crown jewels of festival season: Greek Festival, where the food, drink, music and goodwill flow as freely as they do in the old country.
Held along the bank of the bayou at Holy Trinity Cathedral, the oldest Greek Orthodox church in the Americas, the 43rd Annual Greek Festival (May 27-29) celebrates Hellenic culture and the remarkably vibrant Greek community that calls New Orleans home.
For weeks now, church members have been stuffing phyllo pastry sheets with honey and nuts to create delicacies like baklava and more than 20 other scrumptious Greek treats, which many fest-goers buy by the boxload when they leave. They've also been prepping savory rotisseries of gyro meat and stocking up on a multitude of fresh spring lambs.
My favorite time to go is just before sunset on Friday, when crowds are a little lighter. At that magic time of day, the cathedral is bathed in golden light and the aroma of spit-roasted lamb casts its spell from blocks away (Expect to hike a bit after you park, but it's totally worth it.)
Once inside the festival gates, my husband and I divide and conquer. He makes a beeline for the lamb, which is perfectly charred on the outside and succulent on the inside. Sold by the pound with just a hunk of bread, the lamb could easily be a meal in itself, but of course it never is. It wouldn't be Greek Fest without the fried calamari topped with feta!
While my husband forages for food, I head for the Taverna, to pick up the evening's first bottle of retsina. Aged in pine tar barrels that give it its distinctive flavor, it's definitely an acquired taste.
I acquired it quickly living in Paros, where filling up a two-liter bottle direct from the barrel cost just a few drachmas back in the day. My first sip at Greek Fest is always heady with nostalgia.
Laden with food and drink, we schlepp our canvas chairs over to the bank of the bayou, where we settle down to feast and chat with friends while watching the passing parade of canoes and kayaks. It's a lovely tableau, and I could easily stay right there, drinking it all in. Until the bouzouki band issues its siren call and…
Opa!
Suddenly I'm on the dance floor. Sometimes I join the ever-widening circle of would-be Zorbas gamely raising our arms and following the footwork as best we can. Sometimes I find my own spot in the grass and spin like a whirling dervish to the balalaikas. Either way, it's a highlight of the evening, and many fest-goers never stray far from the outdoor stage.
You can catch real-deal Greek dancers inside the Hellenic Cultural Center, where they perform throughout the Fest. The Center also serves up complete Greek dinners, including a yummy vegetarian plate with flaky spanakopita (savory spinach and feta pie) and dolmades (rice-stuffed grape leaves).
Around the corner from the main hall is a don't-miss stop: The Greek Grocery, where I stock up on a year's worth of fresh herbs and spices like lemon pepper and paprika for insanely low prices. We also buy a couple hunks of fresh feta, and a variety of Greek olives.
Back outside at the Taverna, I always make a pit stop for ouzo, an anise-flavored liqueur that turns milky white when you add water. That sparks another flashback to Paros: Dinasaki's on the beach at sunset, where I'd sip an ouzo while watching the sun drop into the Aegean. Having one at Greek Fest puts me in the same frame of mind: dreamy and blissful.
If I'm feeling especially festive, I'll cap off the night with an ouzo daiquiri, which sounds absolutely dreadful but is actually quite divine. Really! And I don't even like daiquiris.
That's my Greek Fest. But there's much more going on.
The kids' section rocks. It has its own Mount Olympus climbing wall, a bounce-y house for toddlers and a way-cool slide for their older siblings. You can rent canoes on the bayou, or learn how to prepare Greek cuisine in cooking demos. And if you've never been inside the cathedral itself, it's well worth taking a tour; the gilded inner sanctum is spectacular.
The best part? You can take Greek Fest home with you, which many people do: pounds of lamb, boxes of pastries, a wealth of spices and cheeses, and charming trinkets and Greek textiles from the boutique. Plus, in my case at least, a bottle of retsina for the road.
Opa!
The 43th Annual Greek Festival runs 5-11pm on Friday, May 27; 11am-11pm on Saturday, May 28; and 11am-9pm on Sunday, May 29 at Holy Trinity Cathedral, 1200 Robert E. Lee Boulevard in Lakeview. Admission $7; children under 12 free. Check here for a complete schedule of events.
Image via Facebook.