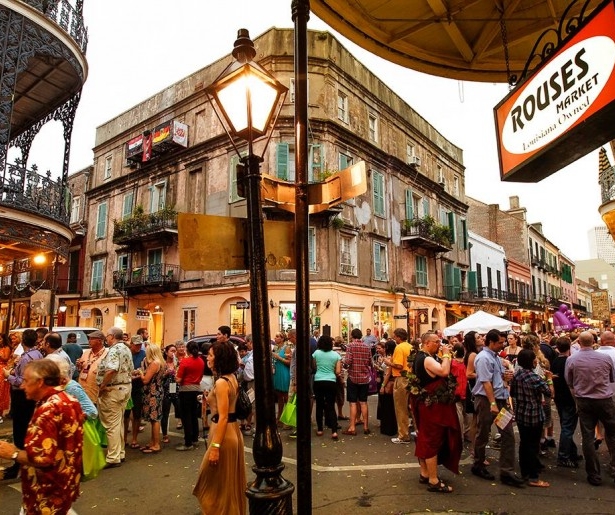 The annual New Orleans Wine & Food Experience provides local and visiting epicureans an extended weekend of libations and culinary indulgence in a style that is uniquely New Orleans. Now in its 24th year, the NOWFE debuts its new format, a shortened program running from May 26-29, designed to encourage participation in the full gamut of food and wine-centered experiences.
The event includes package rates, activities, and dinners offered at nearly every price point, with dining attire ranging from costumed to cocktail depending on the event and venue.
Executive Director Jamie Peckenpaugh has been with the organization for the past eight years, helping to helm NOWFE, which is both the name of the event and a non-profit dedicated to culinary education and community building in New Orleans.
"This is our bread-and-butter," says Peckenpaugh. "We focus on programming as early as grammar school all the way through adulthood."
Over a million dollars have been raised since the event's inception, providing funding for organizations such as Edible Schoolyard, the Southern Food and Beverage Museum and NOCCA's Culinary Arts Program (a full list of beneficiaries can be found here).
With 100 percent of the profits from this event committed to culinary education in New Orleans, there is a feel-good/do-good result from a weekend of gastronomic decadence. New Orleans is all about having a good time (and maybe putting on a few pounds) for a good cause and NOWFE is no exception. Philanthropy? Check. Alcohol? Check. Delicious food? Most definitely.
Things to Know
Sorry kiddos and foodies on the rise, the event is 21+. Tickets are sold online through the website (with the exception of one event).
Grand Tasting tickets are $175 apiece and, according to Peckenpaugh, are the "best bang for your buck." The event moved from its two-day afternoon slot in previous years to a nighttime event with "dress to impress" attire encouraged. The Grand Tasting runs from 6pm-9pm on Saturday, May 27. with an all-you-can-taste evening featuring over 50 participating restaurants and nearly 20 winemakers.
"I recommend talking to these [winemakers]," says Peckenpaugh, "They love it if you ask them about the wine; they want to teach you about it. These wineries spend a lot of money to come down here, and it behooves the attendees to try something new that maybe they haven't experienced before and learn some new flavor profiles and styles of winemaking."
Participating restaurants at the Grand Tasting are invited to compete in the Fleur de Lis Culinary Award, which presents prizes in several categories, including Best in Show Savory and Best in Show Sweet. The food is judged during a week in April, prior to the grand tasting.
"It is a really fun week," says Peckenpaugh, "Especially for me…this is a great way for me to get an overall feeling for the event. This year I felt, 'Wow, we are going to have some amazing food. They have really stepped their game up.'"
The winners of the contest will be announced on May 25. Whoever wins those medals, explains Peckenpaugh, "I recommend checking out those dishes." They will be marked in the program but food may run out so it is advisable to map out NOWFE priorities before hitting the tasting.
For those interested in a package deal, combination tickets can be purchased that include other major events of the weekend. The Feast, $375, grants early entry to the Royal Street Stroll, Grand Tasting, as well as access to The Big Gateaux Show.
Only in New Orleans
Many cities host food and wine centered festivals, so the team at NOWFE created a few events that are truly New Orleans to the core. The Royal Street Stroll (single tickets $135) combines the boutiques and galleries of Royal Street with live jazz and stops at wine and food tents, along with second line led by the Krewe of Cork. Costumes and wine-themed garb is encouraged.
Immediately following the Grand Tasting, there is a dessert and burlesque after-party – The Big Gateaux Show (individual tickets $75) – which includes a pastry competition set to the tune of burlesque with local favorites Trixie Minx and Bella Blue.
Chef's Pick: Michael Gulotta of MoPho
Grab your wallet because New Orleans & Me sat down with newly minted NOWFE board member Chef Michael Gulotta to give us his pick of five "experiences" offered at this year's event.
Recently honored with the title of Best New Chef from Food & Wine Magazine, Chef Michael Gulotta puts out Vietnamese-inspired cuisine highlighting local seafood and honoring the whole pig in his casual dining spot, MoPho, which opened in Mid City in 2014. Gulotta and team also conceptualize an evolving menu of Sicilian fare at his second kitchen, Tana, operating out of neighborhood cocktail bar Treo.
Flour Power (May 28, 12-1:30pm, $65) Because being able to see what Graison Gill does at Bellegarde Bakery, one of the only stone mills in the South, is pretty amazing.
Franco Spanish Hog War (May 28, 4-6pm, $55) Because, pigs. Two nations and their respective approaches to pork are showcased at this event, which features ham, sausages, and roasted pig head served with French and Spanish wines.
Midnight Mangia (May 27, 11pm-1am, $40 at the door) A late-night Italian pop up with a bunch of local chefs preparing Italian specialties along with great cocktails. Gulotta will be there serving up his Sicilian flavors, but the rest – location and menu – is kept hush hush until a social media blast from NOWFE and participating chefs the day before the event.
Members Only Party (May 29, 1:30-4pm, $150) An 80s themed pool party. "It's going to be crazy," says Gulotta, who will probably make an appearance at the poolside bash hosted by Chef Justin Devillier, which will feature country club style dishes and lots of bubbly. Pull out your best 80s garb if you are going to spring for this splash party.
Blind Ambition (May 27, 11am-noon, $75) Watch and learn sensory techniques from the only blind chef in the country running her own restaurant, Laura Martinez. "The fact that she can pull it off – it is a lot to run a kitchen – so to see what she does should be pretty special," says Gulotta.
For more information, and tickets visit the NOWFE website.
Image courtesy of NOWFE via Facebook.