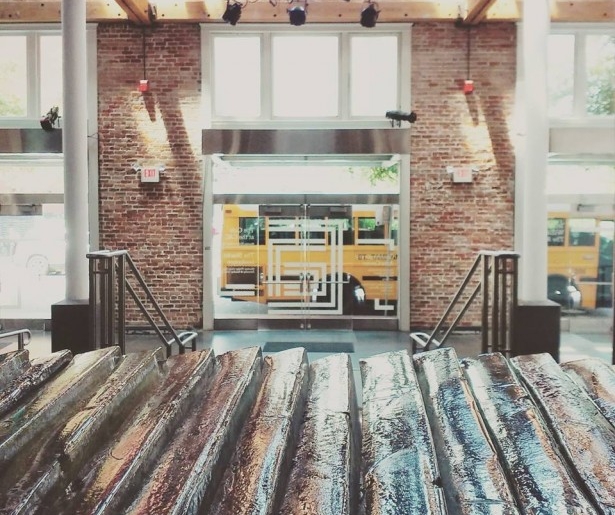 Take a moment right now and listen. What do you hear? The TV? Music? Cars on the street? A running air conditioner? Talking co-workers?
Sound is everywhere in life, but it's something most people don't stop and think about. A new workshop, The Resonant World, aims to teach people how to listen and engage with the sounds they hear every day, as well as create their own soundscapes.
The workshop takes place at the Contemporary Arts Center from June 3-5. It's the brainchild of composer and sound designer Brendan Connelly, who co-founded (with Brooke O'Harra) the Obie-award winning The Theatre of a Two-headed Calf in New Orleans in 1999. He has taught and lectured at institutions such as Duke, Tulane, Brown, and New York University.
Connelly is interested in sound's invisible presence in daily living. There are always ambient sounds surrounding people, but they rarely think about them except to say "I love this" or "I hate that."
One person may think a Kendrick Lamar single playing in the background at a restaurant provides great atmosphere, but another might dismiss it as nothing more than "noise."
"It (listening) is a passive thing," Connelly said. "And yet listening, when it's active, changes how you experience the world. I think raising awareness about how we listen and how we can listen more fully is what this workshop is about. And for makers of music and sound, it's a way to sharpen your ears and skills."
Part of the workshop's focus is to encourage active listening. Connelly said people often fail to concentrate while listening. One exercise he recommends is to simply sit still and listen for 20 seconds. After those 20 seconds, cup your hand behind your left ear and listen for another 20 seconds, then switch to your right ear. Each experience will give you a completely different soundscape.
Connelly also wants to "demystify" music. He said people frequently tell him "I have no musical ability" or "I am tone deaf." But those people still have music/sounds they love and others they hate.
"I believe everyone is musical and it is just the intimidating nature of how music 'works' – and that the history of music has been about a specialized virtuosity (that music-making is magic) – that's what makes people feel unmusical, unworthy," Connelly said. "In my workshop, we get into the basics of how music works and to think like a composer, a creator. Knowledge is power."
Students will also analyze film clips and how music is used in them. While Connelly did not want to reveal too much about his upcoming workshop, he did mention the film Jaws. Its iconic "duuuuh-duh" theme for the shark is just two notes, played by cellos and double basses in a specific rhythm. And yet this simple piece of music has come to signify a shark in popular culture.
"It's endless, the examples of how sound creates the meaning of an image," Connelly said.
At the workshop, participants will also have the opportunity to create their own sound designs. Connelly believes that the ubiquitousness of digital technology has made the technical aspects of creating sounds less intimidating than ever before (he recommends GarageBand software as a good starting point). The mental aspect is harder than the technical aspect.
"Thinking like a composer and sound designer is the intimidating part – feeling like you have something to say and know how to say," Connelly said.
The event is an extension of what has been a lifelong love of music for Connelly, who began playing the saxophone at age 7. His father played the banjo and his grandfather played the ukulele, so music was frequently present in his household.
"I grew up singing and dancing and was lucky to realize early that singing and dancing are the most primal and positive ways humans connect," Connelly said. "Many other species do the same – birds, whales…You start listening to birds and the ocean and traffic jams and refrigerators with the same ears as the stuff people call 'music' and it expands the way you interact with the world."
Workshop times are on Friday, June 3 from 5:30-7:30pm, Saturday, June 4 from 12-5pm, and Sunday, June 5 from 12-4pm. Space is limited. For inquiries about reserving a spot, email theresonantworld@gmail.com. The cost is $200. For more information about the project or to listen to some of Connelly's field recording compositions, head here, and make sure to work in a visit to the CAC (pictured above, via Facebook), whether you live in New Orleans or are just visiting!