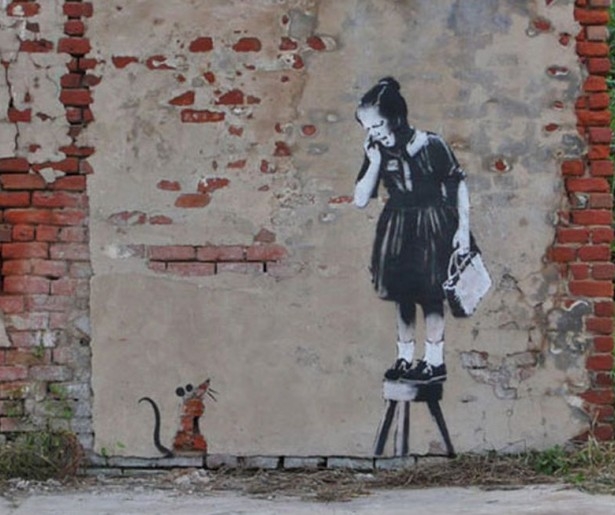 SHARE
I've always thought Bansky, the 'subversive' street artist/stencil guy/counterculture hero (whose work is now bought for millions of dollars by investment bankers) is a bit overrated; I don't want to go into the why, but this sums up my feelings nicely.
Still, I acknowledge he did a pretty good thing by coming to New Orleans post-Katrina and leaving a few thought-provoking pieces around town. Many of these installations have been destroyed (remember the Gray Ghost), and now one of the last, the 'Rat Girl' on Villere St in the Treme (pictured above), has apparently been tagged over and vandalized, we hear by a local named Sonar (For once, I'd like to hear about a graffiti artist who goes by something totally vanilla. 'Yo, you know who did that tag? That was Albert Jenkins, bruh! He's insane.").
OK, some may argue that Bansky getting graffiti-ed is poetic justice, but however you or I feel about him, many out there consider his work art. Whatever else one might say, his pieces are thoughtfully executed into the surrounding environment. Banksy doesn't just do squiggles and curse words. And having his art on your property could raise said property values by thousands of dollars. So when you take a piece of publicly agreed-upon-art, especially art done by someone trying to help the city in a time of need, and then crap on it to get some attention…well, that's a remarkably mindless thing to do.
Here's a map of Banksy's art in New Orleans. Enjoy what's left.