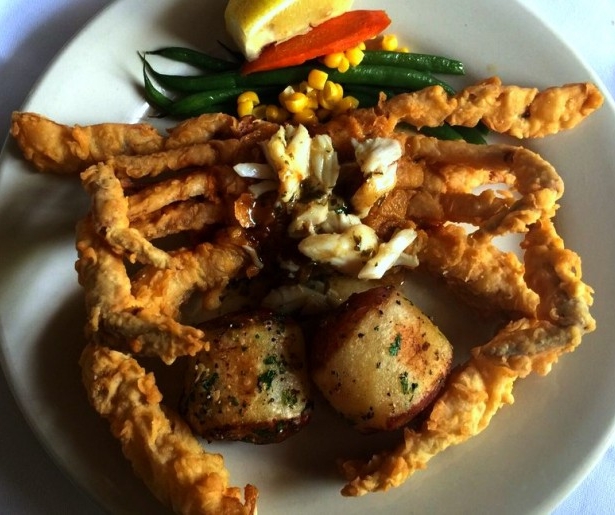 SHARE
Crab season is in effect in Louisiana, but in the pantheon of New Orleans' crustaceans – and let's just take a moment to acknowledge that it's nice to live in a city that savours multiple crustaceans, yes? – the poor crab sometimes feels like the cast off stepchild.
Crawfish are tied into the very brand of New Orleans cuisine. Oysters? This city helped popularize the consumption of raw oysters in North America, and its take on the fried oyster sandwich is legendary.
But crabs, while beloved by locals, aren't the shellfish that puts New Orleans on the map. So let's give some love to these delicious arthropods by…well, by eating them. Here's a few of our favorite spots.
G. W. Fins
808 Bienville St
In a short time, Fins has established itself as a French Quarter institution, both by dint of its excellent seafood and its commitment to localvore sensibility. Crab is often a side or appetizer dish as opposed to a main event; give the seafood gumbo, heavily laced with sweet white crab meat, a try.
Clancy's
6100 Annunciation St
Clancy's is the king of soft shell crabs. Their version is a wonderful exercise in New Orleans-style gastronomic excess: the soft shells are cold-smoked, lightly fried and topped with – why not ? – more crab meat. The whole experience balances the crisp bite of fry, pleasant presence of oil and of course, the rich, sweet depths of crab meat. Plus, Clancy's is an excellent example of a New Orleans neighborhood restaurant.
Brigsten's
723 Dante St
Crab isn't always an entree on the menu at this Riverbend establishment, but it appears in several dishes, including the intimidatingly good Seafood Platter, where it is baked into the excellent Oysters LeRuth. Brigsten's is one of my personal favorite seafood spots in the city, partly because of its knowledgeable waitstaff, partly because it feels well off of the average tourist's radar, and partly because of its supremely cozy setting. Plus: the food is killer.
Emeril's Delmonico
1300 St Charles Ave
This Lower Garden District branch of the Emeril's empire is famous for its Crabmeat Remick – a New Orleans standard that dates back to the 1920s. This version comes smothered with parmesan, paprika, croutons and bacon – woo hoo!
Cajun Seafood
Multiple locations
Hey, maybe you just want some boiled crabs? That's cool. I always get the good stuff at Cajun Seafood, which has, at last count, four locations around town. Plus, their gumbo often comes with a shell-on claw sticking right out of the soup, which I absolutely appreciate.
Irene's
539 St Philip St
This neighborhood Italian joint is good for many things, but here are two that come immediately to mind – first, a romantic dinner. Seriously, Irene's is like the restaurant equivalent of dimming the lights and putting on Marvin Gaye. Second: the soft shell crab pasta – fried just right, with lashings of butter, lemon, parsley and almonds, it's…well, it's the gastronomic equivalent of dimming the lights and putting on Al Green.
Peche
800 Magazine St
It shouldn't surprise anyone that Peche, named Best New Restaurant in the country by the James Beard Foundation in 2014, makes this list. Peche accomplishes what so many New Orleans restaurants can only claim: it executes a fresh vision of the city's vaunted local cuisine while retaining a love for the traditions that made said cuisine great in the first place. Crab dishes often make the specials list during crab season, and the crab claws with pickled chilies served at the raw bar mix the screamingly fresh saltwater tang of the ocean with an earthy, spicy bite.
Image: Clancy's, via Yelp.