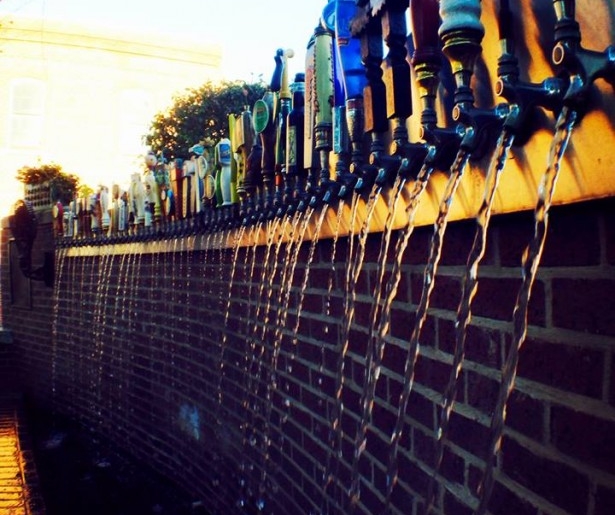 SHARE
Back in March, rainy weather and stormy skies put a damper – literally – on the Abita New Orleans International Beer Festival. Local lovers of brew were told the fest had been moved to June 4, which is this weekend. And what's the predicted weather look like for Saturday?
Hm. High chances of precipitation and thunderstorms.
Well, we're crossing our fingers that the New Orleans International Beer Festival will go off without a hitch, but we acknowledge that the weather of South Louisiana can be a fickle beast. We hope to see you in Champion's Square on Saturday, but in the meantime, at least we can celebrate the fact New Orleans has an international beer festival to begin with.
This city's relationship with beer has come a long way, and while a six pack of cheap stuff is always a welcome addition to a crawfish boil, there has been a proliferation of excellent craft beer bars in the past decade. Here are some of our favorites. Note that we are not including places like Urban South and Second Line – these inidgenous local craft brewpubs will be covered in a story all their own!
The Bulldog
3236 Magazine St & 5135 Canal Blvd
The Bulldog is steeped in good beers, aesthetically evidenced by the fountain of keg taps in the courtyard of the Magazine Street location. Then again, the selection of brews at the Mid-City location is vast enough to be intimidating. Either way, both branches of the Bulldog attract a young professional kind of crowd (plus their dogs, if you're up on Canal Blvd).
Cooter Brown's
509 S Carrollton Ave
Cooter Brown's was a cool beer bar before cool beer bars were a thing. Now that the craft beer movement is mainstream, Cooter Brown's is assuming a next level of hip. Yet I can't imagine this sports bar ever becoming yuppie-fied in any appreciable way – it's always balanced young students and Riverbend neighborhood folks, and as such, there's a dive-y darkness to the place that will always make it feel unpretentious, despite the fact it boasts a beer menu any brew snob could brag about.
Black Penny
700 N Rampart
The Penny adds a good dose of craft beer sensibility to the French Quarter, and it does so without feeling precious about itself – a refreshing change of pace when it comes to new bars in this city. That said, it's not a just the facts ma'am kind of joint either – the space, all dark wood and exposed angles, feels soaked in sweat-y Vieux Carre history, but it's friendly and convivial and there's around 50 beers on tap, so bonus.
Junction
3021 St Claude
As much as Bywater gets dismissed as hipster central, there are way more craft beer outposts – a sure sign of hipster gentrification – in Mid-City and Uptown. But Junction is an exception, even if the clientele is way more down to earth than you'd expect from downriver cliches. It's a small spot, with a long bar and a few booths, with a menu that focuses on that great American classic, the burger. You can wash said burgers down with craft beers sourced from an extensive list – a flip card suds menu helps you make your pick.
Bayou Beer Garden
326 N Jefferson Davis Pkwy
Have a dog? Come to Bayou Beer Garden. Have a thing for sports? Come to Bayou Beer Garden (although expect it to get crowded for major games). Have a thing for sitting outdoors and soaking up the sunlight and knocking a cold craft beer back while the breeze rolls in and you sigh to yourself and think, Yeah, this is why I live here? Refer back to my previous advice.
Ale on Oak
8124 Oak St
Beer bar? Gastropub? Let's be fair, a business can be both, and that's the vibe at Ale. There's a contemporary casual vibe at this Carrollton spot; fried oyster sliders and Crawfish Rangoon share space with dozens of bottled beers, plus a nice wine selection courtesy of next door Oak, which Ale shares a courtyard with.
d.b.a
618 Frenchmen St
Customers tend to come to this Frenchmen St standby for its consistently solid slate of live music acts, but here's a little secret – d.b.a has a one of the deepest bars in the city. The beer selection is voluminous, and (forgive me a tangent) I once drank an Islay Scotch here that I couldn't find in any other bar in town. Great live music, great beer selection, together at last. You win, d.b.a.
Avenue Pub
1732 St Charles Ave
Well, of course this bar was going to make the list. The Avenue is to the New Orleans craft beer scene what the Mississippi is to her geography: indispensable. For years, the Avenue has offered its craft beer selection via friendly, passionate bar staff who decidedly mix up Southern warmth and hospitality with a take-no-guff attitude that's on the nose when it comes to watering hole atmosphere. Beer-themed menus, beer-y calendars and a slew of tastings makes for a bar that is basically can't miss if you're in town and happen to be a beer aficionado. Also: it's open 24/7, 365 days a year. You have no excuse.
Image via Facebook.