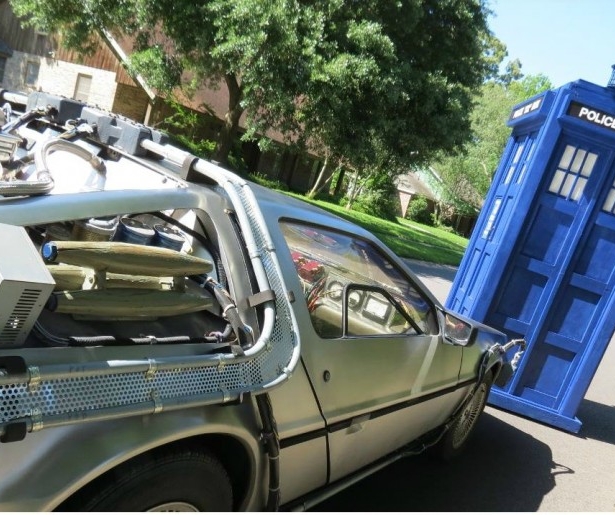 For over 53 years, the legend of Dr. Who has captivated international audiences by exploring the popular theme of time travel. New Orleans has not been exempt.
"Back in the 80s I was part of the Dr. Who fan club in New Orleans," admits Lewis D'Aubin of local "geek rock" band Consortium of Genius. "So was my wife, actually, even though I didn't know her at the time. I met a lot of cool people through that club, which had a great underground scene. They even had a big Dr. Who conference here in like 1986, with actors from the show. But then a lot of the members eventually left town, and the original Dr. Who got cancelled…"

A time-travel themed event, NOLA TimeFest, also appeared in 1986, says D'Aubin, but then faded out. "And in 2011 we decided to do our version of that," he says of upcoming NOLA Time Fest IV 2016, which kicks off on June 11th and 12th.
"We sort of started it over as a geek rock music festival," says D'Aubin of TimeFest's 'Chronopalooza Music Festival' element. "In Orlando or Chicago for a while they've had festivals like this for science fiction rock bands, and now we have one in New Orleans."
D'Aubin's TimeFest, which drew 600 to Metairie in its very first year, host six bands for its fifth birthday. All of them seem to have fantastic names and associated themes.
Some examples? A New Orleans based horror punk band called The Tomb of Nick Cage. A popular comic book conference act and anime cover band (this is a thing, we guess) The Suzaku 7 – first founded to raise money for people who lost their homes in the Tohoku earthquake and tsunami.
Coming from Austin, Texas: Darwin Prophet, "the Stevie Nicks of Steampunk and the Sybil of Sci-Fi." And Terra Terra are a self-described "group of Steampunk space explorers charged with interplanetary musical Terraforming. Their mission is to find worlds they deem fit for transformation and bring its inhabitants to a state of enlightenment, tranquility, and unity through the power of their sound machine."
The night's MC, musician Some Metry Guy, has no sci-fi shtick, but is nonetheless an only-in-New-Orleans gem, slightly known for his self-produced album, Recaptured, featuring the faux-do-do send-up, "Little Crawfish"
D'Aubin's own Consortium of Genius will headline TimeFest IV, combining sketch comedy and hi-tech magic. But D'Aubin is one of two masterminds behind New Orleans' new version of TimeFest.
"One friend of mine from back in the Dr. Who fan club days was Paul Patecek, who I happened to run into a few years ago," recalls D'Aubin of his partner in sci-fi crime.
"Like me, Paul had once actually built a version of the robot dog from Dr. Who. Then, after Katrina, when I ran into Paul, he'd just revitalized and repainted the [robot dog] in Saints colors, and he took it out to the Comic Con, which was just getting established at the time. Paul told me he'd decided to re-established the Krewe Du Who, which is now part of the Chewbacchus parade but totally has a life of its own, with I think over 2000 members in that fan club."
In 2011, Patecek and D'Aubin pooled their resources to create Time Fest at a wedding reception hall in Metairie. "So many people showed up we had to turn people away!" he says, still surprised. "And here we are five years later and it's really rolling along. Last year we had the car from Back to the Future. This year we will have some actual Daleks [more robots], and the Tardis [time machine-cum-public call box] from Dr. Who."
D'Aubin ads, "The best part is that everybody's in costume, like on Mardi Gras day. And we keep it very family friendly, with low prices so you can transport your whole brood."
NOLA Time Fest IV 2016 is a two-day sci-fi event held at The Hilton New Orleans Airport (901 Airline Drive, Kenner, LA 70062) on Jun 11th (10am-10pm) and 12th (10am-5pm). Tickets are $25 in advance and $30 at the door. Children 7 and under are admitted free with paid adult.
Image via Facebook.