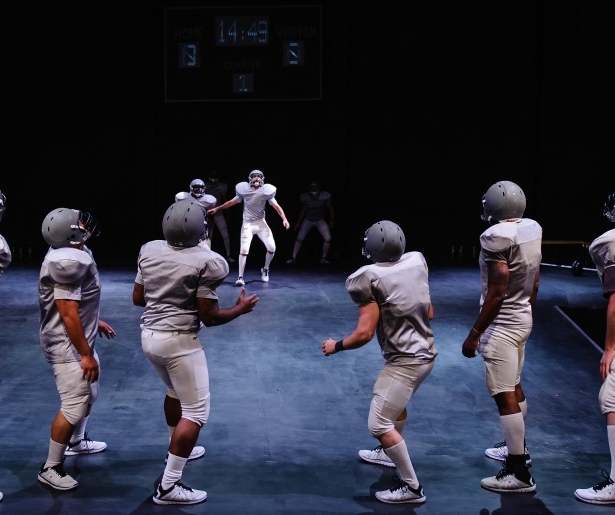 SHARE
Let's get this out of the way up front: Playwright Andrew Hinderaker, whose live-action football drama Colossal opens June 4 at UNO, is a Chicago Bears fan.
"I know, the worst, right?" laughs Hinderaker. "Hope nobody holds this against me!"
We won't, Andrew. Especially since Aimee Hayes, who's directing the Southern Rep Theatre production, is a local girl who lives and breathes football during Saints season.
"I grew up going to games in the old Tulane stadium with my grandfather," recalls Hayes. "We had season tickets to both Tulane and Saints games, which were such a part of our lives. So I'm thrilled to tell a story about football as a game I love, which is also extremely dangerous."
Oh boy, is it.
Mike, the wheelchair-bound leading character in Colossal, was co-captain of his college football team when a massive hit left him him partially paralyzed.
Throughout the course of the play, which unfolds in four 15-minute quarters with a halftime show, Mike watches instant replays of that catastrophic hit, brought to life by actors who trained like real football players for their gridiron roles.
"The actors have been in training since April," says Hayes, who enlisted former Tulane star quarterback Lester Ricard to put them through their paces. "He made them work really hard, and they're all so fierce and fit and trim. As a team, they lost a total of about 100 pounds, and they're pure muscle weight now."
Though not a player himself – "in neighborhood games, I'd be the guy who got absolutely destroyed" – Hinderaker grew up going to University of Wisconsin games in Madison, and has always had a love-hate relationship with football.
"It's a sport that I find absolutely thrilling and exciting and really troubling," he says. "There's a profound ambivalence to the subject so the play lives in a series of questions, trying to reconcile something that's wholly irreconcilable."
The potential consequences of a violent sport is just one of the questions raised. There's also a sometimes volatile father-son relationship, with a Billy Elliot twist.
Mike's father runs a modern dance company (which performs during the halftime show), making Mike "the only son in the history of the United States to disappoint his dad by choosing football over dance," as his character observes.
And Mike has a secret: he's gay. He and his co-captain, Marcus, fell deeply in love with each other, but can't go public with their love lest it jeopardize Marcus's chances for getting drafted by the NFL. So Mike is juggling many conflicting emotions while trying to come to terms with his new, wheelchair-bound life.
Though the key plot points read like a CNN headline scroll, Hinderaker actually started writing Colossal before Michael Sam came out as the first openly gay NFL player, and before the NFL agreed to settle concussion-related suits brought by thousands of former players. And the last thing he wanted to do was turn it into an "issues" play.
"For me, the genesis and the core live inside the characters," says Hinderaker, who workshopped Colossal at the Kennedy Center as part of the National New Play Network program. "The emotional connection is what interests me. And I wanted to make theater more exciting by having dialogue that can be physically acted out, not just spoken."
Others directors might have been daunted by the sheer physicality of the production, which features a live drumline of local high schoolers, along with the football team and modern dance troupe.
Not Aimee Hayes, who also served as director for the Kennedy Center production.
"I love plays with all these moving parts," she says. "It's really challenging. I also like the fact that the lead role was written for an actor with disabilities. Toby Forrest, who plays Mike, is parapalegic, and he's so positive to work with! Part of the message is that you can survive something that's so catastrophic on the face of it and continue to thrive."
New Orleans is the fifth and final stop on the play's National New Play Network Rolling World Premiere, which seems only fitting.
"New Orleans is a great football and arts town," agrees Hinderaker. "And with Aimee directing it again, Colossal really comes full circle. We'll know we've been successful if people walk out saying, 'wow! I'd forgotten that theatre could be this exciting!'"
'Colossal' runs June 4-19, with performances at 8pm Thursdays-Saturdays and 3pm on Sundays, at Robert E. Nims Theatre in the UNO Performing Arts Center. Tickets can be purchased here, and start at $40, with discounts available for seniors, military personnel, families and veterans.
Photo: John B. Barrois