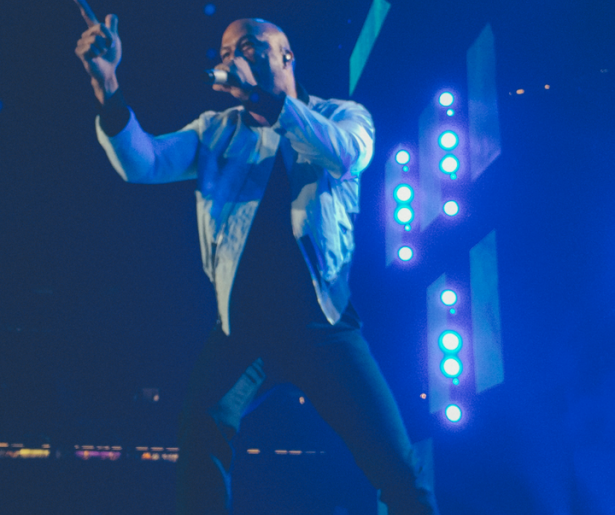 The musical lineup at the Essence Music Festival, which kicks off every Fourth of July weekend, is always an amazing amalgamation of the most famous and eclectic African American musical stars of today and yesterday.
From multiple epic theatrical experiences provided by Beyonce Knowles, to Prince (R.I.P.) breaking Superdome attendance records and playing 24 hits in a row in 2014, Essence always provides the New Orleans festival experience with something unique – no easy feat.
This year is no different. Most of the artists performing at 2016's Essence boast the word 'Grammy' somewhere in their bio.
Essence Festival's cultural showcases, panel discussions and workshops begin on June 30 at the Convention Center, followed by an explosive three-day weekend of music in the Superdome. A veritable village of soul food and souvenirs will grow for blocks around the Dome, a bazaar that is worth the parking hassle alone.
Then there's the fashion show: Essence Fest is as much about summer fineries as it is music. When it comes to style, the audience dancing and shouting on the floor and in the stands are always as on point as whoever is on stage. New Orleans tends to be a laid back town when it comes to dress codes, but at Essence, you'll want to stand out.
Hosted again by Nephew Tommy of "The Steve Harvey Morning Show" this year's Essence sees the return of progressive mainstream rap darling Kendrick Lamar, and the Essence debut of the top selling female artist of all time, Mariah Carey, among many other highlights.
Friday, July 1
Maxwell
Mainstage
In 1996, Maxwell's Urban Hang Suite and its accompanying falsetto hit "Ascension (Don't Ever Wonder)," ruled the grown-n-sexy airwaves with a neo-soul sound that was not quite adult contemporary.
Today, in a low-attention-span era when making whole albums might seem like a waste of time, Maxwell is set to release the second album of his trilogy, blackSUMMERS'night, which builds on the simmering sound he helped pioneer. Maxwell was semi-retired for several years, so expect extra screaming at his set.
New Edition
Mainstage
Just the phrase "Mr. Telephone Man" can elicit waves of high-pitched screeching from fangirls and boys. Over 30 years ago, New Edition took the Jackson 5's formula of choreographed shows and smooth harmonies, and evolved it into what we now know as the Boy Band phenomenon.
Some 18 multi-platinum albums and 14 number one records later, New Edition was last seen at Essence in 2013 with the classic 1980s roster of Ralph Tresvant, Michael Bivins, Ricky Bell, Ronnie DeVoe, Johnny Gill, and the irascible Bobby Brown – note that as of press time, there is no word on whether Brown will accompany his bandmates this year.
Kenny "Babyface" Edmonds
Mainstage
Atlanta has been a hip-hop mecca for decades now, largely thanks to R&B singer Babyface. Though known as "the tender lover," Edmonds' LaFace Records discovered and signed OutKast. At the same time, Edmonds was penning and crooning Grammy-winning slow jams. In 2015, Babyface released his first solo album in seven years, Return of the Tender Lover (Def Jam).
Digable Planets
Ultralounge
Built in the 90s, the alternative hip-hop crew of Digable Planets have since reunited only twice: in 2005 for the release of their compilation LP, Beyond the Spectrum: the Creamy Spy Chronicles, and briefly again in 2011.
Mary Ann "Ladybug Mecca" Vieira, Craig "Doodlebug" Irving, and Ishmael "Butterfly" Butler, created the classic, Grammy-winning jazz-influenced rap albums Reachin' (A New Refutation of Time and Space) in 1993, featuring "Rebirth of Slick (Cool Like Dat)," as well as the equally beloved Blowout Comb in 1994.
The Internet
UltraLounge
This Los Angeles-based, bent R&B band is fronted by Matt Martians, as well as Sydd "tha Kid" Martians, former DJ for skate brat rap crew, Odd Future, who played a band-fronting version of herself in the young adult movie, Dope.
The Google-unfriendly The Internet released the albums Purple Naked Ladies, Feel Good and Ego Death, all on the Odd Future record label, with the latter nominated for a 2016 Best Urban Contemporary Grammy.
Also worth checking out Friday: Faith Evans, Estelle, Mali Music, Zakes Bantwini and Skye Wanda.
Saturday, July 2
Puff Daddy & The Family
Mainstage
In the 90s, the courts made the practice of sampling cost-prohibitive – but not for Sean "Puff Daddy" Combs. In the wake of hip-hop's mythical East Coast/West Coast feud, along comes Puff Daddy rapping over a classic Police song on "I'll Be Missing You."
Dedicated to the memory of Biggie Smalls, the song established the legacy of Combs' Bad Boy record label, which went on to help make Mary J Blige, among other artists – many of whom will take the stage with impresario Combs at this year's Essence. Previous 2016 Bad Boy Family reunion shows ("celebrating 20 years of hits that represent the culture of Brooklyn," quoth Combs) have included Ma$e, Faith Evans, Lil Kim, Lil Cease, R&B group 112, The Lox, French Montana and others. There's even been rumor of a B.I.G. hologram.
Common
Mainstage
Starting as a Chicago battle rapper, Common's lyrics-focused rap generally represents positivity against the background of a beautiful but sometimes cruel world – great examples can be found on albums like 1997's One Day It'll All Make Sense, and 2000s Like Water for Chocolate. His efforts have won him Grammys, Academy Awards and Golden Globes, among other mainstream honors.
In 2000, he launched The Common Ground Foundation, dedicated to the empowerment and development of disadvantaged youth in urban communities.
St Beauty
UltraLounge
Atlanta natives Alex Belle and Isis Valentino pen sophisticated grown-n-sexy compositions, with Alex's lyrics depicting the frailties of relationships and individuality, and Isis supporting with backing vocals and celebrated guitar work. The duo belongs to Atlanta's progressive Wondaland Art Society, made famous by the manically eclectic Janelle Monae.
New Breed Brass Band
UltraLounge
One of the few local acts on the Essence bill this year (and certainly the newest), this young brass band will likely march around the belly of the Superdome, playing their distinctive sound: a fusion of funk, rock, jazz, and hip-hop.
Having debuted in 2013 at the Nine Times Second Line, the New Breed has already recorded with 5th Ward Weebie, rocked the psychedelic Bonnaroo festival, competed in the Red Bull Street Kings brass band competition, and won OffBeat's Best Emerging Artist in 2015.
Also worth checking out on Saturday: Mariah Carey, Lalah Hathaway, The Preservation Hall Jazz Band.
Sunday, July 3
MC Lyte
Mainstage
Perhaps the first great female rapper to enjoy mainstream attention (alongside Queen Latifah, Monie Love and others), Brooklyn's MC Lyte dominated Yo! MTV Raps in the 1980s. In a largely male-dominated art form, Lyte always kept her clothes on and kept audiences focused on her deft wordplay.
Today, living in Los Angeles, she serves as the first black female President of the Grammy's LA chapter, while also working to help establish the careers of young female music artists as the CEO of Sunni Gyrl, Inc. and Hip Hop Sisters Foundation.
Wizkid and Lady Leshurr
UltraLounge
British quadruple threat (singer/songwriter/producer/actor) Estelle will perform as part of Friday night's Essence lineup, but on Saturday she has been tapped to curate a show of her favorite artists and DJs. Estelle cosigns English rapper, singer and producer Lady Leshurr, who started her career at six years old and is currently best known for her "Queen's Speech" series of YouTube freestyles.
More recently she's toured the lecture circuit with "Lady Leshurr's Rap College," wherein she dispenses artistic and industry advice to young students. Also on Estelle's bill will be Nigerian recording artist, performer and pop star Ayo "WizKid" Balogun, who counts among his fans Pharell Williams and Chris Brown, who recently took Balogun on tour.
Cyril Neville
UltraLounge
The youngest and arguably the most eclectic member of the iconic New Orleans Neville family, and an original member of the Meters, Cyril Neville relentlessly tours the world as a poet, percussionist, singer, and activist.
He's backed musicians from Dr. John to Willie Nelson and Bob Dylan. At the 2016 Essence, he will help power the all-star New Orleans deep blues-rock band, Royal Southern Brotherhood, which features Gregg Allman's son Devon.
Robert Glasper Experiment
UltraLounge
This genre busting Houston jazz pianist and record producer won the Best R&B Grammy for his album Black Radio and followed that up with the Grammy nominated Black Radio 2. Glasper has mastered several genres, leading his acoustic jazz trio to reima-gine songs by Radiohead or Soundgarden, then going on to collaborate with rappers like Yasiin Bey (aka Mos Def) or Lupe Fiasco.
At Essence, his Robert Glasper Experiment band will lace jazz harmonies over hip-hop rhythms, in a search for common ground between two important African American art forms.
Also worth checking out Sunday: Dej Loaf, Kehlani, BJ The Chicago Kid, Little Simz.
Three-day tickets to Essence Fest are on sale through TicketMaster and start at $136.50, plus applicable fees. Single day tickets are also available, and they start at $55, plus fees. For general Inquires, head to the Essence website or call 1-800-756-7074 or 1-504-587-3822.
Image: Common, via Essence Festival and Facebook.