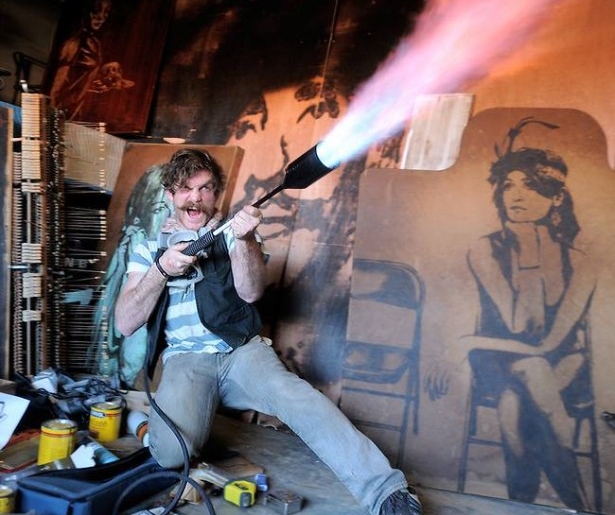 SHARE
"Do you like elephants? So do we! Make one to save one."
It was an invitation art and animal lovers couldn't refuse. And they showed up in droves last month at The Art Garage (2231 St Claude Ave), where they helped noted wildlife artist and activist Alex Beard fabricate his latest project by applying strips of newspaper to his life-sized cardboard elephant.
Now it's time to add the finishing touches. On Saturday, June 11, Alex Beard returns, and the public is invited to pick up brushes and paint the elephant. At the end of the evening, the freshly-coated pachyderm will be auctioned off to the highest bidder, with all proceeds going to The Watering Hole Foundation, Beard's elephant protection foundation.
"What's cool about what we're doing is that everything has its own space to develop," says Colleen Rowley, Art Garage's director of operations. "You want to auction off the elephant and have people name it? Sure, we can do that!"
Housed in an old auto body shop on St. Claude Avenue, next to Siberia and across from the Allways Lounge, The Art Garage is the latest outpost opened by Frenchmen Art Market founder Kate Gaar. But while it hosts a retail art market the second and third Saturday of every month (8pm-2am), its true raison d'etre is to serve as a springboard for all manner of creative art installations and performing arts productions.
Since opening during Jazz Fest, the expansive industrial space has served as a stage for blowtorch artist Walker Babbington (pictured above), who creates live fire murals of scorched wood, and has hosted a troupe of fire spinners and aerial dancers. It presents a monthly open canvas night called The Dust Bowl, where people collaboratively paint a large hexagonal canvas. And, come mid-summer, the old paint-spraying booth from the auto body shop will be up and running again.
"We're really excited about this," says Rowley, leading me to a glass-enclosed space at the rear of the shop. "We're going to bring it back to being a spray booth and do live graffiti in here every third Saturday. When the body shop left, they took the big motor fan with them, but we found another one at a scrapyard, of course, because that's where we get everything!"
That includes the striking domed chandeliers hanging above us, which Rowley helped fabricate.
"Kate comes up with all kinds of brilliant ideas," notes Rowley. "So when she found those domes in a scrapyard, she was like, let's get all these crystals and turn them into chandeliers!"
In addition to hosting its own events, The Art Garage offers its space for rent to other arts groups; the Hell Yes! comedy festival has already booked it for this fall. It's also adding a kitchenette to facilitate hosting private events.
But its primary mission is to create its own buzz-worthy happenings and become a nexus for the St. Claude arts community.
On Friday, June 17, The Art Garage hosts PechaKucha 20×20, which invites curated presenters to screen 20 visual images and expound on each image for 20 seconds. "They can talk about it, read a poem, sing a song, whatever," says Rowley. But the clock is ticking, so the pressure's on.
Born in Tokyo, the worldwide PechaKucha arts movement has been active in New Orleans for about five years, and builds each presentation around a theme. For The Art Garage event, the theme is "Come As You Are," which is pretty open-ended.
"Anything could happen," says Rowley. And it probably will.
The Art Garage is located at 2231 St. Claude Avenue. It hosts retail art markets the second and third Saturday of every month from 8pm-2am, which always have a live art component as well. Paint an elephant with Alex Beard on Saturday, June 11, and watch PechaKucha presenters flash a kaleidoscope of images on Friday, June 17. (Both events are free). Check here for updates on other upcoming events, which are constantly being added.
Image: Walker Babbington, via
Facebook
.