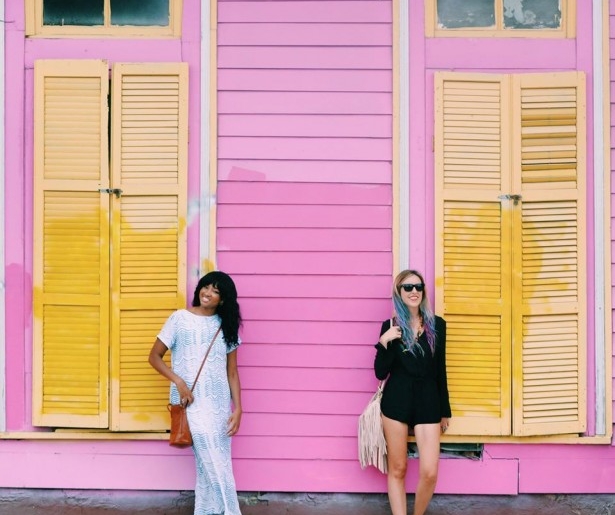 New Orleans in the summer is a lot of things: mainly hot and steamy, oftentimes wet, and occasionally torrential. A single day can offer both the promise of endless blue skies and the darkest storm clouds.
Whether you live here or are planning a long weekend in the Crescent City, summertime style is an adventure. Assembling a look for the tropical months bridging festival and football season can be a challenge.
But with an expert's advice on a few key closet swaps, guys and girls alike can put their best (comfortable) food forward and rock the current trends through A/C blasts, rain storms, and air that is thick with humidity.
Andi Eaton, of Andi Eaton Creatives, author of Oui We Girl and New Orleans Style, weighs in on this season's trends.
Fashion from Head to Toe (The Ladies)
Eaton recommends checking out local brand El Merchante for fashionable and functional hats. "What I am seeing," says Eaton, "is that brims are getting wider." Keep an eye out for Panama hats and anything lightly textured or woven.
Also on the hot list are old-school baseball caps. A far cry from the boxy trucker hat, these vintage styles have a curved, worn rim, but can be worn to make a gal look pretty and pulled together on a steamy afternoon.
Around the neck, scarves are on trend right now. A small neckerchief or wrap around light summer scarf for sun protection elevates any look – especially something as basic and versatile as a perfect white t-shirt.
For tips on how to tie in an added pop of color or pattern around your neck this summer, Eaton recommends checking out personal stylist Christine Cameron's blog, My Style Pill, for ideas.
"With the addition of a scarf," says Eaton, "You automatically look dressed."
Other top picks? A great floral print will add interest to an ensemble. Mixing is okay but stick to your comfort zone. If you think you have an eye for it, go full speed ahead.
Jewelry in the summertime tends to lean toward the minimal because of the heat and humidity. Eaton suggests picking pieces that are interesting and special. Lennox + Lane (2131 Magazine St) and Sotre (3933 Magazine St) are great places to shop locally to pick up new accessories.
It is summertime, so shirts are all about breathable material; on the day we meet, she is wearing a cotton/hemp blend. In addition, it has been a sad year for music fans, and designers have used the runway to pay tribute with vintage band concert t-shirts and tanks.
Mass-market production imitates high couture, so you will see the trend trickle down into H&M and similar stores. For Eaton, you don't have to be a super-fan or been old enough to see a particular tour, but try to at least have an idea what band and message you are repping if you go for this look.
She adds that belts are a great quick fix to pull something together. "Skinny, neutral colors always work," says Eaton. "But a vibrant pastel is a great way to add color."
For summer, footwear is all about comfort and wearability. Rain boots? Always good. Birkenstocks? She gives them thumbs up. Also making their way back on the scene: platform flats.
"Functional shoes can go with any look and make sense," says Eaton.
And Gents
You see a lot of the same female trends reworked for the latest menswear coming down the runway. Wide-brimmed hats are also great for guys, but Eaton recommends staying away from the fedora-style in favor of the Panama.
Scarfs work on men too, says Eaton. "A natural cotton handkerchief that is rolled and tied into a scarf is definitely fashion forward, and paired with a linen shirt, is a great way to dress up without having to put on a tie in the summer months."
With men, the t-shirt trend is also great for summer, but you've got to be age appropriate. "One of the things I get asked a lot," says Eaton, "is how appropriate shorts are for men."
The issue: guys tend to buy their shorts too big. She recommends thinking about how a well-fitting tailored pair of trousers would fit if they were cropped into a short.
"They should not be oversized at the bottom," she says. And if you are having trouble, ask a salesperson, because shorts look much more pulled together when they are well sized. "You can be 70 and wear something a bit shorter if you have a fitted shirt. It can be a great style," says Eaton.
For men's footwear, it is important to think about function, but also be mindful that running shoes are not the same shoes you wear for dinner.
"If you want to dress up sneakers," says Eaton, "don't wear the same pair you wear to the gym every day." She suggests checking out Billy Reid (3927 Magazine St) for KSwiss super-classic sneakers, or, if that is too youthful, leather sneakers that look more dressed up.
Socks can be a great way to show personality and style in a menswear look, but please leave them at home if you are slipping on a driving loafer or moccasin. Socks go with dress shoes or sneakers, and that is about all.
Whatever your style is, there are lots of great places to buy local around New Orleans, with cool boutiques on Magazine Street and in Lakeview. Look out for Bella & Harlow (4221 Magazine St), and Lucy Rose (3318 Magazine St) for attire Uptown. Handmade and unique accessories can be found at Adorn & Conquer (2727 Prytania St), Goorin Bros (709 Royal St and 2127 Magazine St) and Queork (838 Chartres St).
For more from Andi Eaton, keep an eye out for her second book, A Girl's Guide to Roadtripping in Style, hitting shelves in spring 2017. Part travel guide, part style guide, the book details nine road trips across America and the styles, from interior decor to exterior outfits, that you will see along the way.
Image: from Andi Eaton's Oui We, via Facebook.