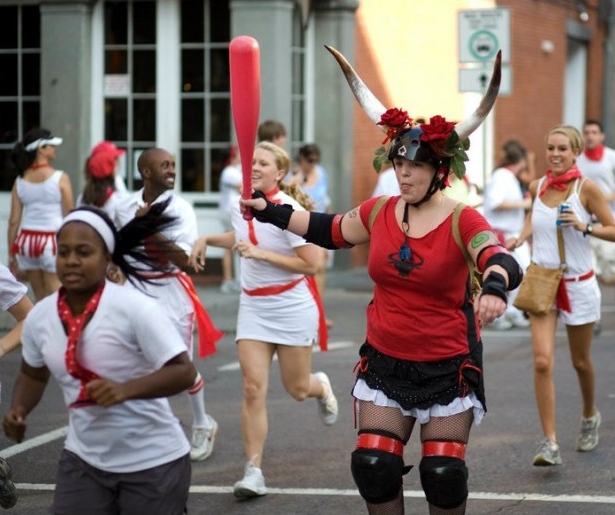 It's 7am and tens of thousands of people have gathered downtown, and they're already drinking and costumed.
This isn't Fat Tuesday. It's New Orleans' version of the Running of the Bulls – San Fermin in Nueva Orleans. The run isn't just a blue chip event in the New Orleans festival schedule – it also raises charity money for Beth's Friends Forever and Animal Rescue New Orleans.
Big Easy Rollersgirls and derbygirls from around the world take the place of actual bulls, whacking participants with bats as they run through the streets.

It's an homage to New Orleans' Spanish heritage, with a slightly irrelevant and laid back attitude that distinguishes it from its predecessor in Pamplona.
The Running of the Bulls festival technically lasts a full weekend, beginning July 8 with a Friday night pre-party, El Txupinazo.
"It's a ticketed event with an open bar, as well as food provided by Commander's Palace, Bayona, Mondo, Appolline, SoBou, and Little Gem Saloon. There's also flamenco dancing and a charity silent auction," says Tracey Bellina, who organizes the event along with friends Mickey and Beth Hanning and Jason Bargas.
Bellina, a former New Orleans derby girl, had the idea to incorporate roller derby ladies into the city's running of the bulls event, which began in 2007 in the French Quarter but quickly grew beyond the area's capacity. The main event kicks off earlier than most New Orleanians tend to start their Saturdays – 6:30am, leaving ample time for cocktails before the race's start time at 8am.
Around 7am, the pontiff, Andrew Ward, says a prayer to Saint Fermin (Pamplona's patron saint) and blesses the runners. This part of the event is sincere – meant to honor and respect the Spanish traditions that inspired NOLA Bulls. The race that follows is when things get weird.
"When I did it the guy running next to us had a taxidermied raccoon sitting on his head," says Kara Martinez Bachmann, a former participant. "For the first half of my run, I was literally looking at a coon's [butt]. It's not so bad to look at a coon's [butt] when you've been drinking since the first thing in the morning. Really, it somehow seems appropriate, especially in South Louisiana."
The runners and the derby girls' costumes vary wildly. Runners start with the basics – a white top and bottom, with red about the neck and waist. From there the possibilities are endless. Derby girls wear red and black, and horns, and various accouterments meant to intimidate or bruise the runners.

"One girl made a bra that rockets shot out of," says Bellina. "She won the costume contest that year. Actually, she wins every year."
Bellina also remembers the taxidermied raccoon. "Raccoon guy comes every year, and he always wears that hat." The costumes are doubly impressive considering the heat. New Orleans' Running of the Bulls, like most things in the city, moves a little more slowly than the original Spanish version. Alcohol consumption and the lack of real bulls probably slows people down, too.
"It's hot as hell, even first thing in the morning," says Martinez Bachmann, "and afterward, we had bruises that lasted for a week or more. These girls don't hold back. You can expect to really get whacked. The men in our group seemed to particularly like being beaten by women on wheels wearing corsets. I don't imagine there are many places in the world where you can have that experience in the wee hours of the morning while holding a sports bottle filled with rum."

"Some people like getting hit," agrees Bellina. "It's exhilarating for the rollergirls, too. Chasing people down while they yell, 'come and get me' and stick their [butts] out. It's all the excitement without worrying about being gored."
Food trucks surrounding the race showcase some of the city's culinary offerings including Clesi's Catering, Cocoa and Cream, Crepes a la Carte, Dee's Coffee, Diva Dog, Frenchy's, La Cocinta, and Mr. Choo. I recommend Clesi's meat pies, boil (of any kind) and jambalaya, as well as the arepas from La Cocinita and the dumplings from Mr. Choo.
To recover the following day, head to Sunday's event: El Pobre de Mi (Poor Me), with tapas, cocktails, and the festival's sixth annual celebration of Ernest Hemingway in collaboration with the Tennessee Williams Literary Festival. A somewhat incongruous, but fitting ending to an event celebrating the city's cultural origins.
"There's so much going on at this event. People have fallen in love, gotten married, and had their ashes carried through the route one last time after they've died," says Bellina. "It's girls on skates hitting drunk people with bats. For some reason that seems appropriate here."
New Orleans' San Fermin festival runs from July 8 to July 10 at locations around the city. The Running of the Bulls begins at The Sugar Mill, 1021 Convention Center Boulevard, at 8am. The race is ticketed. Participants are asked to register in order to offset the costs of the festival (plus you get access to the after party). Head here for more information.
Image via Nola Bulls Facebook.