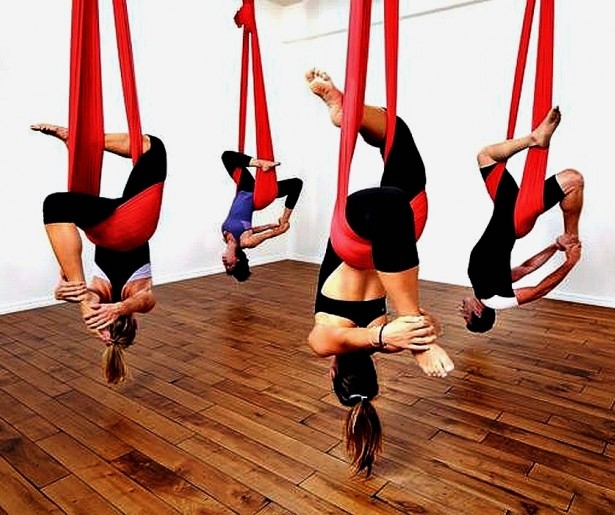 Have you ever been doing yoga and thought, This is nice, but it would be even better if I was levitating off the ground?
Turns out, you are not alone. Viviane Wolfe's class — one of several aerial yoga options in New Orleans these days — has been filling up studios at both Transform NOLA and Swan River yoga.
"There are proven healthful benefits to being inverted," says Wolfe. "Studies show a reduction in blood pressure if you invert even as minimally as 30 seconds at a time. There are spinal benefits whenever you reverse the impact of your head on your spine, so it's really good for the discs between your vertebrae. It gives them space and oxygen."
Wolfe came about her aerial yoga practice organically, almost accidentally. "I was taking Hatha yoga at university where I attended school, and I had an aerial swing in my yard. So as I'd be practicing dance moves I would sometimes find myself in yoga poses, and from there I started exploring with the aid of the aerial swing."
Only later did she learn this combined practice had a name. "I went online and found it was actually a growing practice, and it was in fact very similar to what I was doing."
Wolfe began teaching aerial yoga officially in 2011 in her home state of Oklahoma, where she'd been leading traditional aerial trapeze classes. She carried her new talent with her upon moving to New Orleans in July of 2013.
Of course there still exist many misconceptions about aerial yoga. "Unlike aerial dance, or burlesque, aerial yoga doesn't involve climbing, it doesn't involve drops, so the level of danger is reduced quite a bit," says Wolfe. "In my school of practice it is more about the flow than about any pose or any trick."
Still, Wolfe says, "I get a lot of people who think it's not accessible to them because they lack upper body strength, and I always encourage them to come in and try, because we're never hanging from anything. Aerial yoga builds upper body, but that's not a requirement."
Wolfe assures those afraid of heights that the students in her classes remain mere inches off the ground. "We really keep it low, so you can always touch the ground with some part of your body – unless you get into advanced poses which we do very rarely."
Wolfe says aerial yoga also differs, attitude-wise, from traditional yoga. "There is definitely a sense of playfulness in aerial yoga. Some yoga classes get real serious and introverted — I was once told not to smile so much in a yoga class," Wolfe laughs. "So at aerial yoga there's kind of a return to that playground feeling, a childlike quality. You get a chance to fly, and be upside down!"
Wolfe says that aerial yoga and what she calls "terrestrial yoga" also differ with the addition of props, particularly the aerial hammock and the sling.
"These things are used not only to assist in traditional yoga poses but to create, for experienced practitioners, new challenges in poses that may be less difficult on the ground. The props introduce poses that aren't available terrestrially."
Monthly, Transform NOLA studio welcomes 12 students interested in trying aerial yoga. "We have six hammocks, which gives twelve people a taste," says Wolfe. "Then I offer weekly classes with only six people on Wednesdays at 4:30pm, so we can go deeper into the practice."
Crescent City Aerial Arts founder Alexandria White has also recently added aerial yoga to her company's list of classes.
"We offer it as a way for current aerial clients as an additional way to stretch and train their bodies for aerial, but we've found it's also a great way for the general public — for whom acrobatics may sometimes seem more intimidating – this gentle way to ease into the aerial arts," she says.
White attests that aerial yoga is great for beginners. "As opposed to traditional yoga where you're putting stress on your joints, aerial yoga or 'antigravity' yoga' removes that stress. Handstands, for instance, are much easier with the apparatus taking on most of your body weight. People don't really know what aerial yoga is yet," admits White. "But really, it's much easier than people think."
Image via Transform NOLA and Facebook.