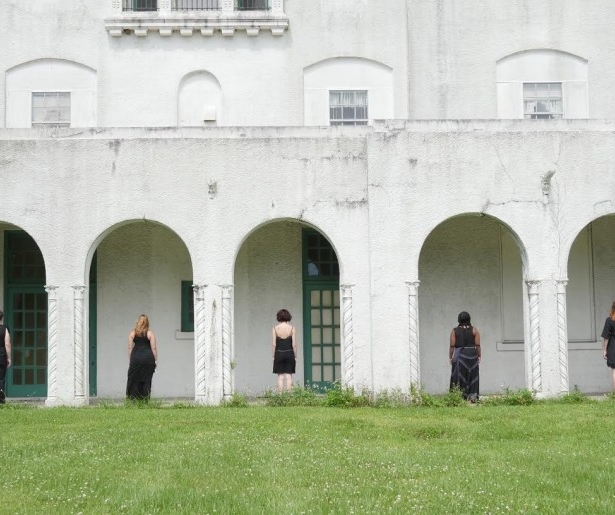 SHARE
Steel-willed matriarchs are a powerful dramatic archetype, from the murderous Livia in I, Claudius to Joan Collins' devious Alexis in Dynasty. But the woman who rules with an iron hand over The House of Bernarda Alba makes Joan Crawford's Mommie Dearest look like a lightweight.
"Yeah, Bernarda is a pretty tough character," agrees Kathleen McManus, who plays her with a vengeance. She sits ramrod straight gripping a cane during tonight's rehearsal at The Tigermen Den (3113 Royal St), where the In Good Company production begins a limited run on June 23.
Under Bernarda's thumb? Five daughters, a housekeeper, and an elderly mother she keeps under lock and key. Following the death of her second husband, Bernarda puts the whole household into lock down, decreeing an enforced mourning period of eight years.
That's right: eight years. When no one is permitted to leave the house. That throws a monkey wrench into the marital plans of at least two daughters, but tough luck. Bernarda has spoken.
If that sounds like a fascist state, it's no accident. Playwright Frederico Garcia Lorca finished the drama two months before Franco's troops brutally murdered him at the start of the Spanish Civil War.
Deeply rooted in the flamenco gypsy ethos of Andalucia, all Lorca's plays simmer inside a cauldron of passion and repression. But Bernarda Alba is an especially vivid invocation of male dominance over women in a hyper-masculine culture that breeds tyrants.
"I see Bernarda as a direct symbol of Franco," says director Rebecca Frank.
Lorca's steely matriarch is a far cry from the mischievous Ariel, who McManus played last summer in Frank's production of The Tempest. A native New Orleanian, McManus mentored Frank when she was a fledgling actor at Atlanta's Academy Theatre. She returns to her old hometown to star in Bernarda Alba with Frank's own protege and In Good Company partner, Ele Bernstein.
"It does come full circle," says Frank. "Like an ouroboros snake eating its tail. From teacher to teacher to teacher."
The powerhouse nexus of women in the cast, which features renowned New Orleans actor Carol Sutton (The Help) as Bernarda's mother Maria Josefa, is tailor-made for In Good Company's commitment to female-centric theatre.
"In this stage of my worldview, I'm looking for work that predominantly deals with women's voices," says Frank. "Lorca was a playwright who, like Tennessee Williams, put women at the center of his work. He himself was gay, and interested in the outsider, in people living at the edge of society."
Bernarda is also the ideal vehicle for In Good Company's other mission: showcasing the work of local visual artists and musicians who normally work outside the theatre community.
Frank's fiance Mike Andrepont, a carpenter by trade who plays drums with Morning 40 Federation and Rough 7, is building furniture for the show and also serves as technical director. And visual artist Daphne Loney, one of the co-owners of Siberia, is creating set pieces for Bernarda.
"I've known Daphne for years and she immediately came to mind, in terms of the sculptural stuff she does," says Frank. "We don't have the space or the budget to provide the 200 mourners in this outlandish scene Lorca describes in the opening of the play."
But limitations spur imagination. "It's a small space, but there's a spectacle aspect to it," notes Bernstein. "Because of what Daphne is doing."
Instead of cramming extras into the ad hoc theatre, which only holds an audience of 40, Lorca's mourners will be suggested by Loney's shadow puppets and marionettes, while animated film projections will further enlarge the space.
Sure to be visually striking, the production also features dramatic accessories like black mourning fans and gorgeous embroidered fringed shawls sourced directly from Andalucia. (Jade Brandt designed the costumes.) And Frank's production amps the symbolism encoded in Bernarda Alba's DNA.
"Lorca's plays weren't really popular with American audiences at first, because they were so symbolical," says Frank. "Blood Wedding apparently caused people to hysterically laugh when it premiered in San Francisco. Bernarda Alba premiered [in the US] shortly afterwards, and was considered a real masterpiece. Mostly because it was his most realistic play."
Which strikes her as kind of ironic.
"We're not playing it realistically at all," says Frank, who has a knack for creating highly stylized tableaux. "It's an honest version of Bernarda Alba. But definitely not a naturalistic version."
'The House of Bernarda Alba' runs in limited engagement at The Tigermen Den, 3113 Royal St., on June 23, 24, 25, 29, 30 and July 1-2 at 8pm sharp. No late seating. Tickets, available here, are $20. There is also a pay-what-you-will performance on June 26, also at 8pm.
Photo by Thomas McGovern.