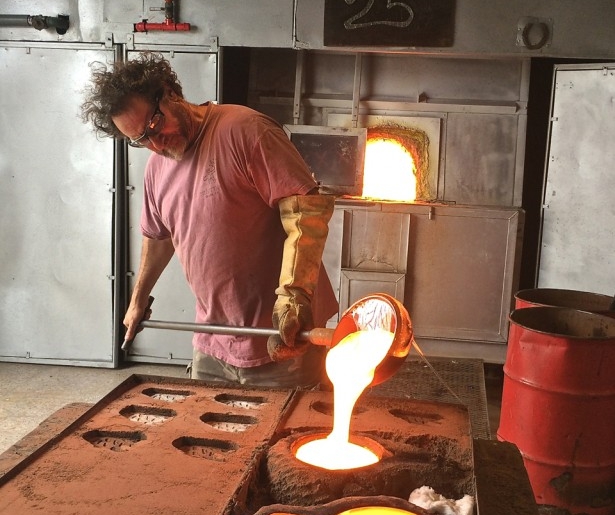 SHARE
Arabi? Where's that?
"People are always mixing it up with Algiers. They think we're across the river," says Studio Inferno glass artist and arts entrepreneur Mitchell Gaudet. "Or they think you have to make some kind of amazing journey to get here. We're actually two miles from my old studio in Bywater, and just eight miles from Jackson Square."
They won't be confused much longer. Gaudet's putting Old Arabi on the map with an ambitious two-block arts campus on St. Claude Avenue in St. Bernard Parish. Scheduled to open with great fanfare on June 25, it promises to make a neighborhood already simmering with creativity hotter than the blast furnaces of Studio Inferno.
Launched with a $2.4 million grant from the Meraux Foundation, and located within the newly-designated Old Arabi Cultural District, the complex is anchored by Studio Arabi (6707 St. Claude). Housed inside a converted Western Auto store, the spacious, light-filled space holds studios for ten working artists, from painters and jewelers to woodworkers and welders, who'll invite the public in at the opening bash.
A stone's throw away, the Valiant Theatre & Lounge (6621 St. Claude) is rapidly taking shape in a defunct bar and lounge. Open for tours on June 25, and scheduled to start performances on August 1, the theatre is helmed by the Old Marquer Theatre's Richard Mayer, while the lounge will be operated by Mag's 940 bar owner Paul Chiriaco.
Serving as the gateway to Old Arabi is the property that started it all: Studio Inferno (6601 St. Claude), where Gaudet moved three years ago after escalating property taxes drove him out of his longstanding Royal St. studio in Bywater.
"Old Arabi really reminded me of the same thing you had in Bywater 25 years ago," says Gaudet, who grew up in Bywater and went to school at Holy Cross. "Mixed use with a lot of industry, fronted the river, lots of cool old bars, population in transition with a welcoming desire for creative things to take place."
So Gaudet jumped at the chance to relocate his glassworks to Arabi Show, a long-defunct neighborhood movie theatre with a colorful history.
"Pretty Baby had a premiere here, which was a huge scandal," says Gaudet, an old movie buff who proudly displays high leather boots worn by Charlton Heston amid the oddities that line his office. "Then it became a dance club called the Purple Banana, and later a furniture store. When I bought it, it was a beauty supply warehouse filled top to bottom with mannequins and wigs."
Now it's filled with glass sculptures created by Gaudet in his on-site blast furnace, where he pauses during our tour to pour molten glass into frying-pan molds for the Paul Prudhomme awards he's making for a WYES event.
Studio Inferno's storefront gallery houses Gaudet's current "7 Deadly Sins" show, a witty tribute to biblical taboos, which has its closing party on June 25. Also on display: "Boeuf Gras," a plaster cow seated above red glass daggers, which harks back to the Great Slaughterhouse Wars that gave birth to Arabi.
"Arabi was part of Orleans Parish until about 1880," explains Gaudet, opening a window into a fascinating bit of local history. "And because of a dispute between two slaughterhouses, this whole section seceded from Orleans and joined St. Bernard Parish. When that happened, they renamed themselves after Pasha Arabi, this Egyptian who was trying to throw off British rule. They were like, oh, we're gonna be Arabi. It's insane."
Gaudet pays tribute to that ancestral Pasha every Mardi Gras day, when he and his Arabi Art & Culture Krewe march with the Society of St. Anne, sporting Arabi fezzes. ("I get all these fezzes that say 'Arabia' and cut off the last 'a.'")
Such rich local lore contributes to the romance of Old Arabi, which is fast becoming not just a place to drive through en route to the Chalmette Battlefield, but a destination in itself.
Beginning with the Old Arabi Bar (6701 N. Peters), a block downiver from Studio Inferno, the area just across the parish line after you cross the St. Claude bridge has spawned a vibrant nexus of coolness with its own watering holes.
For lunch, Gaudet points me to the Kitchen Table (7005 St. Claude), where his recommended fried oyster BLT does not disappoint; I'll be back for dinner to try the grilled hangar steak.
Across the street is Pirogue's Whiskey Bayou (6940 St. Claude), run by two former bartenders from Markey's in Bywater, which boasts its own pop-up kitchen serving some of the best bar food in greater New Orleans.
For hungry night owls, Gerald's Donuts (6901 St. Claude); open 24/7, it serves up booze and burgers along with the glazed treats, and reminds Gaudet of the late, lamented Hummingbird Grill on St. Charles Avenue.
No hip new scene is complete without its own microbrewery, and Old Arabi has that, too: 40 Arpent Brewing Company (6809 N. Peters) brews lagers, ales, IPAs, stouts and even a Japonica rice beer. And when Tales of the Cocktail opens its "world headquarters" nearby, it will add an experimental cocktail bar to the Old Arabi mix.
All the local players will be out in force for the big grand opening on June 25. Food trucks and tents will line the streets in front of Studio Arabi, where the Old Arabi Neighborhood Association will run a beer bar stocked by 40 Arpent and area shops and arts groups will have tables.
"It's gonna be a great little vibe here," says Gaudet. "People can see what all our artists are doing. They'll also get a good introduction to Arabi and what's going on down here."
The June 25 grand opening of the Old Arabi Cultural District runs 5pm-10pm in the 6600 and 6700 blocks of St. Claude Avenue, and features exhibits, tours, food trucks and live music.
Photo by Cree McCree.