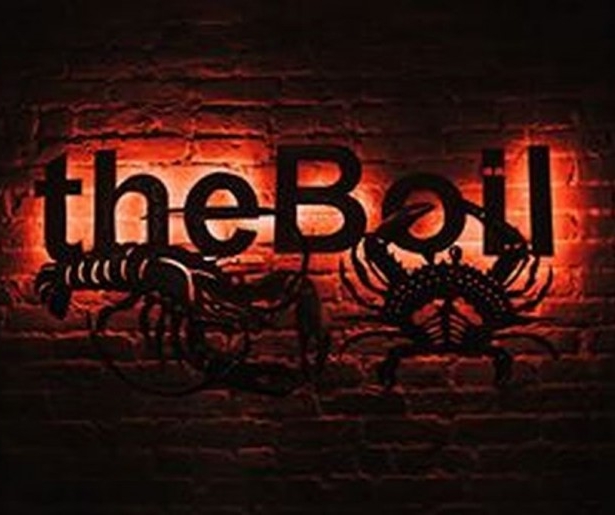 SHARE
The news out of New York: a new 'Cajun/Creole' restaurant called The Boil has opened, and it serves, among other things, 'crayfish.'
If, like us, you noticed a few things wrong with that sentence, wait til you see the picture in the NY Post article: two women eating 'crayfish' (argh Stop. Stop with the wrongs!) out of a plastic bag.
Wearing gloves.
And, y'know, not just gloves, but blue gloves that look like the sort of thing you'd put on in a doctor's office before busting out the Vaseline and telling a nervous guy in his '30s to bend over, and you're about to feel some pressure.
Let's be fair: 'crayfish' is the term the New York Post uses. The actual restaurant menu at The Boil reads crawfish, so credit. These things matter. Because if New York is learning the pleasures of crawfish – and listen, Post, it's crawfish. Who says 'crayfish?' That's like pronouncing Houston St as if it were some city in Texas – anyways, if New York is learning the pleasures of crawfish, well that's great. But there are some basics to adhere to (also, to experience a proper New Orleans Berl, just contaminate your water so it's undrinkable and you have to boil it to brush your teeth. Ba-dump-bump!).
Just as you New Yorkers would rightly murder a New Orleanian who put ketchup on their hot dog, so do we on the Gulf cringe at some of the elements of your shellfish fest. So let us offer some tips.
1) As mentioned before, one eats crawfish. 'Crayfish' are, I dunno, trout with OCD.
2) One eats crawfish with one's bare hands. In South India, the Tamils believe that eating food is an omni-sensory experience; eating with the hands is crucial to experiencing the touch and texture of a dish. I'd love to carry this philosophy to all dishes in the states, but the point is: eat crawfish without gloves, dammit. You want to have hands smeared with spice so that when you wipe your eyes afterwards, you sit screaming in pain for hours. Duh.
3) Also, you should stand when you eat crawfish, and they should be served on newspaper or brown paper. There's an art and etiquette to pushing your way to the table, creating your own shell pile, taking the right amount of sausage and vegetables (enough to satisfy, but leave some for other guests), etc, etc. This is a complicated, yet easy enough to learn dance, and knowing the steps is crucial to a proper crawfish eating experience.
4) Unless you are under three years of age, don't wear bibs to a boil.
5) What the hell is 'Cajun/Creole' cuisine? Cajun and Creole are two different things. Here we go: the Cajuns are descendants of the Acadians, French-Canadian refugees from Nova Scotia who came to Louisiana in the 1700s. They settled in the rural prairies and bayous, and their cuisine remains rustic, hearty, deceptively simple and delicious. Although seafood is a cherished part of the Cajun diet, life near the prairie and an influx of sausage-loving German immigrants in the 1800s means the Cajuns have really mastered the arts of smoking meat, butchery and charcuterie.
'Creole' describes the mixed French and Spanish population of New Orleans and their descendants. During the 18th and much of the 19th century, it was also a name for people of African and mixed-race descent born in Louisiana (especially New Orleans). While these two definitions of Creole are distinct, they essentially share a cuisine, a cosmopolitan, rich method of cookery that finds inspiration in France, Spain, Africa, the Gulf of Mexico, the bayou and lots of butter. In general, Creole food is more seafood-oriented than Cajun cuisine, with arguably more complex preparation methods.
Got it? Good. Honest, New York we're elated you are learning to love our local cuisine, and well done to The Boil for bringing said treats to the Northeast masses. Now eat crawfish like the local Vietnamese sometimes do: crack open the head and scoop out the tasty brains and guts.
That ish cray.
Image courtesy of The Boil