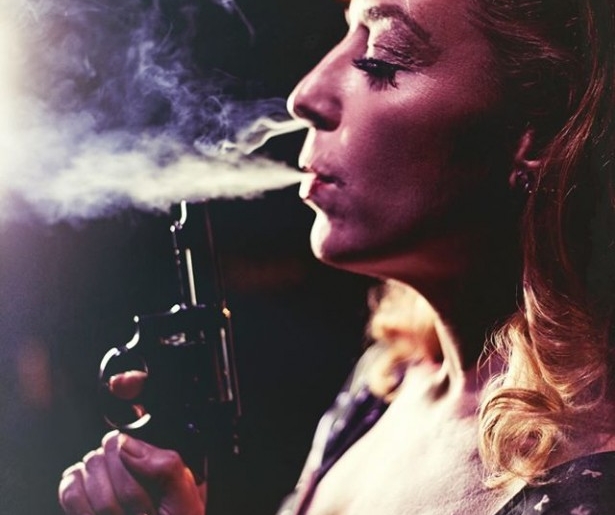 SHARE
Chinatown. The French Connection. Bullitt. The Long Goodbye. The Godfather. Neo-noir crime films with morality-play subtexts flourished in the 1970s, when William Friedkin, Peter Yates, Roman Polanski, Francis Ford Coppola and other brash young auteurs left their indelible mark.
"It was a great period for gritty American realism," says playwright/director Jim Fitzmorris. "The lunatics got over the fence in Hollywood and started making art films."
That bloody cauldron of creativity simmers onstage with The Killing of a Lesbian Bookie, Fitzmorris' homage to '70s maestro John Cassavetes, which opens June 23 at The Theatre at St. Claude (2240 St. Claude Avenue).
Loosely inspired by Cassavetes' The Killing of a Chinese Bookie, Fitzmorris boils the original's kinetic energy down to its essence in a taut three-character play.
It's the eve of the grand opening of a nightclub owned by burlesque dancer Triple Lexxxi (real-life burlesque queen Bunny Love). What should be occasion for celebration is cut short by a visit from a shady former cop (Justin Welborn of FX's Justified). Add the titular lesbian bookie (Kimberly Kaye) to the mix and the roux of imminent violence thickens.
The set-up is a classic cat-and-mouse game, played out with rapid-fire dialogue and peppered with meta references to the 1970s films it echoes.
"I want the audience to experience the verbal equivalent of the Bullitt and French Connection car chases," says Fitzmorris.
That's a daunting goal. But if anyone can turn wordplay into screeching tires and shattering glass, it's Fitzmorris, who attacks his one-man shows with his gloves (and mouthguard) off. He also goes for the kill as as a multi-hyphenated writer-director-producer-impressario, who co-founded Broken Habits Productions and The Theatre at St. Claude with his brother, Ryan.
Fitzmorris' last full-length play, A Truckload of Ink, was literally ripped from the headlines of the Times-Picayune hostile takeover. More recently, his white-knuckled adaptation of Orson Welles' radio play Dracula snagged a Big Easy nomination for its visceral screamfest.
"Other than my one-person shows, my plays tend to be big and sprawling," says Fitzmorris. "But I always wanted to sit down and write a play for two or three characters."
Casting is critical in such a scaled-down production, and it didn't happen overnight. Justin Welborn came to town twice to workshop Lesbian Bookie while Fitzmorris was still tweaking the script, but had yet to cast his two female stars. Then, serendipitously, they materialized right before his eyes last fall, in his own production of Dracula.
"I've known Kimberly for years, and been friends with Bunny for awhile too, and they were both in Dracula," says Fitzmorris, who tapped Love for the role of Lucy and cast Kaye as Mina at the 11th hour after another actor dropped out. "But it didn't hit me until one night, when I was standing at the side of the stage. OMG! They're perfect! I called Justin instantly."
The chemistry proved combustible, and Mina and Lucy's erotic Dracula pas de deux segued naturally into Lesbian Bookie. But like Welborn's sinister stranger, they wear multiple masks.
"No one and nothing in the play is what it seems," says Fitzmorris. He sets the stage for his hall of mirrors with a soundtrack collaged from '70s film scores laced with snippets of dialogue from movies like The Friends of Eddie Coyle.
Cinephiles will have fun identifying the sonic homages, and mining the characters' dialogue for clues that point to specific movies. But you don't have to be a '70s film buff to get seduced by the intrigue and suspense that unreels in this celluloid image come to life.
"You're never quite sure what's going to happen," says Fitzmorris. "I want people to leave the theater exhilarated and disturbed."
'The Killing of a Lesbian Bookie' runs June 23-July 3 at The Theatre at St. Claude, behind the Allways Lounge at 2240 St. Claude Avenue. Curtain at 8pm Thursday-Saturday and 6pm Sunday. Tickets, available here, are $25 general admission and $40 opening night, which includes a pre-show party and after-show champagne toast.
Image via The Theatre at St Claude via Facebook.