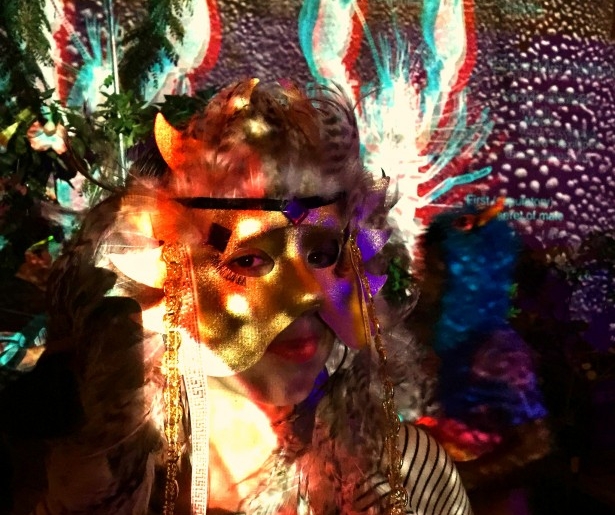 The PORT art space in the Upper Ninth Ward is unique in that, when it rains, you can stand in the front room – which lacks a traditional roof – and miraculously not get wet, even as you watch a thin, beautiful sheen of rainwater fall down the cinderblock walls, onto hundreds of potted plants that render the otherwise urban warehouse verdant.
Walk beneath the well-placed iron balconies outside PORT's upstairs gallery space, and you enter a second downstairs cement room/reverb chamber, its walls currently tattooed with a giant day-glow organic arch and other works by graffiti artist, You Go Girl.
SPECTACLES was a two-man exhibition featuring You Go Girl and graffiti artist Read More, where they were allowed to take over this whole 5,000 feet space for individual and collaborative works," says Pamala Bishop, co-founder of PORT.
Bishop says the idea behind PORT is to let the unique space inspire the art in ways a traditional gallery or museum could not. Or as the space's mission statement puts it, to "protract the experimental aspects of an artist's practice from their traditional methods of creating and exhibiting work."
"The downstairs space is so raw, we hope to see a lot of new things come from there," says Bishop. "Then the rest of the rooms are more traditional, for displaying traditionally collectible art."
That raw aesthetic vibe formed the backdrop of a theatrical production of "Splish" back in October, 2015. "'Splish' was basically the story of a mermaid brothel, and it was perfect for our sort of dilapidated building in the middle of the neighborhood," Bishop recalls.
"Artists were able to come in and do themes in each room. They had a lot of room to articulate their bigger visions without constraints. Because they could change the space however they wanted, 'Splish' was able to be very immersive in that way."
Graffiti artist You Go Girl was also one of the creators and directors of 'Splish,' says Bishop, "And that translated into a relationship that became this last exhibition."
PORT's mission statement also frames the space as a community based initiative, "a model of artistic activism wherein the local community and participating artists are sharing space, process and inspiration."
That mission was reflected in the SAMO Journey group exhibition, presented in conjunction with PhotoNOLA, which saw artists L. Kasimu Harris, Vitus Shell and Tiffany Smith examine themes of change versus stagnation as part of an annual festival of the New Orleans Photo Alliance, coordinated with local museums, galleries and alternative venues.
Bishop's partner in PORT, real estate developer and art lover Jaohn Orgon, is best known as the one-man support team for the Esplanade Treehouse project, wherein artist Scott Pterodactyl placed discarded Katrina detritus in an enormous golden rain tree in the backyard of Orgon's decrepit mansion-cum-artist clubhouse. The Treehouse was shut down due to dangerous levels of popularity in 2010, moved to St Claude Ave, then demolished in 2014.
"A big part of John and my relationship has always been doing projects and being creative together," says Bishop. "We each bring something different. My love is for contemporary art and large-scale art projects. John too, but he has also a vision of possibly incorporating a distillery here. But we're both trying to create a community project that integrates contemporary art."
Bishop declined to discuss further PORT projects beyond an upcoming summer concert series — where, summer rains or not, you can watch the band in the fresh air, and still remain dry.
Image via PORT's Facebook page.