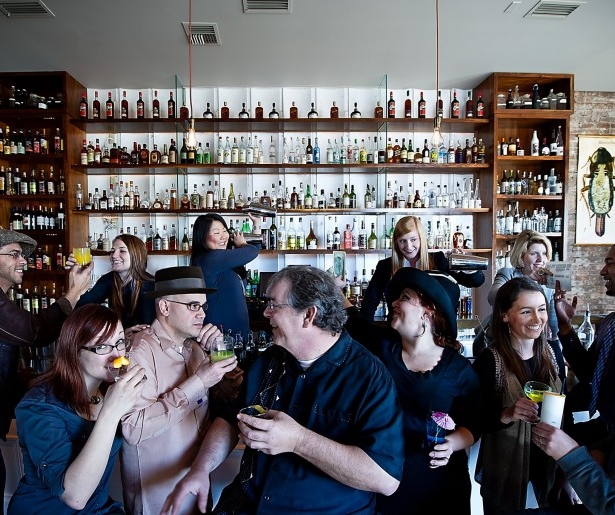 SHARE
Several world-famous cocktails have origins in the Crescent City: the Sazerac, Brandy Milk Punch, Cafe Brulot, and Ramos Gin Fizz, to name just a few. So it's not like when we drink, we're just drinking for the sake of it – we're also celebrating our history with every sip. And of course, being that this is New Orleans, we have an event that is part-convention and part-festival that focuses on the cocktail in its many forms.
Tales of the Cocktail, a six-day event, draws in thousands of bar owners, distillers, mixologists, authors and tastemakers who are interested in networking, sharing knowledge and showing off their skills, from July 19 through July 24.
Co-founder and executive director Ann Tuennerman (whose favorite cocktail is a Sazerac, FYI) started Tales of the Cocktail with a simple mission: to bring local enthusiasts together and celebrate beverage-related history. These days, Tales of the Cocktail draws in more than 15,000 people and hosts who attend spirited (ha) seminars, tours, panel discussions and taste tests.
One particularly intriguing seminar is called "Getting Lit At The Monteleone" which focuses on libations consumed by authors such as Tennessee Williams, William Faulkner, Anne Rice and Ernest Hemingway, who were known to throw back a drink or two at the famed French Quarter hotel. Other highlights include a Moscow Mule-making contest and a rum discussion, and a "Scotch Singles Party."
"Our focus is on creating a valuable experience for bartenders, distillers, ambassadors and other members of the industry. For the annual festival in New Orleans, that means constantly adapting to the needs of the industry by developing programming that allows them to learn, network and develop new skills," says Tuennerman.
The festival comes from humble beginnings: "I wish I could say I started Tales with these grand plans of starting this international cocktail festival," she says. "But really, it all started with a small cocktail tour of the French Quarter. I've always loved New Orleans history, and I noticed that there weren't any tours that celebrated the rich cocktail history of our city. So I started one."
"For our first anniversary of the tour we threw a little party," adds Tuennerman, "just a small gathering of cocktail lovers in the French Quarter that became the first Tales of the Cocktail. Fourteen years later it's hard to believe how far it's come."
Tuennerman chose to hold the event in the summer to help boost the economy, which dwindles in the summertime due to a lack of tourism: "Now for a week every summer, the bars and restaurants in the cities are packed with people from around the world. Since 2008, when we started tracking it with the help of The University of New Orleans, Tales has had an impact of close to $90 million on the local economy," she says.
This year, one of the concepts that will be deeply explored is the relationship between what we eat and what we drink: "The culinary collaboration between chefs and bartenders has been a major force in the modern cocktail movement," notes Tuennerman. "Tales will highlight the connection between food and drinks unlike ever before."
Influential chefs include Grant Achatz and Nick Kokonas from Chicago's Alinea, as well as Albert Adira and Mark Alvarez Safont from Barcelona's elBarri restaurant group, who will deliver the festival's keynote address. Rick Bayless of PBS's "Mexico: One Plate At A Time" series will lead a discussion on Mexican flavors.
Other international influences include Cuba. Tales organizers say the opening of travel restrictions with that island nation has positively affected the global cocktail industry.
"This year, we're able to welcome the general manager and three legendary bartenders from El Floridita, one of the world's most storied establishments, known best to Americans as Hemingway's favorite haunt in Cuba," says Tuennerman. "I'm overjoyed that these men will be here to share their experiences and their talents, reestablishing a connection that has been severed for so many years."
Another event that promises to be entertaining is the 10th annual Spirited Awards ceremony. "We have a really fun show planned," says Tuennerman, adding that brand ambassador Simon Ford, who won a Spirited Award in 2007, "will be at his best."
For Tuennerman and her staff, producing the summertime festival is a labor of love that they work on year-round and will continue to grow. The organization has also created other events, such as Tales of the Cocktail on Tour, which brings them to different parts of the world (in April, they traveled to Mexico) and the wintertime fete "Tales of the Toddy." In September, they will launch the inaugural "Daiquiri Month," a 30-day tribute to another one of New Orleans' boozy specialties.
For a full schedule of events, click here. Image via Tales of the Cocktail's Facebook page.