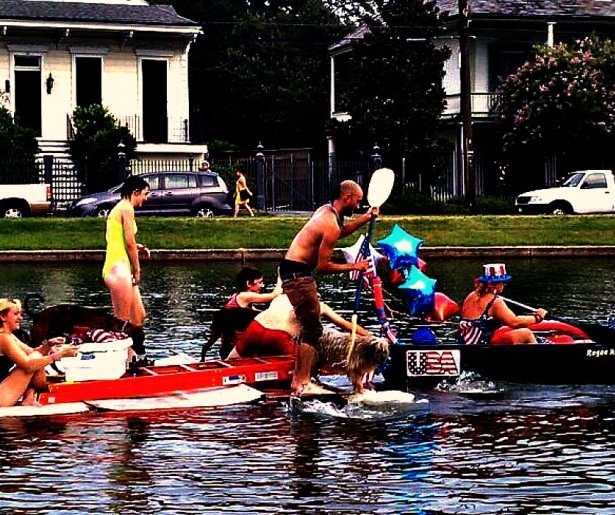 SHARE
Let's get the bad news out of the way first: the 4th of July in New Orleans is almost uniformly a miserably hot day, because hey. It's July in New Orleans. But once we get past that humid bump in the road, it becomes obvious that this is one of the greatest cities in the USA when it comes to celebrating our nation's birthday.
To whit: New Orleans has a penchant for parades. Partying. Public celebration. And excellent sight lines onto the most important river in North America, the river that happens to be the backdrop for a pretty excellent fireworks celebration. So without further ado, here are some of our favorite ways to celebrate July 4th (and the day before) in the Crescent City.
The 3rd of July
Yes, we're starting this July 4th article with a listing for the 3rd – City Park's 3rd of July Party. Held from 7-9pm on the 3rd on the great lawn of City Park, this year the party features the United States Marine Corps band and fireworks at 9pm over the Greek-inspired Peristyle pavilion. They've got beer and sno-balls for sale, so if you've got kids and want to avoid the crowds, this may be the event to attend.
America the Party
If the 3rd rolls around and you decide you want to celebrate America minus the wholesome family friendliness of City Park, you should head to the Rusty Nail for the seventh installment of America the Party. There's a tongue in cheek Donald Trump twinge to this years event (theme: Make America the Party Great Again). Doors open at noon and the party kicks off at 2pm – five bucks gets you in, where there's booze, barbecue, and tacos for sale, as well as a decently crazy collection of red, white and blue costumes.
Bucktown Bash
Head across the parish line to the Bucktown Marina for this party, which will feature live music from 2-8pm, a blessing of the fleet, and for the first time ever, fireworks, which will bloom over Lake Pontchartrain starting around 8:15pm.
The Flotilla Floats Again!
This has always been my favorite 4th of July celebration: the waterborne procession of a bunch of crazy aquatic floats and a makeshift navy across Bayou St John, courtesy of Chewbacchus and the Krewe of Kolossos. We ran a feature on this wonderful, watery event (pictured above) last year; check out the article for a taste of indigenous oddness. This is consistently an only in New Orleans kind of event, and I love it; the floating 'parade' runs from 5-8pm.
Fireworks!
They go off at 9pm as part of the Go 4th on the River celebration, which is the city's official 4th of July party. Good spots for watching the pyrotechnics include any balcony in the French Quarter, all along the Crescent Park, and parts of the levee in the Lower Ninth Ward.