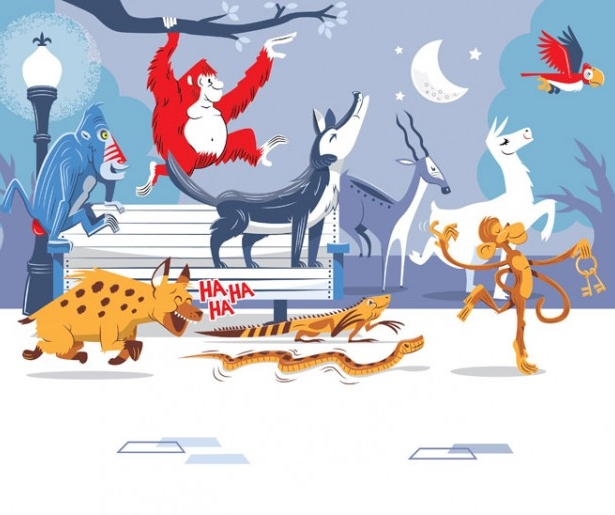 SHARE
My name is Alyson Kilday, and along with illustrator John Clark IV and authors Grace Millsaps and Ryan Murphy, we've created a children's book entitled What The Sleepy Animals Do At The Audubon Zoo.
Renee and her father take a trip to the Audubon Zoo, where Renee realizes the animals are rather sleepy and inactive during the day. In fact, they're a little boring. So her father explains the animals' lethargy with a story about how the critters are tired by day because they party at night, complete with a second line, music and food.
It's a universal story with a New Olreans twist. The story was written by a Newman teacher who spent time making sure the cadence was the best possible rhythm for teachers teaching kids how to read. The written words don't overly make reference to New Orleans, other than name checking Audubon and Monkey Kill. Rather, it's the heavily illustrated pages that New Orleanians will recognize. With over 40 fully illustrated color pages and 200+ illustrated individual characters, it's a book that kids and adults can enjoy time after time.
This project wasn't just about creating a children's book. We also wanted to create something tangible and worthwhile, a love letter to New Orleans. Not only have we created a book that was 100% crowd funded, independent, we've been creating a community around the Sleepy Animals by sharing the entire process on our facebook page.
Two thousand copies arrived in New Orleans this week, and we've already pre-sold almost half. Books will be sold in the the Audubon Zoo, Aquarium of the Americas, Fleurty Girl, Maple St Book Stores, and in a dozen more locations throughout the city as well as online at thesleepyanimals.com.
There will be two book signings/release parties for the book this weekend – one for the Boys Team of Clark and Murphy, from 11am-2pm, at Maple St Books (7529 Maple Street), the other for the Girls Team of Kilday and Milsaps from 11am-2pm, at Lawrence Square (4401 Magazine St).
(article adopted from a release by Alyson Kilday)